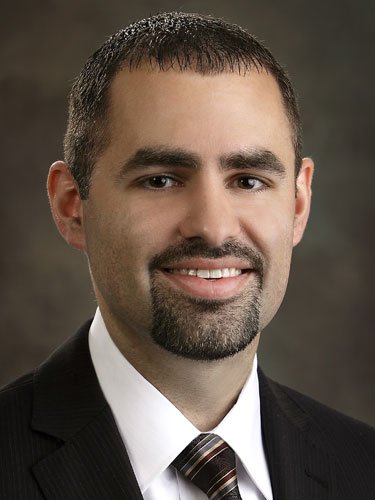 Mark McGinnis, MD
Specializing in
Orthopedics
Sports Medicine
Affiliation: Owensboro Health
Biography
Dr. Mark McGinnis knew he didn't want a job that kept him behind a desk or out of touch with people.
That's why he especially enjoys working as an orthopedic surgeon at Owensboro Health.
McGinnis said the hands-on approach is something that is very important to him in his practice, as is doing what's best for his patients.
"I feel like I spend a great deal of time listening to and examining my patients to try and determine what is bothering them. They seem to appreciate that," McGinnis said. "I'm very conservative in my approach to managing patients. Surgery, for me, is always the absolute last resort. I try to exhaust anything we can, within reason, to avoid surgery. I'm not quick to jump to that as an answer."
Previously, McGinnis held a fellowship in St. Louis where he worked with the Rams football and Blues hockey teams. McGinnis said he joined Owensboro Health in part because of his partners, Dr. Anthony McBride and Dr. Reid Wilson.
"I got to meet both my partners before I started and I liked both of them. I liked the idea of having other surgeons with whom I could consult and collaborate," McGinnis said. "I like Owensboro in general, the size of the community. I grew up in a town of 1,200 people so it's certainly bigger than what I was accustomed to growing up."
McGinnis added that outside of the doctor's office or the operating room, he has a full schedule with a wife and children.
"I have three kids, identical twin girls that are 2 years old, and a 4-year-old boy," McGinnis said. "We play and read books to them."
McGinnis also enjoys music and plays the guitar and banjo.
"I was raised in a small town in far Eastern Kentucky and my whole family plays music. A lot of it would be considered Bluegrass-type music. At all my family gatherings, there's a myriad of instruments lying around and most of them are more talented than me. Whatever instrument they wander past, they can pick it up and play it pretty well and it was fostered into the way I was raised. As I've gotten older, I've come to appreciate it a lot more and actually work on it," McGinnis said. "Music is a big part of our lives, even with our kids. They're all pretty interested in music and we try to foster that. A lot of times when I go home, after dinner, we sit around and listen to music and let the kids dance."
Messages from patients
Read the messages sent to Dr. McGinnis on National Doctors' Day.
"A Heartfelt Thank you: It's my belief that appreciation is something truly special, acknowledging a person and simply saying Thank you, gives them a reason to smile and to let them know what they mean to you. I wanted to write and personally say Thank you from the bottom of my heart for your attention to detail with the care you gave me, to get me where I am today! Several staff members were involved in my care but remembering all of them would be like the saying, "pulling a needle from a haystack." However there are a few that I would like to mention"... Read April's full testimonial.
"Dr. Mark McGinnis is to me the best in his field. He is very attentive and cares about you. You can't find a better orthopedic surgeon than him. Thank you doctor for all you have done for me." - Susan
"Dr. McGinnis really cares for his patients before and after surgery and takes the time to explain things very clearly and I recommend him to anyone whom needs care!! Two thumbs up Dr. McGinnis!!!" - Roberta
Mako Robotic-Arm Assisted Surgery
Dr. Mark McGinnis is trained and certified to perform knee replacement surgery using Mako SmartRobotics™. This is a precise, clinically proven solution for those with debilitating pain of the knee caused by arthritis. Mako Robotic-Arm Assisted Surgery enables Dr. McGinnis to treat patient-specific knee conditions and help them return to their active lifestyle.
Education & Training
Education
University of Louisville, School of Medicine
Residency
University of Louisville

,

Orthopedic Surgery
Fellowship
Washington University

,

Sports Medicine
Internships
University of Louisville

,

Orthopedic Surgery
Board Certified
American Board of Orthopaedic Surgery