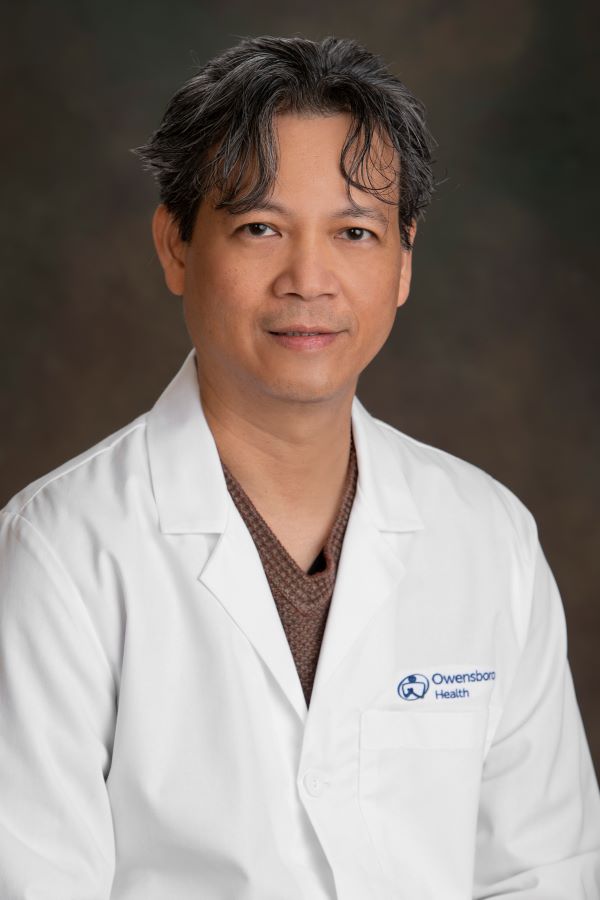 Victor R. Angeles, MD
Specializing in
Neurology
Affiliation: Owensboro Health
Physician Profile
Dr. Victor Angeles cares for pediatric and adult patients at Owensboro Health Medical Group Neurology in Leitchfield. He focuses on the evaluation of neurologic and neuropsychological conditions. This includes neurodiagnostic testing and treatment of neuromuscular diseases, epilepsies and seizures, brain injuries, memory disorders, strokes, neurological infections, and much more.
He enjoys the "satisfaction of finding appropriate diagnoses and successful treatment options for my patients," he said. His philosophy of care is simple: "Whatever you do, be nice".
He chose to study neurology because others were intimidated by the area, and he wanted to change the perception of neurology. "Science has always fascinated me the same way the arts do," he said. "I started out as an architecture major, but shifted to pre-med. Medicine is an art. I have the best of both worlds."
Dr. Angeles initially came to Twin Lakes in 2004 as part of a program working in medically underserved areas, and then chose to stay after he completed the program. "The area had become my home and my clinic staff became part of my family," he said. "I have become part of the community."
He earned his bachelor's and medical degrees from the University of the Philippines and completed a residency and fellowship at Tulane University.
In his free time, he enjoys drawing, drafting, painting, design and photography. Dr. Angeles also stays active with basketball, biking, hiking and home improvement projects.
Education & Training
Education
University of the Philippines, College of Medicine, Manilla

,

Doctor of Medicine
Residency
Tulane University Affiliated Hospital, New Orleans

,

Neurology
Fellowship
Tulane University Affiliated Hospital, New Orleans

,

Neurophysiology

Tulane University Affiliated Hospital, New Orleans

,

Behavioral Neurology

Tulane University Affiliated Hospital, New Orleans

,

Electromyography/Neuromuscular Diseases