Muhlenberg Community Hospital
Lease and asset purchase agreement brings MCH under Owensboro Health umbrella
A new agreement being signed by Muhlenberg Community Hospital and Owensboro Health brings the MCH campus and its employees into the Owensboro Health system, effective June 1, 2015.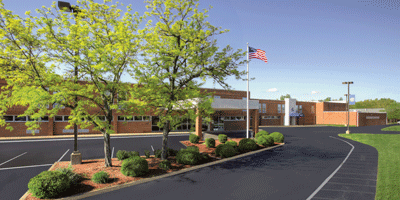 The Muhlenberg Community Board of Directors has unanimously voted to enter into a 20-year lease and asset purchase agreement that establishes a financial and operational partnership with Owensboro Health. As part of the agreement, MCH assets—including equipment and staff—are considered part of Owensboro Health for the duration of the lease.
"As a former employee of Muhlenberg Community Hospital, this is good news for our staff, physicians and patients," said Lanie Gardner, chair of Muhlenberg's board of trustees. "This move will help keep MCH strong and vibrant for years to come."
New Doors Open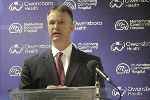 Dr. Ed Heath
CEO, Muhlenberg Community Hospital
"Today is a great day for the future—our employees, our community, and our hospital."
The new agreement will replace the management services contract that began last May. It gives Owensboro Health more latitude to invest in the facilities and develop the staff at Muhlenberg Community Hospital, which is located in Greenville, Kentucky. The additional employees will also boost Owensboro Health's workforce to nearly 3,900, strengthening the health system's position as Kentucky's largest employer west of Louisville.
"Owensboro Health has demonstrated its commitment to this community and our hospital," said Muhlenberg CEO, Dr. Ed Heath, who will continue to lead the hospital under the new agreement. "Today's announcement will open new doors for us."
Building on a Foundation of Success
Under the current agreement, Owensboro Health provided operational and financial oversight of the hospital, and the arrangement led to significant gains in revenue and patient volume in 2014, Heath said. But the new lease brings even more benefits to the partnership.
Muhlenberg and Owensboro Health employees will operate as one team.
Owensboro Health will be able to share resources, including physician specialists and support departments.
MCH patients will have access to a larger network of services and providers.
Perhaps most importantly, the partnership helps to preserve MCH's presence in Muhlenberg County. The hospital, which opened in 1938, was looking to partner with a regional health system that could strengthen its offerings but still preserve its community identity.
"We understand how important this hospital is to the community," said Philip Patterson, president and CEO of Owensboro Health. "We are committed to making it the best it can be."