Visiting Patients at Owensboro Health Regional Hospital
---
Current visitor restrictions
Due to the World Health Organizations (WHO) declaring COVID-19 a worldwide Pandemic, we are enhancing our Patient Safety Policy effective immediately. See the current restrictions.
---
Information Desk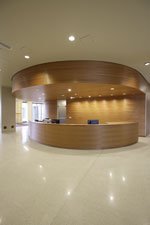 Phone: 270-417-3118
Hours: 24 hours a day, 7 days a week
The Information Desk is located just past the main entrance. It is staffed by volunteers who will help you with patient information, directions, and amenities.
More information
Learn about patient and visitor amenities such as banking, dining, gift shops, phone, internet, mail and news services.