Owensboro Health, Kentucky Cancer Program showcase "The Incredible Colon" to raise colorectal cancer awareness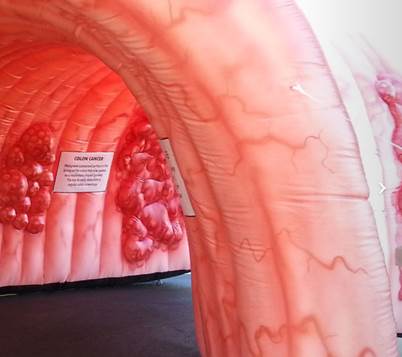 Owensboro Health is partnering with the Kentucky Cancer Program, using an inflatable exhibit to raise awareness of colorectal cancer.
The Incredible Colon, a 20-foot inflatable colon replica, will return to Owensboro Health Regional Hospital as part of this event. The exhibit was last on display at OHRH in March 2017 as part of the same effort to raise awareness of colorectal cancer.
Out of the top 10 cancers in Daviess County, Kentucky, colorectal cancer is ranked fourth in incidence (new cases) according to the Kentucky Cancer Registry. Colorectal cancer also ranks third in mortality (deaths) in Daviess County.
The Incredible Colon exhibit, which is free and open to the public, will take place from 8 a.m. to 4 p.m. on Thursday, March 29. Visitors to the exhibit will be able to do the following:
Walk through the colon model
Learn how the colon works
Learn how colorectal cancer screening can prevent cancer entirely or catch it early, improving chances of survival
Ask an expert about ways to improve and maintain digestive health
For more information about the Kentucky Cancer Program, contact Jaime Rafferty, Cancer Control Specialist, (O) 270-683-2560, jaime.rafferty@louisville.edu or visit www.kcp.uky.edu.
Contact: Brian Hamby, Director of Owensboro Health Marketing & Public Relations, (O) 270-685-7749, (C) 270-316-4274, Brian.Hamby@owensborohealth.org.