Published on July 07, 2021
COVID-19 Update - April 24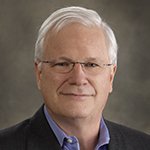 Dr. Francis DuFrayne
We are now six weeks into this pandemic and many of us are ready to "get back to normal." People are under incredible pressure to get back to work and we're all worried about the effects the pandemic will have on the economy. But from the medical side, we see the effects this virus can have and know we must stay steadfast in our efforts to defeat it.
As we plan how we can reopen certain areas of our economy, we know we have to take a slow and steady approach in order to do it safely. It will not look the same as it did just 90 days ago. Hand shakes and traditional waiting rooms will likely be a thing of the past. But other innovations like telehealth and drive-through medical services could emerge as common practice. We are still figuring out how this will look in the coming weeks and months. But one thing is for sure, our team is adapting to all the challenges we face and we will come out of this stronger than ever before. Thank you for your part in getting us through it.
Show of Support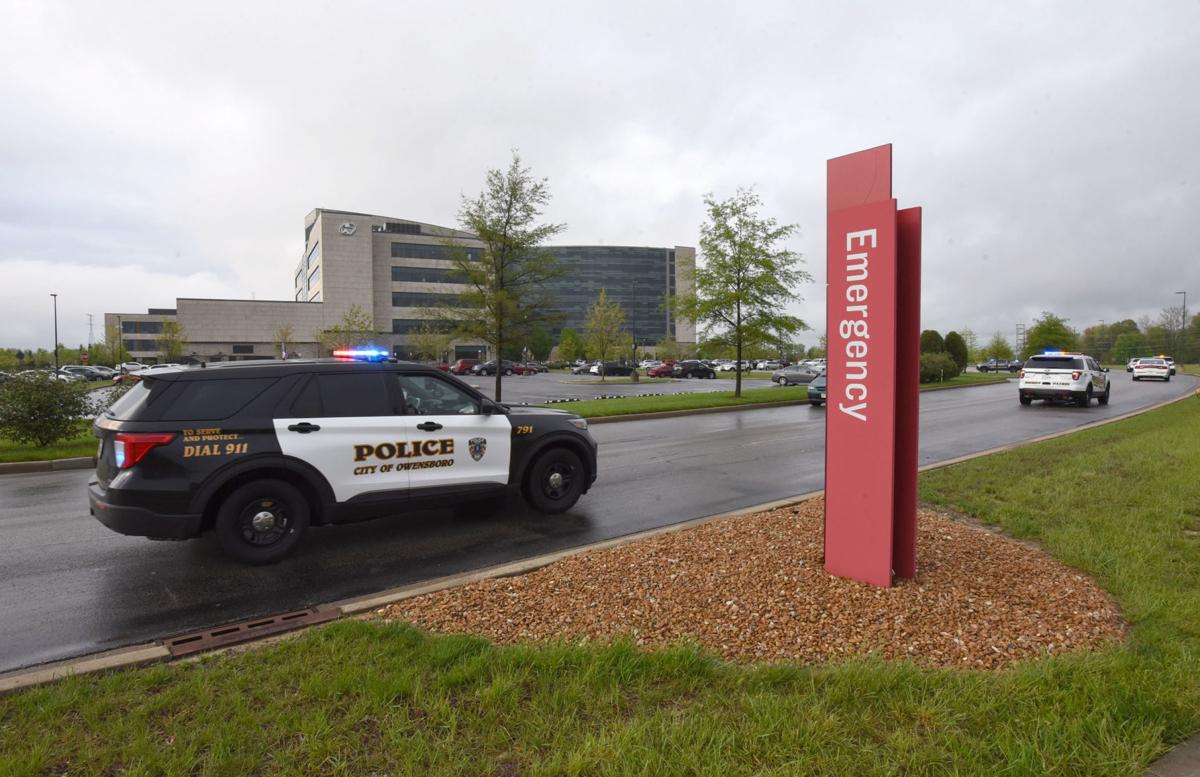 Close to 40 first responder vehicles hold a tribute to health care workers on Thursday evening at Owensboro Health Regional Hospital. AMR Ambulance along with city and county fire departments, the Owensboro Police Department, Kentucky State Police, Daviess County Sheriff's Department circled the hospital with their vehicles and parked with lights flashing from 5:45 to 6:15 p.m. to salute the hospital team members. Stephanie Rutter, the director of AMR, organized the tribute.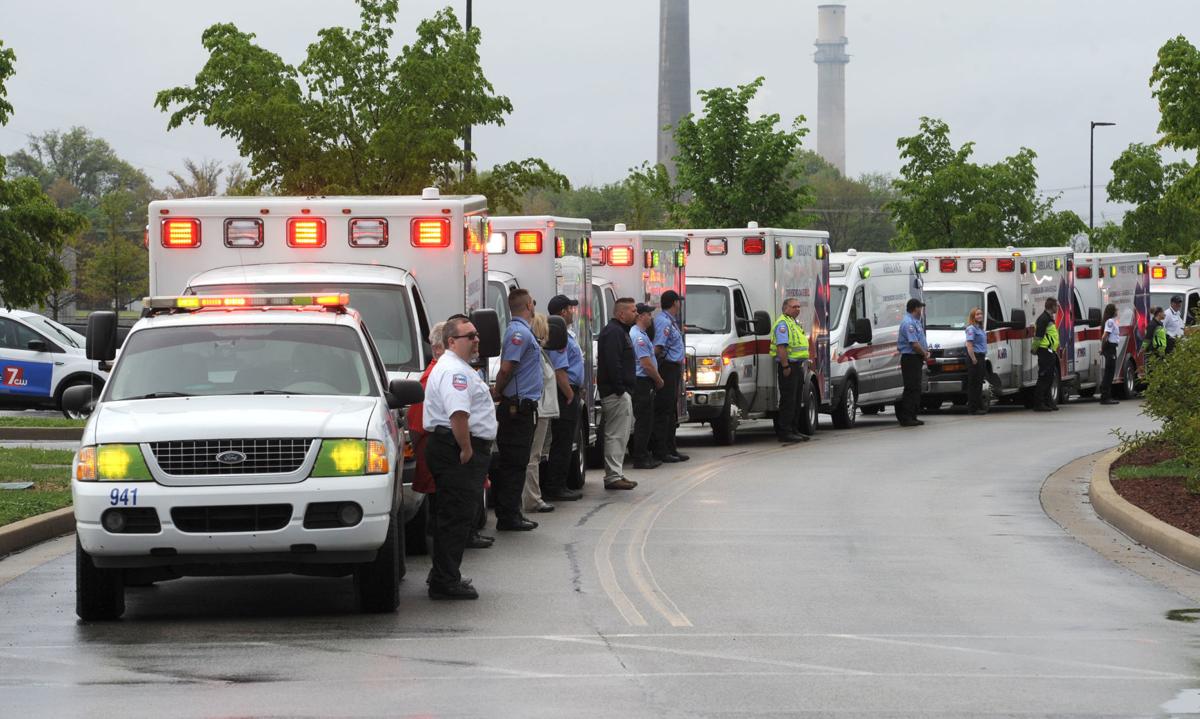 AMR Ambulance crews stand by their parked vehicles as they hold a tribute to healthcare workers on Thursday evening at Owensboro Health Regional Hospital.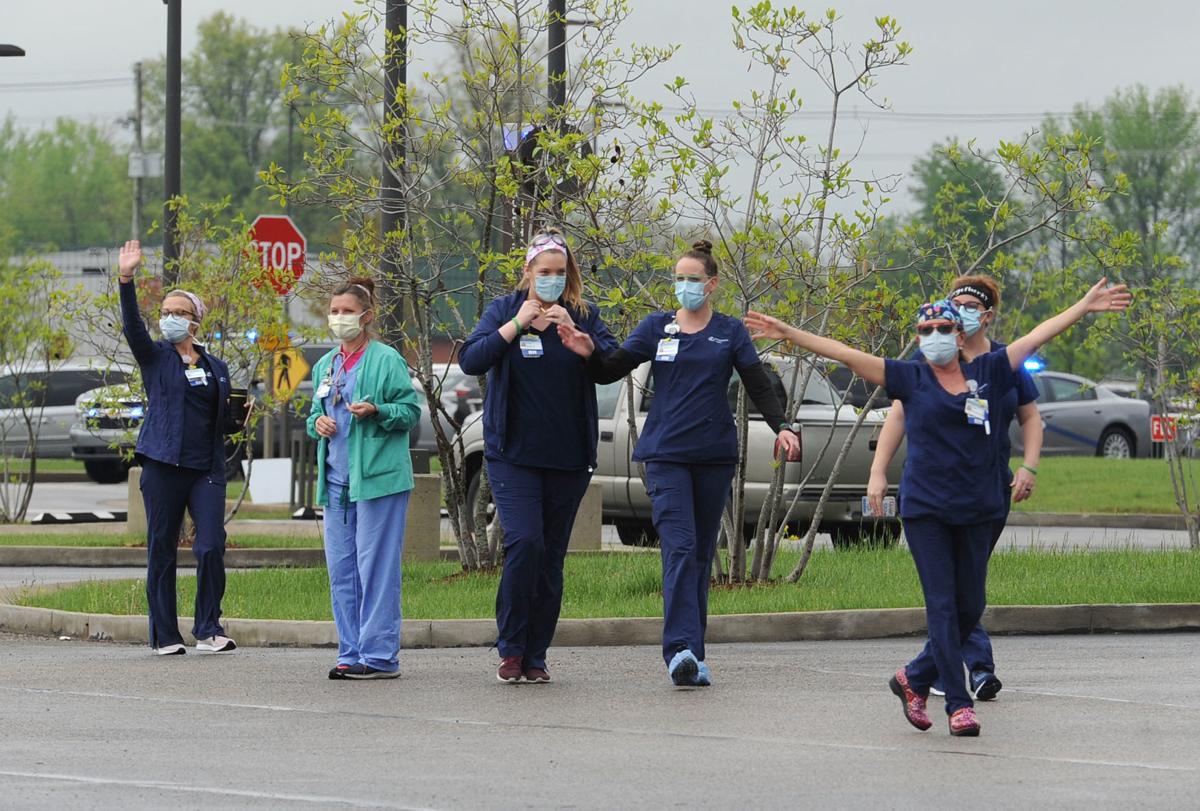 Healthcare workers wave to first responders on Thursday evening at Owensboro Health Regional Hospital.
Thank You to our First Responders
Area first responders lined up around Owensboro Health Regional Hospital Thursday night. They flashed their lights in a show of support for healthcare workers. They are on the front lines of this battle with us every day and this moment of solidarity for all of our teams together was incredibly moving. Watch a video of the event here.
Stay Active with the Healthpark Online
Need some inspiration to get moving while you're healthy at home? The Owensboro Health Healthpark posts workout videos regularly on their Facebook page. You can follow along with workouts for zumba, yoga, bootcamp and more. It's also a great way to try a new class!
Donations from our Community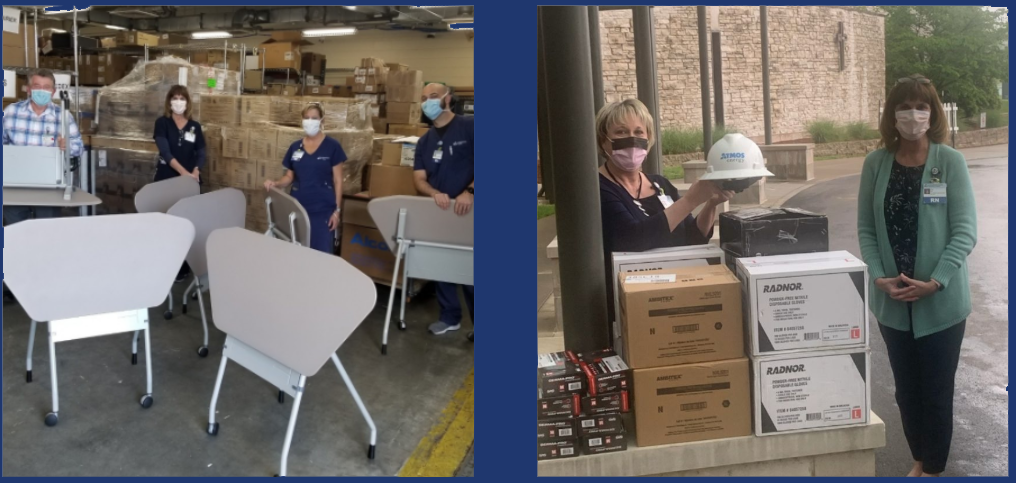 Atmos Energy donated several boxes of gloves to OHRH this week, and Kimball International donated rolling tables that we will use to store PPE outside of COVID-19 patient rooms. We are so grateful for the continued donations we receive from local organizations.
What Counts as Exposure to COVID-19?
Exposure is defined as being within six feet of a COVID-19 positive person for 15 minutes or longer and NOT wearing a surgical mask or N95 mask AND eye protection or face shield. NOTE: A cloth mask alone is not considered appropriate PPE. If a team member meets the definition of exposure, they should enter a report in Midas and contact the COVID-19 Employee Health Triage Team at 270-417-4000.
Video Uses Lasers To Show Droplet Spray
If you're not convinced about the use of masks to prevent the spread of COVID-19, take a look at this video. Published in The New England Journal of Medicine, it uses laser technology to show the amount of droplets released as someone says "stay healthy" at different volumes. It then shows the difference when the speaker's mouth is covered.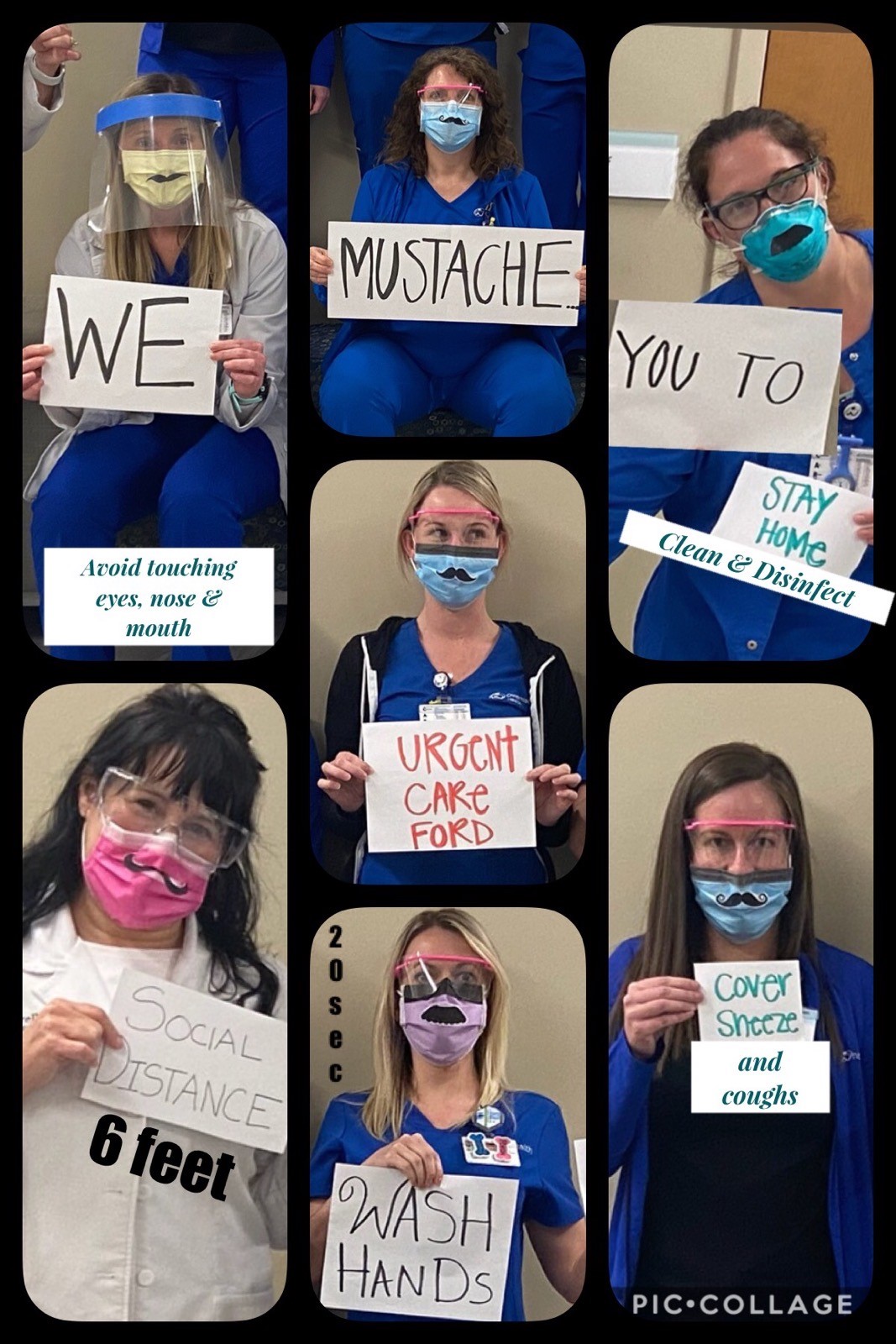 Our Urgent Care - Ford team members remind you to follow the COVID-19 guidelines to stay healthy!
About Owensboro Health
Owensboro Health is a nonprofit health system with a mission to heal the sick and to improve the health of the communities it serves in Kentucky and Indiana. The system includes Owensboro Health Regional Hospital, nationally recognized for design, architecture and engineering; Owensboro Health Muhlenberg Community Hospital; Owensboro Health Twin Lakes Medical Center; the Owensboro Health Medical Group comprised of over 200 providers at more than 20 locations; three outpatient Healthplex facilities, a certified medical fitness facility, the Healthpark; a surgical weight loss center and program, and the Mitchell Memorial Cancer Center.
On average each year, we have 16,000 inpatient admissions, deliver 2,000 babies and provide the region's only Level III NICU. Owensboro Health physicians perform nearly 24,000 surgical procedures, including nearly 200 open-heart surgeries. Our physicians and staff have 70,000 Emergency Department visits, more than a million outpatient visits annually. Visit our home page for more information.