Published on October 25, 2021
COVID-19 Update: Booster Guidelines
Am I Eligible for a COVID-19 Vaccine Booster?
The FDA and CDC recommend a booster shot of COVID-19 vaccines in certain populations. Getting a booster is an important step forward as we work to stay ahead of the virus and keep Americans safe.
All three vaccines protect against COVID-19 and severe illness and death. Boosters are intended to return the vaccine's protection to the optimal level. CDC recommendations now allow for mix and match dosing for booster shots. For example, getting a Moderna booster when you initially had a Pfizer vaccine.
If you qualify for a booster, based on the graphic below, schedule your appointment by visiting OwensboroHealth.org/Vaccine, logging into MyChart or calling 270-685-7100, option 6.  Walk-ins will not be accepted. Please bring your vaccination card that was given to you with your initial vaccine.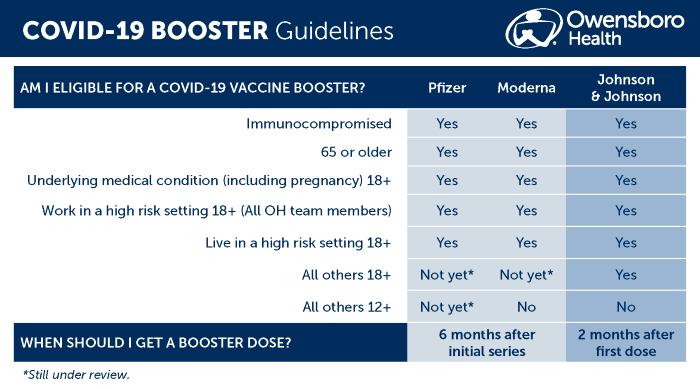 About Owensboro Health
Owensboro Health is a nonprofit health system with a mission to heal the sick and to improve the health of the communities it serves in Kentucky and Indiana. The system includes Owensboro Health Regional Hospital, nationally recognized for design, architecture and engineering; Owensboro Health Muhlenberg Community Hospital; Owensboro Health Twin Lakes Medical Center; the Owensboro Health Medical Group comprised of over 200 providers at more than 20 locations; three outpatient Healthplex facilities, a certified medical fitness facility, the Healthpark; a surgical weight loss center and program, and the Mitchell Memorial Cancer Center.
On average each year, we have 16,000 inpatient admissions, deliver 2,000 babies and provide the region's only Level III NICU. Owensboro Health physicians perform nearly 24,000 surgical procedures, including nearly 200 open-heart surgeries. Our physicians and staff have 70,000 Emergency Department visits, more than a million outpatient visits annually. Visit our home page for more information.