Published on August 30, 2021
COVID-19 Update: Governor Recognizes OH, Vaccine Clinics and Updated Numbers
Governor Beshear Acknowledges OH for Twin Lakes Evacuation 
In his COVID-19 Briefing on Monday, Governor Andy Beshear referenced the power outage and teamwork shown this weekend to transport all the Twin Lakes patients to OHRH.  
Beshear stated, "Eventually, the decision was made (that Twin Lakes), ... a part of Owensboro Health, they did an incredible job, that they were going to have to evacuate most of the patients there. We had the Louisville FEMA team on standby to go and help with that. Turns out, they were able to handle it all with what they had which is an incredible testament." 
You can find the full briefing and see this around minute 22:00. 
Vaccine clinic held at Spanish-speaking Church Service 
A small group of Owensboro Health team members set up a vaccine clinic at Sts. Joseph and Paul Catholic Church Sunday in an effort to reach our Spanish-speaking population. There were interpreters there to assist in the process and OH vaccinated 27 individuals. 
COVID-19 By the Numbers
Coronavirus cases continue to fill hospitals across the area. The graphic below shows how many COVID-19 positive patients were in Owensboro Health facilities as of 8 a.m. Monday morning, as well as the age range of these patients. Please note: due to a power outage at Twin Lakes Medical Center over the weekend, patients from the Leitchfield facility were moved to Owensboro Health Regional Hospital.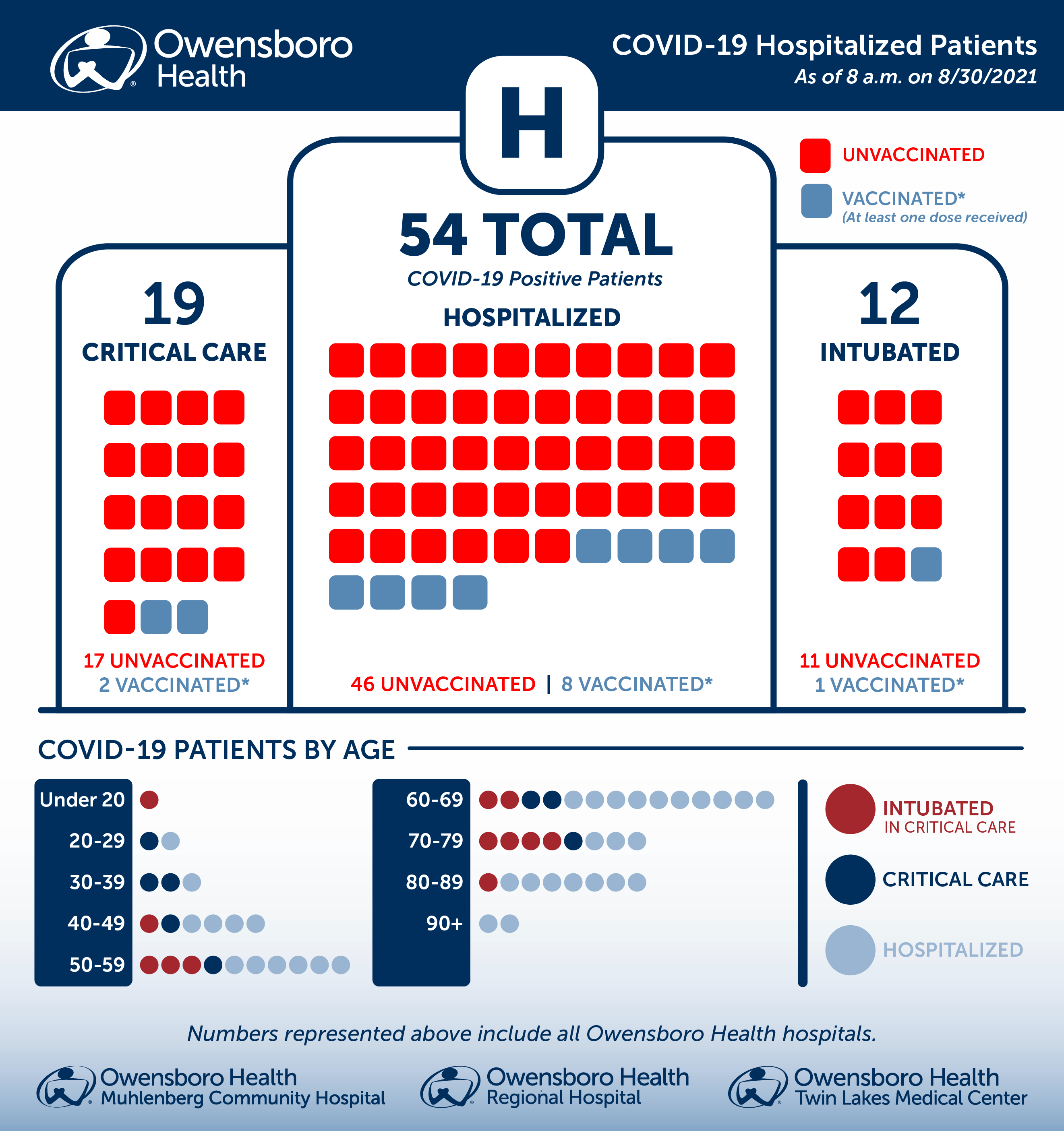 About Owensboro Health
Owensboro Health is a nonprofit health system with a mission to heal the sick and to improve the health of the communities it serves in Kentucky and Indiana. The system includes Owensboro Health Regional Hospital, nationally recognized for design, architecture and engineering; Owensboro Health Muhlenberg Community Hospital; Owensboro Health Twin Lakes Medical Center; the Owensboro Health Medical Group comprised of over 200 providers at more than 20 locations; three outpatient Healthplex facilities, a certified medical fitness facility, the Healthpark; a surgical weight loss center and program, and the Mitchell Memorial Cancer Center.
On average each year, we have 16,000 inpatient admissions, deliver 2,000 babies and provide the region's only Level III NICU. Owensboro Health physicians perform nearly 24,000 surgical procedures, including nearly 200 open-heart surgeries. Our physicians and staff have 70,000 Emergency Department visits, more than a million outpatient visits annually. Visit our home page for more information.