Published on February 26, 2021
OH Adds Lifestyle and Sports Medicine to Services
By Christie Netherton, Messenger-Inquirer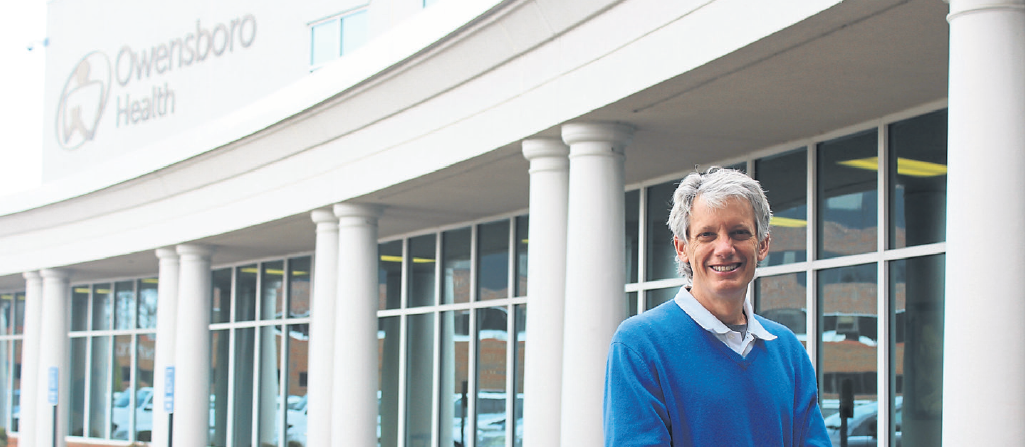 Dr. W. Scott Black, who is joining the Owensboro Health team, will offer a new service called lifestyle and sports medicine.
According to OH, lifestyle medicine focuses on prevention, treatment and even reversal of diseases caused by lifestyle factors, specifically by educating and motivating patients to improve habits and behaviors such as eating habits and physical activity that might contribute to certain diseases.
Black's practice will be located in the Ford Medical Building at 2211 Mayfair Ave.
"When I came out of residency and went into practice, it took me about three months or less to recognize that a lot of the common illnesses I would see were really more related to lifestyle," Black said.
Common illnesses that could benefit from lifestyle medicine, he said, are heart disease, diabetes and certain forms of cancer.
Black said lifestyle medicine helps patients figure out how to take some control over their health issues and make positive changes to their lives with the assistance of a doctor.
"People can make some small changes and really see a great deal of benefit from those and I hope to help them see that," Black said. "I see physicians and other medical providers as sort of like health coaches. We try to help people get a better path. Any good coach does that and any good clinician does that."
While Black said lifestyle medicine is an important component in every community, Kentucky, specifically, is in the bottom 10 in the country in overall general health and the number one state for lung cancer rates at 53.5%.
The number one cause of death in the U.S. is cardiovascular disease, the second cancer and lung disease is fourth.
Black's practice, he said, will specialize in sports medicine with a focus on lifestyle health.
"It's a great need in any community," Black said. "If you look at the top five or six causes of death and disability in the United States, they're all chronic diseases of one form or another. There are very effective things you can do in lifestyle medicine to correctly affect every one of those. So it's an important component of medicine, not just in Owensboro, but anywhere."
Christie Netherton, cnetherton@messenger-inquirer. com, 270-691-7360
About Owensboro Health
Owensboro Health is a nonprofit health system with a mission to heal the sick and to improve the health of the communities it serves in Kentucky and Indiana. The system includes Owensboro Health Regional Hospital, nationally recognized for design, architecture and engineering; Owensboro Health Muhlenberg Community Hospital; Owensboro Health Twin Lakes Medical Center; the Owensboro Health Medical Group comprised of over 200 providers at more than 20 locations; three outpatient Healthplex facilities, a certified medical fitness facility, the Healthpark; a surgical weight loss center and program, and the Mitchell Memorial Cancer Center.
On average each year, we have 16,000 inpatient admissions, deliver 2,000 babies and provide the region's only Level III NICU. Owensboro Health physicians perform nearly 24,000 surgical procedures, including nearly 200 open-heart surgeries. Our physicians and staff have 70,000 Emergency Department visits, more than a million outpatient visits annually. Visit our home page for more information.