Published on August 05, 2021
Temporary Location Change for the Ambulatory Infusion Center
The Ambulatory Infusion Center is temporarily changing locations from the 7th floor of Owensboro Health Regional Hospital to the Parrish Avenue Campus, beginning August 6, 2021. The new address is 811 East Parrish Avenue. Patients may enter through the Breckenridge or Parrish entrance, and park in the area closest to the entrance.
This move will allow us to accommodate patients requiring overnight admission to the hospital.
New Temporary Location Map
See the starred entrance on the Southeast side of the Parrish Medical Building.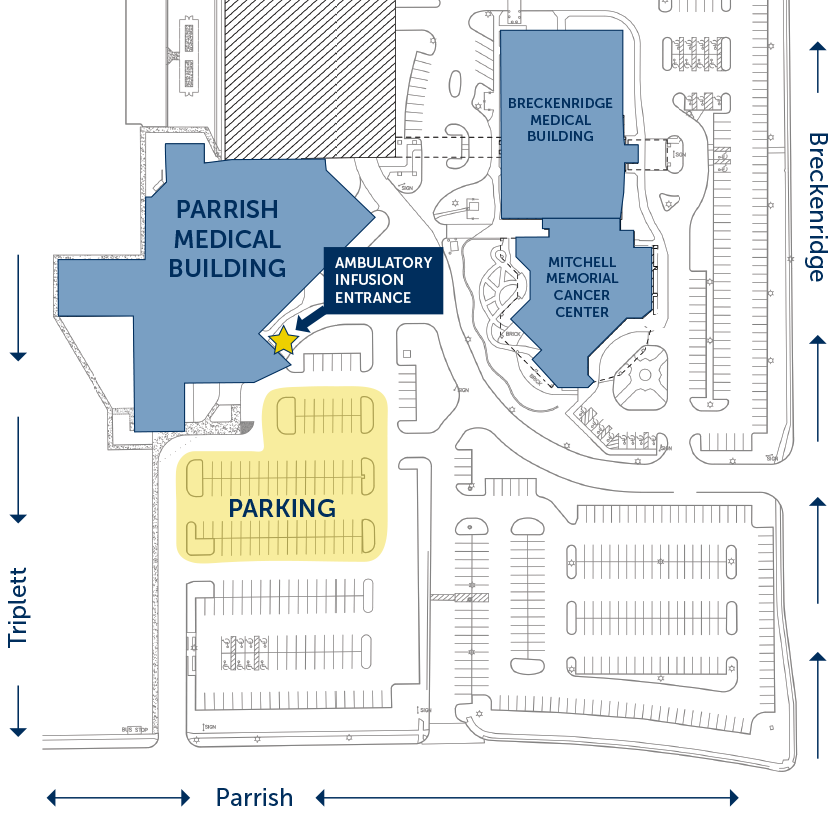 About Owensboro Health
Owensboro Health is a nonprofit health system with a mission to heal the sick and to improve the health of the communities it serves in Kentucky and Indiana. The system includes Owensboro Health Regional Hospital, nationally recognized for design, architecture and engineering; Owensboro Health Muhlenberg Community Hospital; Owensboro Health Twin Lakes Medical Center; the Owensboro Health Medical Group comprised of over 200 providers at more than 20 locations; three outpatient Healthplex facilities, a certified medical fitness facility, the Healthpark; a surgical weight loss center and program, and the Mitchell Memorial Cancer Center.
On average each year, we have 16,000 inpatient admissions, deliver 2,000 babies and provide the region's only Level III NICU. Owensboro Health physicians perform nearly 24,000 surgical procedures, including nearly 200 open-heart surgeries. Our physicians and staff have 70,000 Emergency Department visits, more than a million outpatient visits annually. Visit our home page for more information.