Published on January 19, 2023
OH Offers Convenience With Drive-thru Testing, Vaccines
By Freddie Bourne, Messenger-Inquirer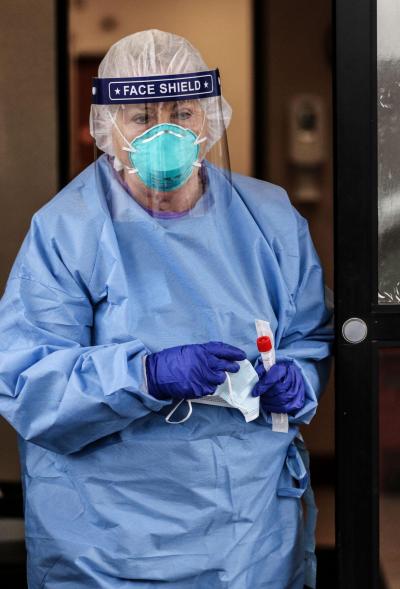 With COVID-19, flu and other respirator  illnesses still present, Owensboro Health has launched its Springs Drive-Thru Testing and Vaccine Center for both quick and accurate care and results. The center, which was initially called the Springs Respiratory Virus Evaluation/Treatment Center (RVEC) as part of an expansion of The Springs Health Centre at 2200 E. Parrish Ave.

Ronda Rodgers, director of nursing professional development for OH who oversees the center, said the entity decided to focus on the drive-thru solely based on the recent utilization. "The walk-in only did vaccines, whereas the drive-thru did both vaccines and testing," she said. "What we found was the volume decreased as the people got their last boosters …, so it made more sense to combine it into one …. "We really wanted to keep that drive-thru component because of the convenience for the patient." The center offers a variety of testing, which includes: COVID-19 vaccines such as second doses and boosters, flu vaccines, flu tests, RSV tests and strep tests. "The flu, COVID and RSV — we can test all three of those without a doctor's order … and it's all on one swab," said Amy Robinson, nursing supervisor for the center. "We don't have to test with different swabs for each different test." Testing for COVID, flu and RSV is available for all ages, Robinson said, while strep testing is done if the patient has a doctor's order and for those ages 5 and older. If testing positive for strep, the patient's primary physician is responsible for prescribing the antibiotic for treatment. Novavax boosters are not available in the drive-thru services, but can be acquired at the Outpatient Pharmacy at the hospital.
Rodgers said that testing takes about five minutes and a courier comes by the center every couple hours to take the swabs to the hospital for the results. Patients can receive results on MyChart for flu tests in about two hours, while COVID results are expected to be posted same-day. Patients receive a polymerase chain reaction (PCR) COVID test, which provides the most accurate results. "The PCR test is
just a more thorough test than the at-home test, and it can detect the COVID possibility (quickly)," Robinson said. Rodgers said that the center also has registered nurses available to help with any questions about results. "If they just come by without a specific physician's order and they test positive, we have a nurse assigned every evening to call them and make sure they understand their results and what they need to do," she said. Services are open from 8 a.m. to 4 p.m. Monday through Friday. Appointments are required for those wanting to receive a COVID-19 vaccine while preferred for those inquiring about a flu vaccine. However, Robinson said the center will not turn anyone away who shows up for services. Appointments can be made online at owensborohealth.org/vaccine, through your MyChart account or by calling 270-685-7100 and pressing option 6. Patients looking to receive the new vaccine as a single booster dose should wait at least two months following your most recent COVID-19 vaccine. Flu vaccines are available in both standard and high-dose options, with the latter dose being recommended for people ages 65 and up. Appointments are not required to get a flu shot. Most prescription insurance cards are accepted, including Medicare, while private pay for the flu vaccine is $25, with cash or check being accepted.
About Owensboro Health
Owensboro Health is a nonprofit health system with a mission to heal the sick and to improve the health of the communities it serves in Kentucky and Indiana. The system includes Owensboro Health Regional Hospital, nationally recognized for design, architecture and engineering; Owensboro Health Muhlenberg Community Hospital; Owensboro Health Twin Lakes Medical Center; the Owensboro Health Medical Group comprised of over 200 providers at more than 20 locations; three outpatient Healthplex facilities, a certified medical fitness facility, the Healthpark; a surgical weight loss center and program, and the Mitchell Memorial Cancer Center.
On average each year, we have 16,000 inpatient admissions, deliver 2,000 babies and provide the region's only Level III NICU. Owensboro Health physicians perform nearly 24,000 surgical procedures, including nearly 200 open-heart surgeries. Our physicians and staff have 70,000 Emergency Department visits, more than a million outpatient visits annually. Visit our home page for more information.