The Galyen's birth story
Over the rainbow
The Galyens, Laci, Braden and their new daughter, Elsie Jo, appear as any other young family. They are full of life, eyes sparkling, as they watch baby Elsie discover each new part of this vast world. Laci cups Elsie's tiny hand in her own. Braden lovingly pats her on the back and places a protective arm around Laci's shoulders. To anyone else, this moment might seem mundane or average, but to Braden and Laci, every moment with Elsie is a precious one.
Elsie is their rainbow baby — a baby born after losing another — because just a short time ago, Braden and Laci said goodbye to their firstborn.
Laci's blog reads:
"On October 24, 2017, at 12:42 p.m. Baron Kyle was born. Daddy held him first and then Daddy held Momma while she held Baron. He died in our arms when he was just 23 minutes old (what a fighter for 21 weeks 3 days). Our much-wanted, much-loved precious baby Bear."
A rare condition
Laci had developed a rare complication of pregnancy known as HELLP syndrome — or hemolysis, elevated liver enzymes and low platelets. Laci was in the less than 1% of patients who develop HELLP at such an early point. Her symptoms were not out of the ordinary for any pregnancy — weight gain, heartburn and breathlessness. She went to the Owensboro Health Regional Hospital (OHRH) Emergency Department when she developed back pain that she thought was a kidney stone.
At that point, Dr. Thomas Tabb became involved. Dr. Tabb is a maternal-fetal medicine specialist. He's who they call when a normal pregnancy becomes high-risk.
Dr. Tabb assessed and monitored Laci at OHRH and began to suspect HELLP syndrome. Due to her early gestation, and the risk of death for both mother and baby, Dr. Tabb sent Laci to Norton's Hospital in Louisville. They tested for any other possible conditions that could cause these symptoms, just to be sure. Unfortunately, Laci's life was soon jeopardized, and it became necessary to induce.
A tragic loss
Laci's blog explains her feelings following Baron's birth:
"In today's world we want to believe that all pregnancies result in a healthy baby that the proud parents take home and cuddle and smell and love and all live happily ever after. We want to believe in the images of positive birth: pregnancy and birth being natural, beautiful events, etc. — which they can be.
"But for me, as with a number of women for various reasons, this image is a fallacy and I'm having a hard time coming to terms with it. My pregnancy nearly killed me; my baby fought for his life; my baby died in my arms. These are things that are not supposed to happen.
"And here I am... an empty-armed momma yearning to hold a baby. And rock them. And smell them. And give them all of my love. I know that My God is faithful and I will be a blessed momma with full arms someday. And I can't wait for that day."
Braden and Laci took some time to heal before deciding they would try again. Dr. Tabb invited the couple to a preconception counseling session where he explained the risks of a future pregnancy and the plan of care. He wanted to hear from them as soon as a pregnancy test was positive and guide them through the next pregnancy in its entirety.
Facing the odds again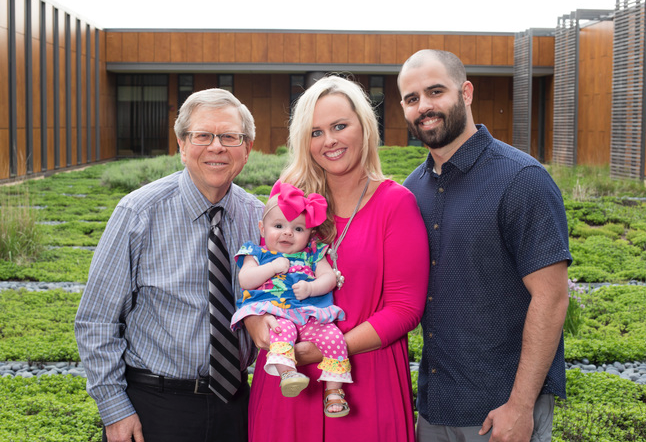 After talking with Dr. Tabb, Laci knew that she had a 50% chance of developing HELLP syndrome again in the second pregnancy because she'd developed it so early the first time. However, Dr. Tabb talked with her about trying a combination of baby aspirin and Lovenox injections, a treatment proven successful for HELLP syndrome in European clinics. Laci would be required to self-inject throughout her pregnancy, with a goal to reach 37 weeks gestation. The risk of developing HELLP after that point, even with the recommended therapies, would be too high.
Learning that she was pregnant with Elsie Jo was bittersweet for Laci.
"Pregnancy after loss — it's the one thing you truly want but are truly terrified of getting," her blog read. "When it happens, you lie awake at night hoping and praying that it won't end in another loss and wondering how you will possibly make it through if it does. Finding out you're pregnant sets in an instant fear factor mixed with the cheesiest smile and bursts of excitement. Will this be the baby you get to bring home? Please God, let this be the one you can bring home."
Care from the heart
Dr. Tabb was there to walk Laci through it all. He eased her anxieties, whether on the clock or off, even returning a message on Thanksgiving weekend. When Elsie Jo finally arrived, Dr. Tabb visited on his day off just to check in on the new family.
When Laci posted on Facebook about his visit, dozens of other women responded that, they too, had been loved, comforted and cared for by Dr. Tabb during some of the most difficult and scary moments of their lives. It might seem odd to say "loved" when talking about a physician and patient relationship, but there's simply no other word to describe what Dr. Tabb does for his patients.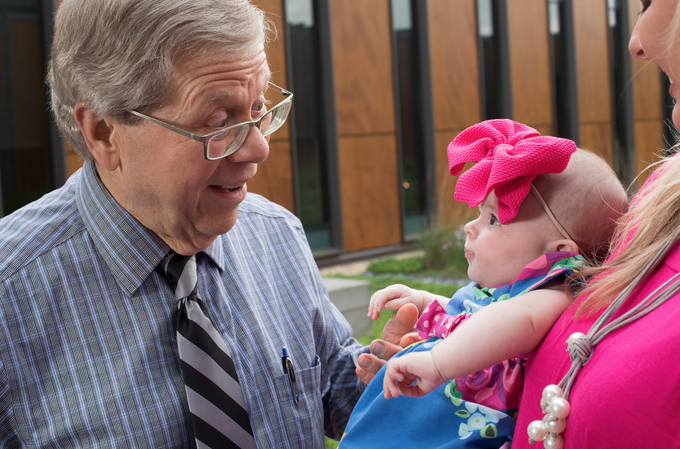 Laci's facebook post reads, "This man right here ♥ I cannot truly express just how much he means to our family. He has been here for us since my diagnosis with HELLP syndrome with Baron and throughout this pregnancy with Elsie Jo. He has helped calm my nerves on some of the hardest days and has always been one text away. Today, I have been an emotional new mom who is beyond ready to take my baby girl home from the hospital. I hear a knock on the door and in walks Dr. Tabb to see us— on his day off. He reassures me, cracks jokes on me, calls me "Lace", and makes my heart happy. I'm thanking God that our paths crossed and that this angel was put in my life...... forever thankful for him."
When asked why he does this, why he goes above and beyond for his patients, he responded, ever modest, "It's the way I was raised. My family taught us to give back and that our abilities are God-given."
There was no way for Dr. Tabb or his family to know how far those words would take him but, between his God-given talent and Laci's determination of faith, Elsie Jo is here.
This article originally appeared in the September 2019 edition of Lift magazine, check out our latest publication.