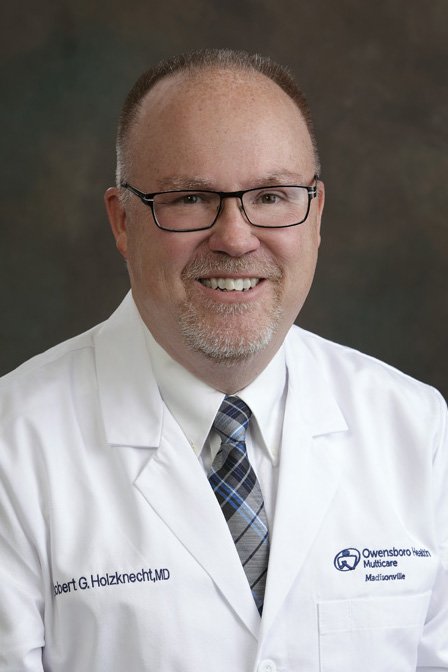 Robert Holzknecht, MD
Specializing in
Urgent Care
Affiliation: Owensboro Health
Education & Training
Education
University of Louisville School of Medicine
Residency
Trover Foundation, Madisonville, Ky.
Internships
Trover Foundation, Madisonville, Ky.
Board Certified
American Board of Family Medicine
Additional Information
Messages from patients
Read messages sent to Dr. Holzknecht on National Doctors' Day.
Doctor, I thank you for your thoughtfulness and thoroughness as you treated me and the time that you spent with me. It was a privilege to have been seen by you." - Malcolm
"Dr. Bob, thank you for the excellent care you have provided over the many years we've been acquainted. We have run the full gamete from asthma to whatever! I not only count you as my emergency doctor, but I count you as a friend! Keep up the good work and God bless!" - Deborah
"Dr. Bob, we just want to thank you for always making Clayton feel so special!! You definitely are his favorite. He gets mad when we have to go to a different health system and actually see his pediatrician. He says no, no, Dr. Bob. Not only does he talk about you there, but at home too. The puppy was sick last week and he said let's take Mille to see Doc Bob! Lol!! You and your staff have definitely made a impact on Clayton and we thank you from the bottom of our hearts!!! Happy Doctor Day Bob!!! Sincerely your favorite patient," - Clayton E.