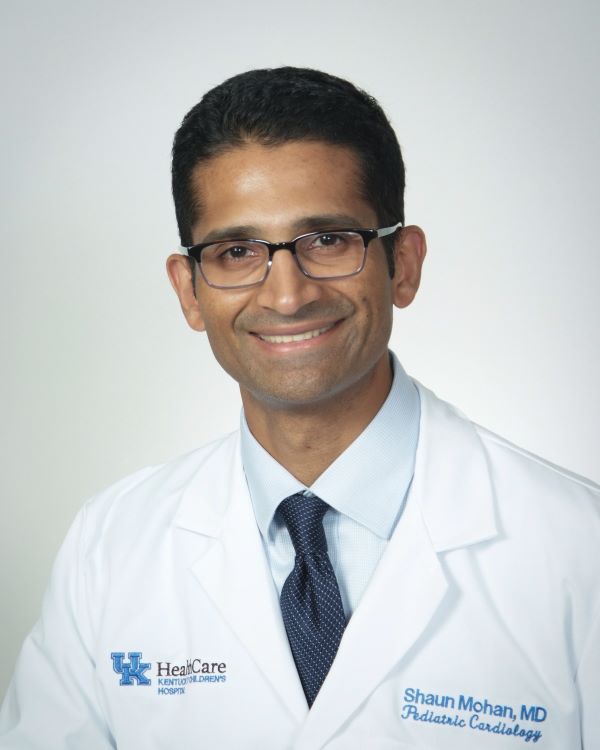 Shaun Mohan, MD, FHRS
Specializing in
Pediatric Cardiology
Pediatric Electrophysiology
Affiliation: Independent provider with hospital privileges
Physician Profile
Dr. Shaun Mohan is a pediatric cardiologist at the Kentucky Children's Hospital Congenital Heart Clinic. Dr. Mohan has helped build a pediatric and congenital electrophysiology program at UK HealthCare.
Dr. Mohan's medical interests and specialties include pediatric and congenital electrophysiology, including catheter ablation for supraventricular and ventricular arrhythmias, as well as arrhythmias in pediatric and adult congenital heart disease. He also works with pacemakers and implantable cardioverter defibrillators (ICDs). His other clinical interests include cardiac resynchronization therapy, hypertrophic cardiomyopathy, channelopathies, WPW syndrome and sudden cardiac death.
In his spare time, Dr. Mohan enjoys spending time with his family and being active by running, biking and hiking.
Education & Training
Education
University of Stony Brook, School of Medicine, Stony Brook, N.Y.
Residency
Children's Hospital of Pittsburgh of UPMC
Fellowship
Children's Hospital of Philadelphia

,

Pediatric Cardiology

Texas Children's Hospital, Baylor College of Medicine, Houston

,

Pediatric, Electrophysiology
Board Certified
American Board of Pediatrics
American Board of Pediatrics, Pediatric Cardiology IHBRE Certified Electrophysiology Specialist (CEPS-P)
Fellow of the Heart Rhythm Society