Published on December 01, 2016
Eating Well: Plan For Healthy Holiday Eating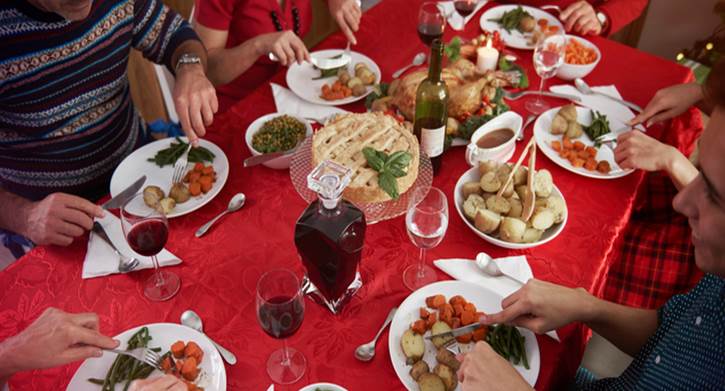 'Tis the season to be jolly, which often means parties, celebrations, and other seasonal activities, many of which revolve around food.
With all the good cheer, are we left with any hope for eating well and staying healthy during the joyous holiday season?
Despite the common belief that most people gain as much as 10 pounds from Thanksgiving to New Year's, on average most Americans gain only about one pound of weight during this time.
The temptation is everywhere, though, and year after year, these pounds can add up. However, maintaining a healthy lifestyle and weight during the holiday season is possible. With some simple planning, you can make it through this holiday season while still enjoying all the holidays have to offer.
My suggestions for making it through the holidays in a healthy "weigh" are becoming almost as traditional as the holidays themselves. So, here are my annual holiday survival tips:
Plan To Get Moving
Make exercise a priority this holiday season and mark time for this on your calendar. Physical activity helps you burn extra holiday calories and is a great way to manage stress, which can be much higher this time of year. Don't wait until January to join the gym. Beat the rush and join now. Even little steps add up. Find the parking spot farthest away and take the stairs when possible. Bundle up and take a brisk walk outside to enjoy the Christmas lights and decorations.
Plan Your Snacks
Stash some healthy snacks in your purse, bag or car when you head out for a day of shopping. Homemade snack mixes, a piece of fruit or a handful of nuts can help stave off hunger when time is limited.
Plan To Make Healthier Holiday Meals & Treats
Take a look at your favorite holiday recipes and consider ways you can lower the fat and calories, such as using skim milk in place of whole milk or replacing some of the oil with applesauce. You can also scale back some on your holiday baking this year, so you don't have so many tempting goodies and leftovers in the house.
Additionally, find a healthy appetizer or party favorite that you would like to take with you to your holiday outings this year. Fruit trays, veggie platters, shrimp cocktail or baked chips with salsa, are a few simple ideas.
Plan Your Portions
Eat a healthy snack before you go out so you don't overeat after arriving at an event famished. Have a piece of fruit, a cup of yogurt, some vegetables with light dressing or even a cup or two of popcorn.
Plan For Moderation Instead Of Deprivation
Say it with me: "Practice moderation instead of deprivation." Deprivation ultimately leads to overindulgence. To avoid this risk, take small servings of your holiday favorites. Then wait at least 10 minutes before going back for seconds.
Plan Your Meals
Eat a healthy breakfast, lunch, and supper with balanced snacks each day. "Saving up" for the big meal can backfire and lead to overeating. Eat moderately throughout the day instead.
Plan What You Drink
Fill up on low- or no-calorie beverages like water, unsweetened tea, coffee or diet soda. Limit the consumption of alcoholic beverages, which can be higher in calories and lead you to make poor decisions when it comes to food.
This year plan to have a plan. Remember, nobody plans to fail. They just fail to plan.
Have a safe, healthy and happy holiday season.
Meet Our Dietitian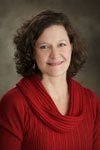 At Owensboro Health, you'll get nutrition counseling from a registered nutritionist — an expert in medical nutrition therapy. Beth Cecil, RDN, LD (right), is certified in food allergy management and is a Lifestyle Coach for the Diabetes Prevention Program. She also holds a Certificate of Training in Childhood and Adolescent Management, so you can trust her to care for your or your loved one's specialized needs.
About Owensboro Health
Owensboro Health is a nonprofit health system with a mission to heal the sick and to improve the health of the communities it serves in Kentucky and Indiana. The system includes Owensboro Health Regional Hospital, nationally recognized for design, architecture and engineering; Owensboro Health Muhlenberg Community Hospital; Owensboro Health Twin Lakes Medical Center; the Owensboro Health Medical Group comprised of over 200 providers at more than 20 locations; three outpatient Healthplex facilities, a certified medical fitness facility, the Healthpark; a surgical weight loss center and program, and the Mitchell Memorial Cancer Center.
On average each year, we have 16,000 inpatient admissions, deliver 2,000 babies and provide the region's only Level III NICU. Owensboro Health physicians perform nearly 24,000 surgical procedures, including nearly 200 open-heart surgeries. Our physicians and staff have 70,000 Emergency Department visits, more than a million outpatient visits annually. Visit our home page for more information.