Published on October 09, 2020
Fight. Win. Live.
A year ago, local dentist Dr. Amy Carrico was diagnosed with breast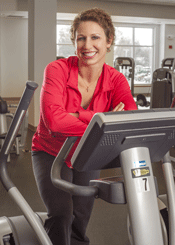 cancer. She fought with everything she had. Not just for herself, but for her family, including four sons, aged 9 and younger.
She won.
It was anything but easy, but Dr. Carrico refused to let down. Even after surgery to remove the cancer, which was detected early, and chemotherapy, Dr. Carrico was still fighting back. A member of the Owensboro Health Healthpark, she never gave up on her dedication to being active and healthy.
"It's huge. Exercise is medicine. It is what keeps my positive mood and keeps me feeling strong and healthy. Exercise helps you become the best version of yourself. It helps you feel good about what you can accomplish, even if what you can accomplish is less than what it was previously," Dr. Carrico said. "My bad post-chemo weeks, all I could do was walk, and on my good weeks I would try as hard as I could to run my goal distance."
In addition to running, Dr. Carrico said she's a regular on the ellipticals and in group fitness classes such as the Healthpark's Fitness Yoga, Pilates and other group classes. In the winter months, Dr. Carrico said she and her boys also enjoy swimming in the pool and making use of the indoor gymnasium. The Healthpark also has a special allure because of the Playpark, where her sons can play and have fun while she's doing a workout.
"Without the Playpark, I couldn't work out. You can't get on the treadmill at home if you've got to take care of a baby," Dr. Carrico said. "A fitness center like the Healthpark is a huge asset to our community. I cannot imagine how I could incorporate exercise without childcare and group fitness opportunities."
And after winning the fight with cancer, Dr. Carrico said exercise has become even more crucial.
"Exercise on its own does something for you, but going somewhere to exercise sort of reminds you of all the work people put into it. Being healthy isn't free. You have to work at it," Dr. Carrico said. "Exercise is going to help me be a better mom and it lowers the risk of recurrence for my cancer. Exercise is the primary thing that reduces your risk."
A membership fee now is much better than big health care bills down the road, Dr. Carrico said.
"It's your best dollars spent. If you think about obesity and the other diseases you prevent, you might as well come here," Dr. Carrico said. "I'm making an investment so I can be sure I'll still be here."
Dr. Carrico added that she find exercise isn't just good for the body. It's also good for the soul.
"If God gives you this day, your gift back to him is to be all you can be," Dr. Carrico said. "To do so is to appreciate the giver of all good things. It's showing appreciation for your body, your health, your wellness and your life."
For more information about the Owensboro Health Healthpark or to sign up for a membership, call 270-688-5433.
About Owensboro Health
Owensboro Health is a nonprofit health system with a mission to heal the sick and to improve the health of the communities it serves in Kentucky and Indiana. The system includes Owensboro Health Regional Hospital, nationally recognized for design, architecture and engineering; Owensboro Health Muhlenberg Community Hospital; Owensboro Health Twin Lakes Medical Center; the Owensboro Health Medical Group comprised of over 200 providers at more than 20 locations; three outpatient Healthplex facilities, a certified medical fitness facility, the Healthpark; a surgical weight loss center and program, and the Mitchell Memorial Cancer Center.
On average each year, we have 16,000 inpatient admissions, deliver 2,000 babies and provide the region's only Level III NICU. Owensboro Health physicians perform nearly 24,000 surgical procedures, including nearly 200 open-heart surgeries. Our physicians and staff have 70,000 Emergency Department visits, more than a million outpatient visits annually. Visit our home page for more information.