Published on September 07, 2017
International Mediterranean Diet Month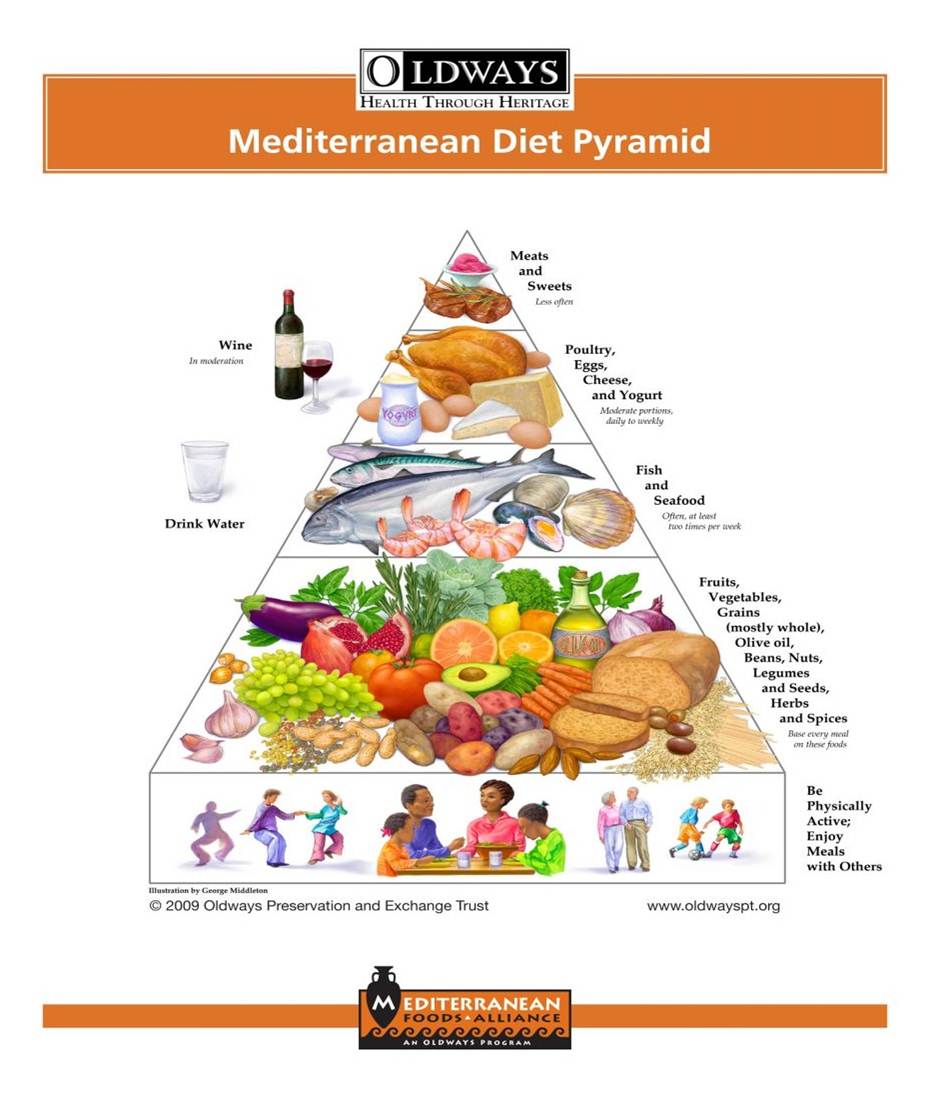 The Mediterranean Diet received its name from the population of people who lived around the Mediterranean Sea. In a study, these people were found to have a lower risk of heart disease than others living in surrounding regions.
The fundamentals of this diet highlight food groups such as vegetables, fruits, vegetable proteins, whole grains, and fats. The Mediterranean's ate a diet great in non-starchy vegetables such as asparagus, carrots, broccoli, cauliflower, celery, mushrooms, cucumbers and many more. They focused on fatty fish like salmon, mackerel, herring and sardines. Two to three servings a week is recommend for fish. These types of fish contain monounsaturated fats which have heart healthy properties. When eating poultry, they would bake, sauté, broil or grill meats. These types of cooking styles lowered calories, fats and cholesterol.
This diet highlights "healthy fats". You may be wondering what a healthy fat is. A healthy fat is one that contains monounsaturated or polyunsaturated fats. They contain little to no saturated fats, so they will not increase your "bad" cholesterol, or LDL. A serving of healthy fat include 1/8 of an avocado, 2 teaspoons of light margarine, 5 olives, 1 teaspoon of olive or canola oil. Four to eight servings per day is recommended. Another key component of the Mediterranean diet is nuts and legumes. Examples of a serving from this group includes 2 tablespoons of sunflower seeds or sesame seeds, 7-8 walnuts or pecans, 1 tablespoon of peanut butter, and 12-15 almonds. Nuts are high in unsaturated fats, which will increase your "good" cholesterol or HDL without raising "bad" cholesterol, or LDL.
The last two groups I will discuss are grains and dairy. Choose whole grains, focusing on 4-6 servings a day. Examples of a grain serving include 1 slice of whole wheat bread, 6-inch whole wheat pita, ½ cup of potatoes, corn or peas, ½ cup of cooked whole grain cereal, ½ cup whole wheat pasta.
When you are choosing dairy foods, choose skim or low-fat options. Examples of low fat dairy foods and their recommended servings include ½ cup of low fat cottage cheese, 1 cup of skim milk, 1 cup of light or Greek yogurt, and 1oz low fat cheese.
Meet Our Dietitian

Lauren Foreman is a Registered Dietitian and an Owensboro native who attended Daviess County High School. She holds a bachelor's in Nutrition from the University of Alabama. She has always had a passion for community wellness and bettering the health of our population. She is looking forward to providing nutrition information and having a hand in what Owensboro Health is accomplishing in our communities.
About Owensboro Health
Owensboro Health is a nonprofit health system with a mission to heal the sick and to improve the health of the communities it serves in Kentucky and Indiana. The system includes Owensboro Health Regional Hospital, nationally recognized for design, architecture and engineering; Owensboro Health Muhlenberg Community Hospital; Owensboro Health Twin Lakes Medical Center; the Owensboro Health Medical Group comprised of over 200 providers at more than 20 locations; three outpatient Healthplex facilities, a certified medical fitness facility, the Healthpark; a surgical weight loss center and program, and the Mitchell Memorial Cancer Center.
On average each year, we have 16,000 inpatient admissions, deliver 2,000 babies and provide the region's only Level III NICU. Owensboro Health physicians perform nearly 24,000 surgical procedures, including nearly 200 open-heart surgeries. Our physicians and staff have 70,000 Emergency Department visits, more than a million outpatient visits annually. Visit our home page for more information.