Published on September 29, 2016
LIVING WELL: How To Make The Most Of Your Diet With Beans [RECIPE]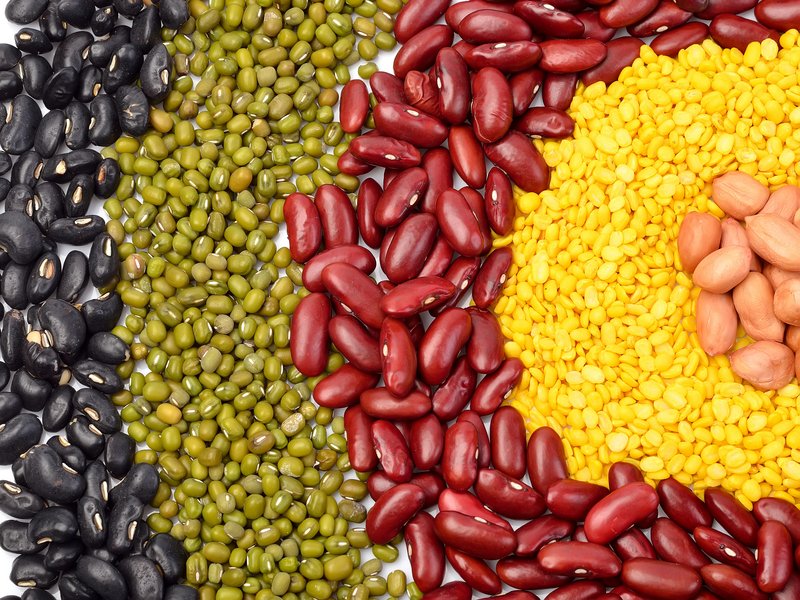 This time of year, I love grilling out. Or rather I love it when my husband grills.
The past couple of years, my husband has developed a new love: Smoking meats. He started out with a small smoker and just recently upgraded to bigger one, which his brother built.
But it's not just meats that are great from the smoker. The first weekend he used his new smoker, my husband made some fabulous baked beans. I am sure the bacon, honey and molasses were big factors in how tasty they were.
I think beans are often an overlooked nutrient powerhouse. They are low in fat, high in protein, rich in both soluble and insoluble fiber, a rich source of iron, and they are excellent sources of phosphorus, manganese, magnesium and copper.
The path to improving health through nutrition is to follow a healthy eating pattern that's right for you. Eating patterns are the combination of foods and drinks you eat over time. A healthy eating pattern is adaptable to a person's taste preferences, traditions, culture and budget.
Part of a healthy eating pattern includes:
A variety of vegetables: Dark green, red and orange, legumes (beans and peas), starchy and other vegetables
A variety of protein foods: This includes seafood, lean meats and poultry, eggs, legumes (beans and peas), soy products, and nuts and seeds
Here is the recipe my husband found and we love! We used navy beans and left off the jalapenos, as we didn't think our kids would like them. Then he just put them in his smoker for the 4 hours, instead of the oven. I hope you all enjoy as much as we did.
Ingredients
Water
2 tablespoons kosher salt
1 pound small dried navy beans, picked over and rinsed
8 ounces sliced bacon, cut into half-inch strips
1 1/2 cups finely minced yellow onion (about 1 large onion)
1/4 cup finely diced green bell pepper
1 tablespoon minced garlic (about 3 medium cloves)
2 cups chicken stock or low-sodium broth
1 1/2 cups ketchup
2/3 cup dark brown sugar
1/3 cup honey
1/4 cup molasses
2 tablespoons yellow mustard
1 tablespoon apple cider vinegar
1 tablespoon barbecue rub
1 tablespoon hot sauce
Directions
In a large container, whisk together 2 quarts water and salt until salt has dissolved. Add beans, cover, and let stand overnight at room temperature. Drain and rinse beans.
Place a large Dutch oven over medium-high heat. Add bacon and cook until fat has rendered and bacon has crisped (about 7 to 10 minutes). Transfer bacon to a paper towel-lined plate, leaving as much fat in Dutch oven as possible.
Add onion to Dutch oven and cook, stirring occasionally, until onion softens and begins to brown around the edges (about 7 minutes). Stir in green pepper and garlic and cook until fragrant (about 1 minute).
Stir in 3 cups water, chicken stock, reserved bacon and beans. Bring to a boil, then reduce heat to low and simmer for 1 hour. Preheat smoker while beans are simmering.
Stir in ketchup, brown sugar, honey, molasses, mustard, vinegar, barbecue rub and hot sauce. Cover and transfer to oven.
Cook beans for four hours, stirring occasionally. Remove cover and cook until beans are tender throughout and sauce has thickened (about 1 hour longer).
Remove from smoker and let cool for 15 minutes. Season with salt. Serve immediately. Alternatively, store in an airtight container in the refrigerator for up to 1 week, or freeze. Reheat before serving.
You can read more about beans and quantity recommended per age group at http://www.choosemyplate.gov/vegetables. There is a nice graph that breaks it down by age and gender. Recommendations are from 1/2 cup per week for toddlers and up to 2 cups weekly for men aged 19 to 50 years. Evidently I need 1 1/2 cups per week. It sounds like my husband and I need to experiment to find more bean recipes to make sure our whole family meets their goal. A big bowl of beans and cornbread sounds great too!
Tricia Foster is a registered dietitian and licensed dietitian with Morrison Health Care at Owensboro Health Regional Hospital. Foster has a bachelor's of science in dietetics from Western Kentucky University and previously interned at The Christ Hospital in Cincinnati. In her free time, she enjoys reading, Zumba and spending time with her family.
This article originally appeared in the Owensboro Messenger-Inquirer
About Owensboro Health
Owensboro Health is a nonprofit health system with a mission to heal the sick and to improve the health of the communities it serves in Kentucky and Indiana. The system includes Owensboro Health Regional Hospital, nationally recognized for design, architecture and engineering; Owensboro Health Muhlenberg Community Hospital; Owensboro Health Twin Lakes Medical Center; the Owensboro Health Medical Group comprised of over 200 providers at more than 20 locations; three outpatient Healthplex facilities, a certified medical fitness facility, the Healthpark; a surgical weight loss center and program, and the Mitchell Memorial Cancer Center.
On average each year, we have 16,000 inpatient admissions, deliver 2,000 babies and provide the region's only Level III NICU. Owensboro Health physicians perform nearly 24,000 surgical procedures, including nearly 200 open-heart surgeries. Our physicians and staff have 70,000 Emergency Department visits, more than a million outpatient visits annually. Visit our home page for more information.