Published on July 27, 2016
What Goes On Your Plate? : A Quick Guide To The USDA MyPlate Model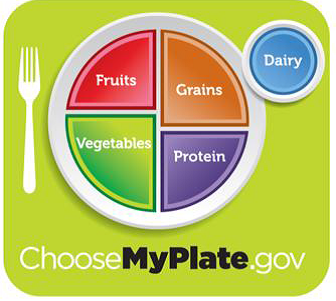 The MyPlate model was formed in 2011, replacing the MyPyramid model. The new model has caught much attention from its audience. Who make up the audience you may ask? The answer, anyone who is a consumer of food. The model pays close attention to the five basic food groups: grains, protein, vegetables, fruits, and dairy. Instead of a pyramid, MyPlate uses a more effective model for consumers to visualize the amount of food one should have from each food group during a meal.
As you can see, MyPlate has divided sections for the different food groups. Based on a 2,000 calories diet, the dietary guidelines recommend 2 cups of fruits, 2 ½ cups of vegetables, 6 ounces grains, 5 ½ ounces protein, and 3 cups of dairy per day.
Half a person's plate should contain fruits and vegetables. These include apples, bananas, oranges, carrots, cauliflower, peppers, broccoli and many more. Choose whole fruits that are fresh, frozen, dried or canned in 100% juice. Dairy includes milk, yogurt, cheese etc. The guidelines encourage one to choose fat-free or low fat dairy options. Vary your protein routine. Protein items include beans, meats, eggs, poultry, soy products and seafood. For the grains group, look for whole grains listed as the first ingredient in a product. These products include bread, pasta, rice, popcorn, oatmeal etc. Limit grain desserts like cakes, cookies and pastries.
Meet Our Dietitian

Lauren Foreman is a Registered Dietitian and an Owensboro native who attended Daviess County High School. She holds a bachelor's in Nutrition from the University of Alabama. She has always had a passion for community wellness and bettering the health of our population. She is looking forward to providing nutrition information and having a hand in what Owensboro Health is accomplishing in our communities.
About Owensboro Health
Owensboro Health is a nonprofit health system with a mission to heal the sick and to improve the health of the communities it serves in Kentucky and Indiana. The system includes Owensboro Health Regional Hospital, nationally recognized for design, architecture and engineering; Owensboro Health Muhlenberg Community Hospital; Owensboro Health Twin Lakes Medical Center; the Owensboro Health Medical Group comprised of over 200 providers at more than 20 locations; three outpatient Healthplex facilities, a certified medical fitness facility, the Healthpark; a surgical weight loss center and program, and the Mitchell Memorial Cancer Center.
On average each year, we have 16,000 inpatient admissions, deliver 2,000 babies and provide the region's only Level III NICU. Owensboro Health physicians perform nearly 24,000 surgical procedures, including nearly 200 open-heart surgeries. Our physicians and staff have 70,000 Emergency Department visits, more than a million outpatient visits annually. Visit our home page for more information.