Published on January 04, 2021
Eating Well: Healthy Living & New Year's Resolutions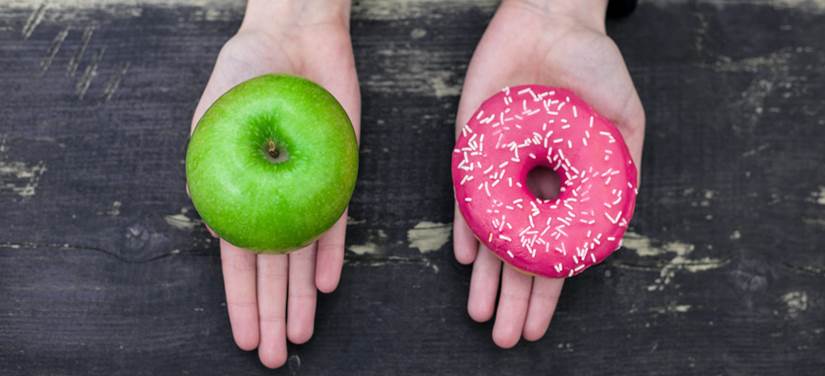 Lose weight, eat right, exercise more, drink less, quit smoking, spend more time with family, and spend less money. These promises likely sound all too familiar as the New Year rolls around.
They sound easy enough to make, but often become easier to break. While New Year's resolutions will be made by an estimated 100 million Americans, four out of five of us won't stick with these resolutions for long. If improved health and weight are among your resolutions this year, then take some steps to make 2017 the year you truly stick with them.
Start by assessing your current lifestyle habits. Take a week to write down exactly what you eat and drink and how much activity you're getting. Be honest and specific. Smartphone apps can help you analyze and track your diet and physical activity level. From this assessment, you might learn that you are eating when you are bored, consuming too many sweetened beverages, skipping meals, underestimating your portion sizes or overestimating your calorie burn with physical activity.
Take this information and use it as a starting point to help determine what you really can change. For example, if portion control is your problem, start eating meals on smaller dishes and resolve to avoid seconds. Rather than giving something up, resolve this year to include something in your diet such as more fruits and vegetables. If you get to the end of the day and find you are too tired for activity, try fitting it in earlier in your day.
Next, think about your weight loss goal and make it realistic. A slow, modest weight loss of 1-2 pounds per week is reasonable. Remember that while it may not be your ultimate goal, losing just 10 percent of your body weight is an excellent start. Great improvements with health can often be seen with a 10 percent loss of body weight, such as improved blood pressure, cholesterol levels and a reduced risk for diabetes.
Finally, come up with a plan. Pick some key activities that can help you reach your ultimate goal. Again, small steps can lead to big results over time. Here are a few more ideas to help you get started.
Begin slowly if you are currently not active, but aim to be physically active for 30 to 60 minutes most days of the week. You can keep activity fun by choosing a variety of exercises, joining a new class or finding a buddy to exercise with.
Plan and cook more meals at home to better and manage calories and portion sizes. 
Eat more fruits and vegetables. Gradually increase your intake by adding just one serving a day until your reach your goal. Substituting fruits and vegetables for higher-calorie foods is a great strategy for weight loss. Check out www.fruitsandveggiesmorematters.org/ for ideas and recipes.
Find simple way to reduce the portion sizes by eating on a smaller plate, sharing meals or simply measuring your portions. 
Continue to track your food and activity by keeping up with that log you started earlier. Studies have shown that those who keep food journals are more successful with losing weight and keeping the weight off.
Good luck with your resolutions, and I wish you a very healthy and happy 2017! 
Beth Cecil is a licensed dietitian, registered dietitian nutritionist and manager of Community Wellness Services at Owensboro Health. She also is a certified lifestyle coach for diabetes prevention and teaches wellness and weight management courses.
This article originally appeared in the Owensboro Messenger-Inquirer.
About Owensboro Health
Owensboro Health is a nonprofit health system with a mission to heal the sick and to improve the health of the communities it serves in Kentucky and Indiana. The system includes Owensboro Health Regional Hospital, nationally recognized for design, architecture and engineering; Owensboro Health Muhlenberg Community Hospital; Owensboro Health Twin Lakes Medical Center; the Owensboro Health Medical Group comprised of over 200 providers at more than 20 locations; three outpatient Healthplex facilities, a certified medical fitness facility, the Healthpark; a surgical weight loss center and program, and the Mitchell Memorial Cancer Center.
On average each year, we have 16,000 inpatient admissions, deliver 2,000 babies and provide the region's only Level III NICU. Owensboro Health physicians perform nearly 24,000 surgical procedures, including nearly 200 open-heart surgeries. Our physicians and staff have 70,000 Emergency Department visits, more than a million outpatient visits annually. Visit our home page for more information.