Acting to prevent a tragedy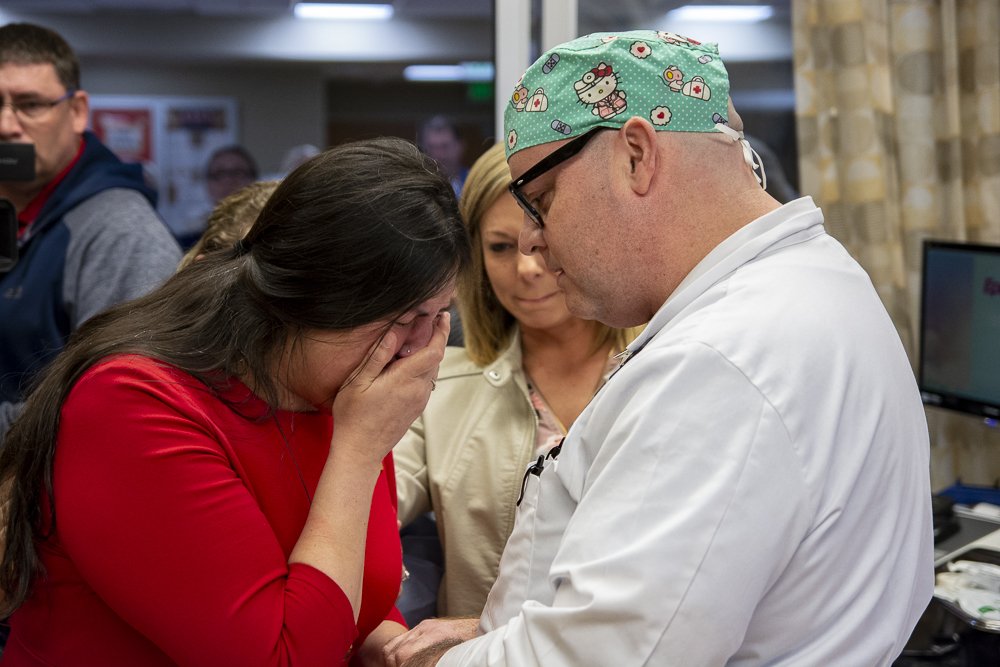 General Surgeon and Trauma Medical Director Dr. Tony Decker tells his wife, Melissa Decker, that their youngest daughter Lucy has died. The Deckers acted roles as part of the 2018 Ghost Out, a re-enactment aimed at deterring impaired driving.
For the second time in three years, Dr. Tony Decker stands in a Emergency Department trauma bay at Owensboro Health Regional Hospital and gives his wife news that no parent ever wants to hear.
Their daughter has died on the operating table after being hurt in a car crash.
Melissa Decker's expression crumbles to one of suffering. Others in the room help her to a chair.
All around, their daughter's classmates look on. Some are weeping. Others are lost in thought. Their expressions say the same thing.
That could be their mother or father.
Melissa Decker's sobs echo beneath the bright glare of hospital lights. Dr. Decker's eyes are downcast.
"This never gets any easier," he thinks to himself.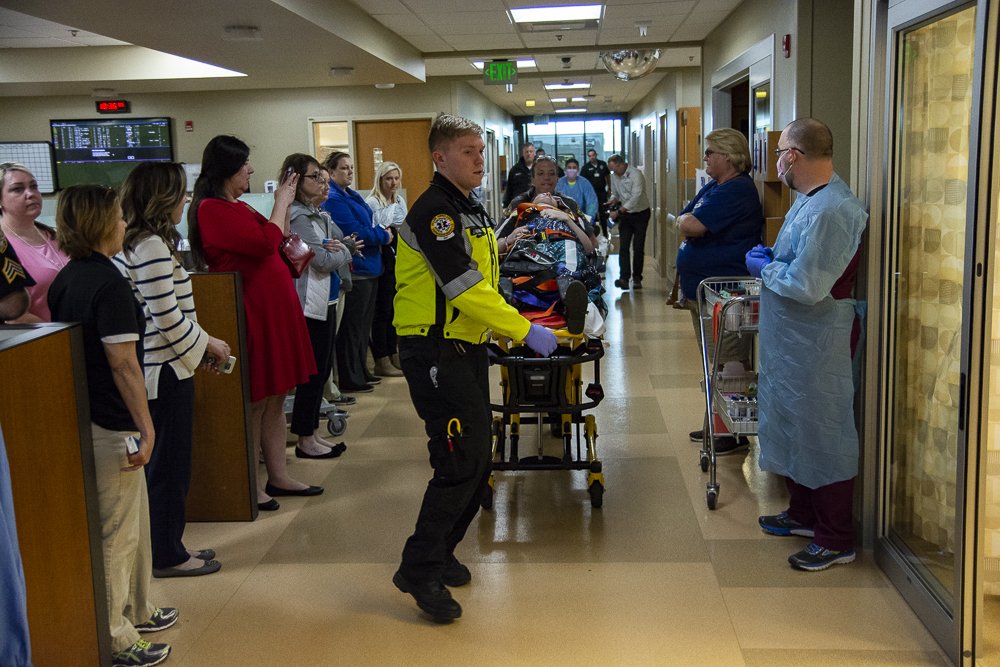 Yellow Ambulance personnel wheel the two victims for the Ghost Out re-enactment into the Emergency Department at Owensboro Health Regional Hospital.
"We want them to understand the true impact of their decisions."
Every year during prom season, the Ghost Out aims to deter impaired driving by showing high school students a glimpse of the ugly truth. This year, it was Owensboro High School's turn.
For the students, the Ghost Out is a surprise. They don't know it's happening until the Grim Reaper shows up. Like her older sister Maddy three years earlier, Lucy Decker is pulled from class. A black rose is placed on her desk, where it remains for the rest of the day.
The aftermath of an impaired driving crash is set up. Fire and rescue personnel perform an extrication using their tools of the trade. Injured students are immobilized – including with c-collars to prevent neck and spine injuries – and placed on stretchers. First responders even simulate emergency procedures used to keep the "patients" alive. One student, portraying the impaired driver, is placed in handcuffs by law enforcement.
The students who are acting travel to the hospital by ambulance or by a medical helicopter (this year, AirEvac Lifeteam could not participate due to an actual emergency). There, a trauma situation is simulated while the rest of the students watch.
Owensboro Health staff act out roles, including those of family. To the best of their ability, they portray the emotional dynamics.
Urgency. Panic. Terror. Grief.
"We want them to understand the true impact of their decisions," Dr. Decker said. "If it hurts them a little, that's okay. I'd rather traumatize them this way than the real way."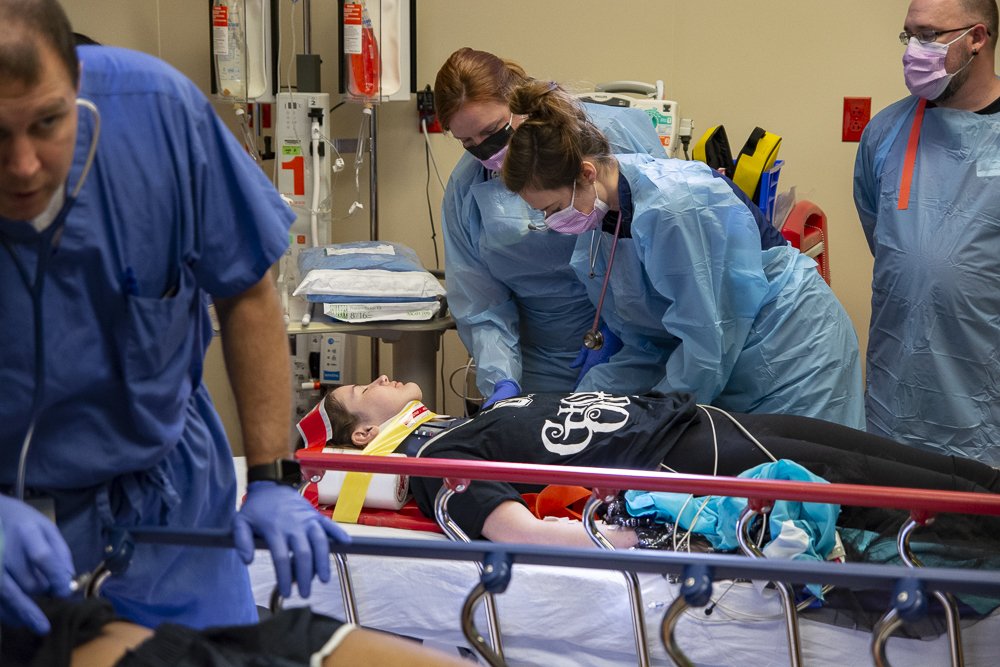 Emergency Department personnel tend to Lucy Decker, who is immobilized on a stretcher.
"To find out that I was dead, it was a little… Yeah."
Like her older sister, Lucy Decker's role was that of a student who dies from her injuries. Lucy Decker initially expected to be part of this year's Ghost Out because of her father's participation, but her parents spun a ruse to keep it a surprise.
"We lied and told her, 'No, they changed the rotation,'" Melissa Decker said. "It was a surprise to her when the Grim Reaper came and knocked on the classroom door."
The ruse succeeded. It wasn't until the Grim Reaper fetched her from class that Lucy Decker realized what was happening. She learned then and there that hearing about it and experiencing it are two very different things.
In a real situation, emergency personnel don't have time to be nice or gentle, and that's the way they portrayed this re-enactment. Even knowing the scenario, Lucy Decker was surprised.
"They were doing what they had to. They weren't allowed to stop and ask me, 'Hey, is this okay?' I was conscious the whole time and knew what was happening. I can't imagine coming out of this and seeing someone stick a needle into your arm or chest." Lucy Decker said. "To find out that I was dead, it was a little... Yeah."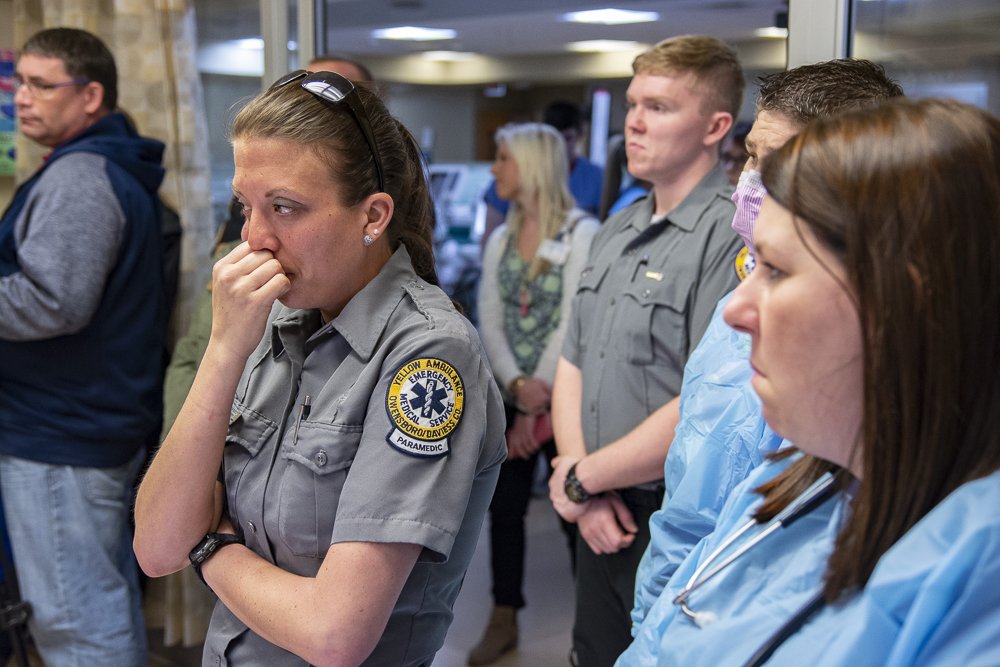 While it's just a simulation, many of those watching the re-enactment struggle with the emotions that come along with the event.
"We owe it to other people, to the rest of the world."
Both times leading up to the Ghost out, Melissa Decker thought she was prepared to play the role of the parent whose child dies.
She wasn't.
"The first time, I thought it was going to be just pretend. I found out quickly that it feels very real," Melissa Decker said. "Today, I thought, 'This is going to be fine. I know what's coming. I've been through this before. It's just pretend.' All the emotions come back to you again and it's very real."
This year, the Ghost Out carried even more emotional weight. One of the Deckers' four children, Reilly, died in November 2015, several months after Maddy Decker participated in the Ghost Out. Even with the pain of that loss, both Dr. Decker and his wife wanted themselves and their daughter to participate.
"We kind of feel like it's our job, like we owe it to other people, to the rest of the world, to keep something from happening to their kids," Dr. Decker said. "It's a nice familiarity in a way and I'm glad that I know my children are right at ground zero so they get the maximum impact of the message."
Melissa Decker said the pain was worth it. As a member of the Owensboro Public Schools Board of Education, she said she wants to see the Ghost Out continue to make the rounds through area schools.
"It may save a life and that's very important to all of us. The idea of repeating this every so many years at each high school is incredibly important," Melissa Decker said.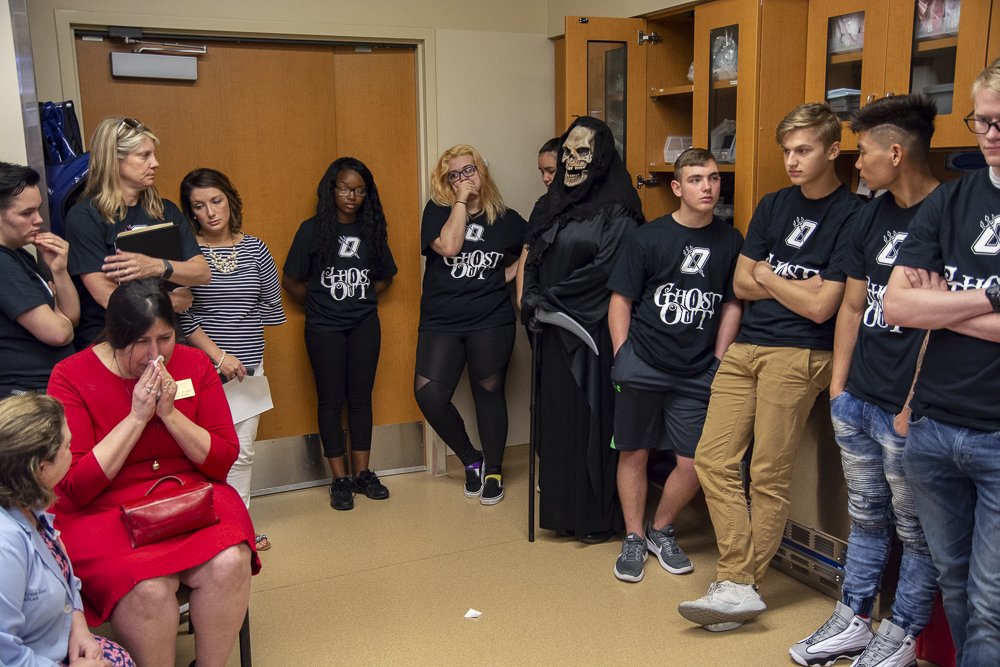 In shock, Melissa Decker sobs while students look on. In the background, the Grim Reaper is a silent, ever-present reminder of the consequences of impaired driving.
"It's a message everybody needs."
Inside the trauma bay, Melissa Decker wraps an arm around her daughter Lucy and smiles with relief.
"No matter how many times you tell yourself that your child is really fine and back in the hallway laughing, it feels real. The relief when you finally get your hands on your child is incredible," she said.
Just minutes ago, the room was filled with the sound of Melissa Decker's grief. Those watching her act out the anguish of losing a child – students, parents, emergency responders, medical staff – are all affected to some degree. Most struggle to hold a poker face. A few – even the ordinarily macho young men and trauma-hardened paramedics – wipe away tears.
If it helps even one student stay safe, it was worth it, she said.
"I hope that it affects the children who saw it and the children who hear about it from them. I hope they don't make bad decisions," Melissa Decker said.
Lucy Decker thinks that it will turn this away from a topic of gossip and more to one of consequences.
"I think this will show kids, it's not just, 'Did you hear what happened?' It's, 'Did you hear who died?'
Dr. Decker said he hopes the students realize what this event symbolizes.
"There's an enormous number of people that don't get any credit for it. Police, EMS, people at the courthouse," Dr. Decker said. "I hope the kids realize how many people gave up their day."
Dr. Decker said he is proud that his coworkers and family have been part of this.
"It's a message everybody needs," Dr. Decker said. "It's something that we definitely should be doing."
But most of all, Dr. Decker hopes this can keep him from having to tell a parent their child is gone.
"I don't want to hurt them, but I do want them to see what can happen as a result of their decisions," Dr. Decker said. "It doesn't get serious enough to me."