Full circle: California couple return to OHRH to thank caregivers from 2006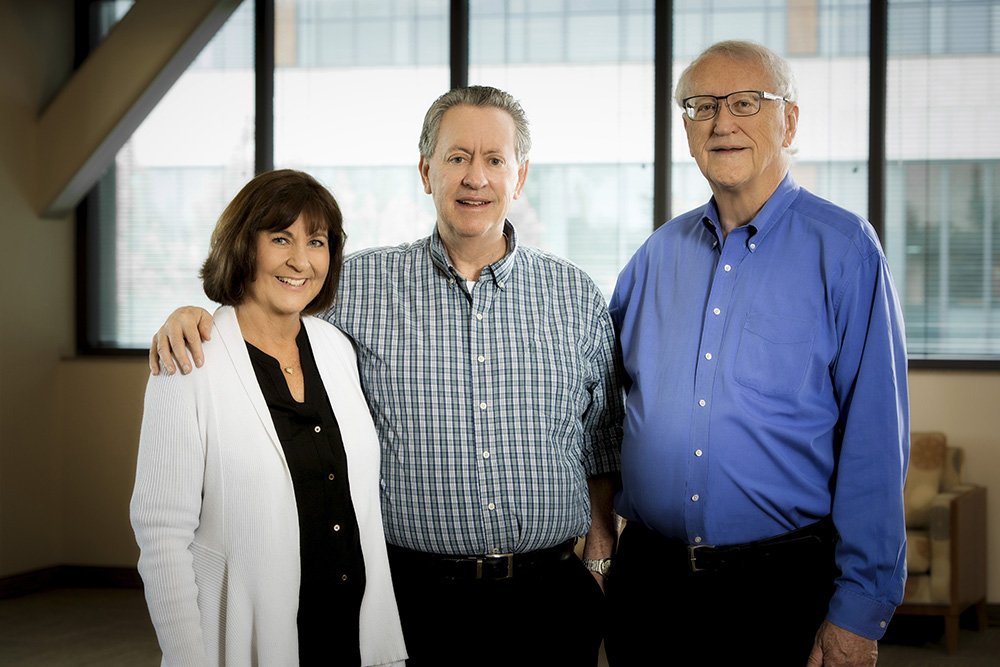 From left, Patty and Dick Aidem pose for a picture with Dr. Scott Reader. In 2006, Dr. Reader rapidly diagnosed Dick Aidem's heart failure, ultimately helping him live long enough to receive a heart transplant. In 2018, the Aidems returned to Owensboro Health Regional Hospital to thank their caregivers.
Richard Aidem still has the beanie baby doll with the heart on it.
Every day, he thinks about some people far away who are special to him. Sara. Sondra. Seth. Betty. Thomas. Just to name a few.
It's been 12 years, but he still remembers them. They are the people who saved and changed his life.
Far afield
Richard "Dick" Aidem and his wife Patty live in Santa Clarita, California and came to Owensboro in 2006 for their daughter Kristen's softball tournament. On their last night in Owensboro, Dick was struggling to breathe and told his wife he needed to go to the hospital.
The Aidem's neighborhood of Valencia has a bigger population than Owensboro so the Aidems didn't know what kind of hospital to expect in a small town. Then they were pleasantly surprised to see the multistory Owensboro Medical Health System hospital (as it was known back then). Patty dropped her husband off at the Emergency Department and then went to park in the nearby structure.
By the time she walked into the Emergency Department just a few minutes later, doctors had already diagnosed Dick with severe congestive heart failure. Later, Patty said she learned that this condition is rarely diagnosed so quickly, especially for unusual cases like Dick, who was in his late 40s and had no personal or family history of heart problems.
The news that followed was even more troubling. Doctors hoped they could treat the problem with medication, but this does not always work for heart failure. They told the Aidems it was possible that he would need a heart transplant. That wasn't the worst of it, though.
It was still uncertain if Dick Aidem would survive at all.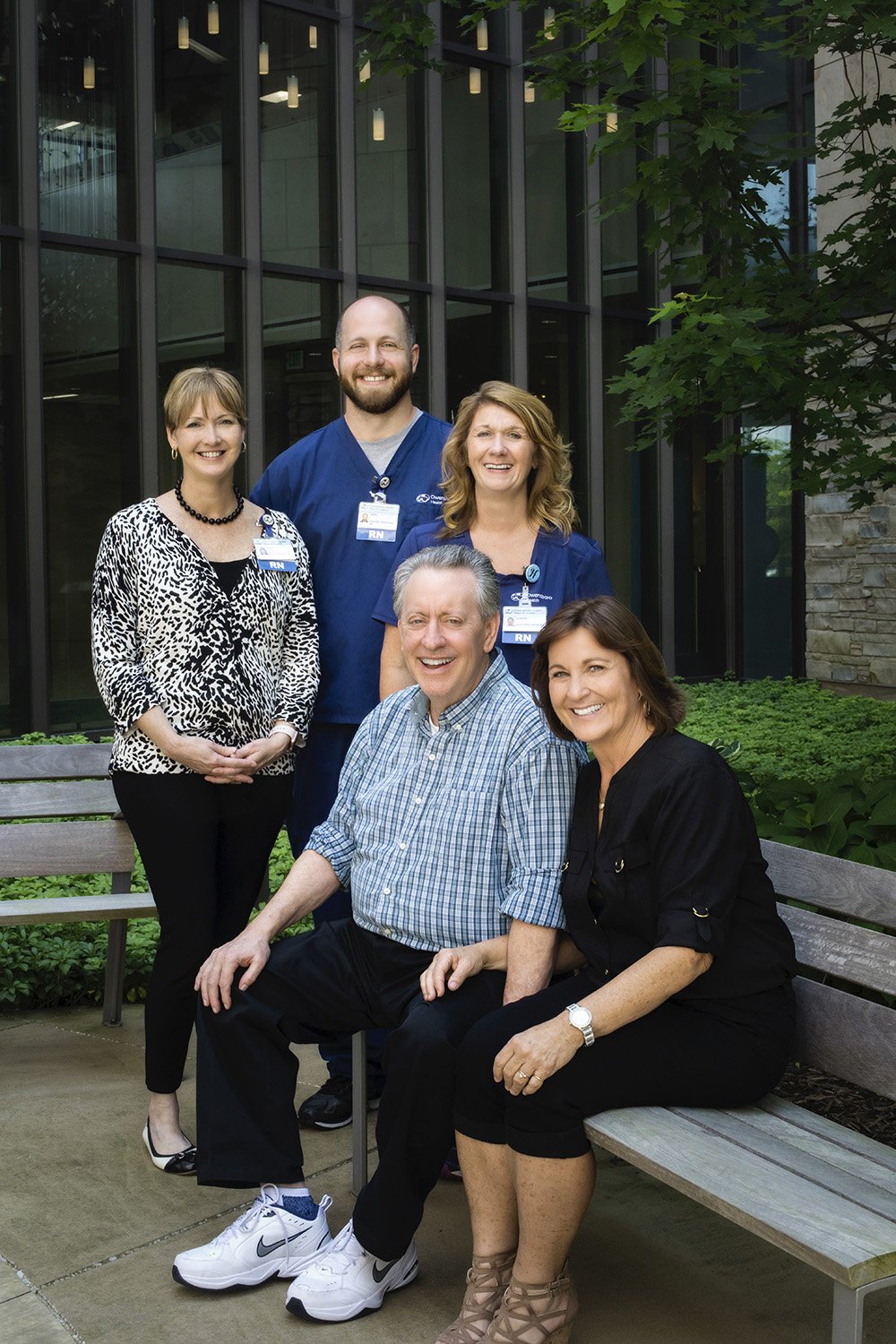 Dick and Patty Aidem, seated in front, are seen here with three of the Owensboro Health Regional Hospital staff members who helped them in 2006. They are, left to right, Manager of Electrodiagnostics Sara Abell, RN; Nursing Supervisor Seth Burden, RN; and Sondra Hawkins, RN.
Abell to help
Patty was faced with a difficult situation. She and her daughter had been staying in their hotel room, but their reservation was up and no rooms were to be found in Owensboro or anywhere nearby, because of another event in town.
Their nurse, Sara Abell, stepped in and offered Patty and her daughter a place to stay. With the Aidems' permission, Abell also told her parents, Thomas and Betsy Wade, the situation, since they lived much closer to the hospital.
"Sara came to us and said, 'Could we help this family?' I said, 'Of course.' There was no question," Betsy Wade said. "I'm thankful that we could."
The Aidems said at the time, they were shocked.
"I remember being terrified because we were thrown into this position out of nowhere, and we had so many people there to take care of us," Patty said. "I can't imagine a nurse in our hospitals saying, 'You're staying with me tonight. Come have dinner.'"
It didn't stop with just hospitality. When Patty had to leave for several hours to go to the airport to send their daughter home, Betsy stayed at Dick's bedside.
"Betsy was there with him, taking care of him," Patty said. "I can't even explain it, for someone you didn't know a few hours ago to take care of you like that and provide so much compassion and support. He was taken care of physically (by the nurses), but Betsy was our rock."
While Patty was gone, Dick got good news and bad news. The medications had helped some and he would survive, but he'd ultimately need a heart transplant. He was hospitalized in Owensboro for six days and then returned home to California.
Paying it forward
Over the next eight years, Dick underwent a number of procedures and surgeries to help him keep going. He discovered that he has a genetic disorder, Becker muscular dystrophy, which caused the damage to his heart. In 2014, he received a heart transplant at Cedars-Sinai hospital in Los Angeles, which does the largest number of heart transplants of any hospital in the world.
He's made the most of the extra time he's been given. Three months to the day after his transplant, Dick walked his daughter Kristen down the aisle at her wedding. In the spring of 2018, the Aidems welcomed their first grandchild.
Twelve years ago, the Aidems asked how they could pay back all the kindness they'd received.
"Sara said, 'Pay it forward,' and we've tried," Patty said.
He met the family of his donor and volunteers with One Legacy, an organ donation organization in Southern California and has previously volunteered as an ambassador for the transplant program at Cedars-Sinai.
"I feel I have a duty to help people. I owe it to the doctors who took care of me, to Aaron my donor and his family. I owe it," Dick said.
But they wanted more. The Aidems wanted to say thank you, and they wanted to say it in person.
Surprise thank you
In May 2018, Dick and Patty Aidem returned to Owensboro, where they got to thank the people who changed their lives.
Sara Abell cared for the Aidems in more ways than one.
"The fact that they chose to come back to Owensboro, Kentucky, for no other reason than to see us, is pretty humbling," Abell said.
Thomas and Betsy Wade opened their home and their hearts.
"They're special. They became part of the family. They're not just somebody from California. It's a beautiful thing," Thomas Wade said.
"My favorite part is that I can see him standing up," Betsy Wade said.
Nursing Supervisor Seth Burden, who is behind the Aidems' adoption of the Kentucky phrase, "fixin-to," which Burden said off-hand when it was "fixin-to storm."
"We come here, we do our job, we go home and we don't expect anything in return," Burden said. "For a patient to travel across the country to see us is very humbling."
Registered Nurse Sondra Hawkins gave Dick Aidem the beanie baby he looks at every day.
 "It's rewarding to know that doing my job just like every day impacted his life," Hawkins said. "It's nice to know that we helped somebody and they have better quality of life because of something we did."
The Aidems also got to visit with Dr. Scott Reader, the cardiologist who cared for Dick.
"It's gratifying that he did come back to share his story here," Dr. Reader said. "So often we don't see the end of what's going on."
Patty said it was important that they get to say thanks.
"It closes a loop that's the most important loop of our lives. It's huge. They saved his life," Patty said. "I love that they shared this victory. That's important to me. We needed them to know that everything is good."
Dick said he is glad that he could say thanks for gift of 12 extra years – and counting – with the people he loves.
"Without them, I might not have survived to get a heart transplant," Dick said. "They helped us so much and I think about them every day."