Published on April 07, 2020
Grant from Dart Foundation brings clinical simulation device to Owensboro Health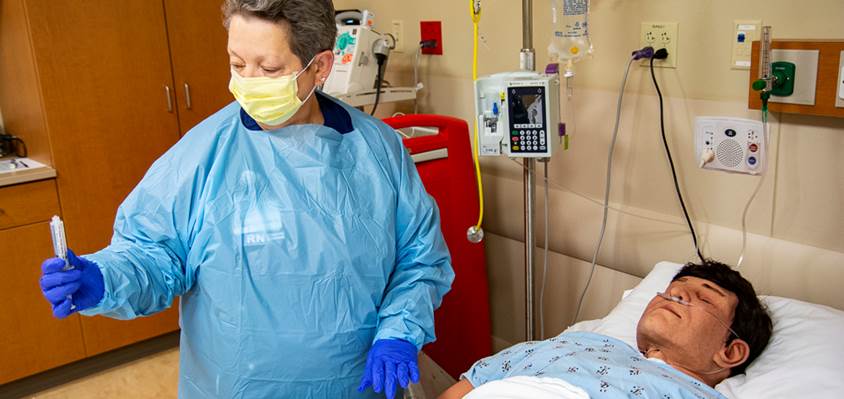 Owensboro Health has purchased a new Apollo Adult Patient Simulator, thanks to a major grant provided to Owensboro Health Foundation from the Dart Foundation.
The Apollo Adult Patient Simulator, manufactured by Montreal-based CAE Inc., is a "high-fidelity simulation mannequin." The mannequin can replicate the vital signs of a patient, including heartbeat and pulse, blood pressure and breathing. The mannequin can also be used to practice a number of clinical skills, such as CPR, defibrillation, chest tube insertion and breathing tube placement. The mannequin was funded by a $45,970 grant from the Dart Foundation.
"We are most grateful to the Dart Foundation for their generous support of this much-needed equipment," said Pat Serey, executive director of Owensboro Health Foundation.
Debbie Enoch, RN, manager of Clinical Education, said the Apollo simulator will allow Owensboro Health to provide hands-on training in a safe and realistic environment. The simulator can help students, nurses, doctors and other caregivers learn and develop skills needed to deliver care, safeguard patients' health and save lives.
Clinical Educator Robbie Boarman, RN said the goal is to give staff a way to learn without risk to a human patient.
"Simulation allows clinical staff to practice and to be proficient at skills before they ever touch a patient. It improves patient safety and the confidence of our caregivers," Boarman said.
Enoch added that as a nurse with decades of experience, she's thrilled to watch newer nurses learn in this way.
"Our joy in providing simulation is to see them develop skills that have taken us many years to learn on our own before simulation training was available," Enoch said. "They have the opportunity to learn a little bit faster because of the simulation we can provide with this mannequin."
Contact: Somer Wilhite, Marketing & Public Relations Specialist, Owensboro Health Marketing & Public Relations, (O) 270-685-7103, Somer.Wilhite@OwensboroHealth.org.
About Owensboro Health
Owensboro Health is a nonprofit health system with a mission to heal the sick and to improve the health of the communities it serves in Kentucky and Indiana. The system includes Owensboro Health Regional Hospital, nationally recognized for design, architecture and engineering; Owensboro Health Muhlenberg Community Hospital; Owensboro Health Twin Lakes Medical Center; the Owensboro Health Medical Group comprised of over 200 providers at more than 20 locations; three outpatient Healthplex facilities, a certified medical fitness facility, the Healthpark; a surgical weight loss center and program, and the Mitchell Memorial Cancer Center.
On average each year, we have 16,000 inpatient admissions, deliver 2,000 babies and provide the region's only Level III NICU. Owensboro Health physicians perform nearly 24,000 surgical procedures, including nearly 200 open-heart surgeries. Our physicians and staff have 70,000 Emergency Department visits, more than a million outpatient visits annually. Visit our home page for more information.