Published on November 20, 2019
Owensboro Health Regional Hospital receives Energy to Care Award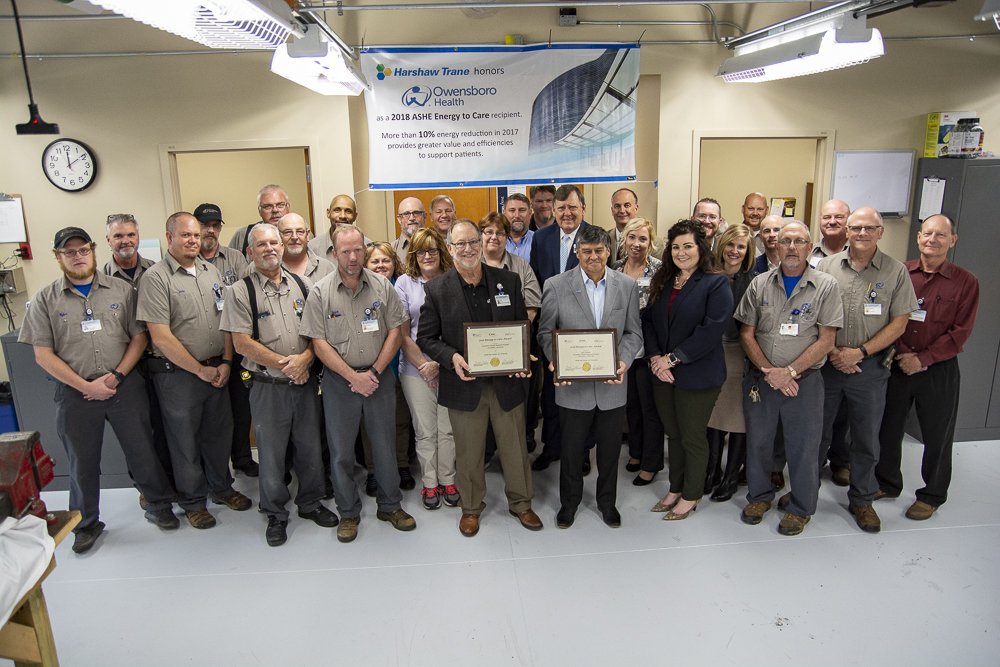 Owensboro Health Facilities team members, along with members of the health system's administration team and representatives from Harshaw Trane, pose with plaques commemorating Owensboro Health's receiving of the 2018 Energy to Care Award from the American Society of Healthcare Engineering.
Owensboro Health Regional Hospital (OHRH) is now a proud recipient of The American Society for Health Care Engineering (ASHE) 2018 Energy to Care Award. This distinction is reserved for the select few healthcare facilities that reduce energy consumption by 10% in a single year or 15% over two years. Owensboro is recognized for reducing their energy intensity by 11% in 2017 and is one of only two hospitals in Kentucky to receive this award in 2018.
To achieve these results, the hospital partnered with Harshaw Trane to utilize advanced building analytical tools to identify numerous system inefficiencies that were leading to increased energy usage and comfort issues. OHRH has been working relentlessly since 2014 to become more sustainable. Overall, they have decreased their energy consumption by 18% over the past four years. Much of that improvement occurred in 2017, when major energy savings initiatives were implemented. These accomplishments were made possible by a high level of dedication and engagement on the part of Owensboro Health Facilities staff'.
"In Owensboro Health's Facilities department, we are always looking for opportunities to further enhance the services we provide. Our motto is, 'We take care of patients, too,'" said Owensboro Health Executive Director of Facilities Joe Taylor. "I've challenged the facilities staff to contribute to our energy conservation efforts and their commitment to that goal has been a key to our success. We also have the benefit of great leadership from our administrative team and board of directors. They have thrown their support behind our energy conservation efforts and as a result, we're a leader in energy conservation efforts in our community."
In addition to the high-level engagement of the facility staff, the existing building equipment and controls were optimized to industry best practices. Some of those optimizations include:
Both the chilled water and airside systems were optimized to operate at their lowest consumption levels while still meeting the comfort needs of the facility
Using real-time energy data, facility staff can identify system performance issues before they become major issues
The hospital uses an OR critical dashboard that helps clinical and facility staff know if critical systems are operating effectively to meet code and patient needs
"Owensboro Health is dedicated to providing superior patient care," said Christy Fetsch, Account Manager at Harshaw Trane. "Their commitment to utilizing energy savings and efficiency gains helps them continue this mission while creating a sustainable environment for their patients 
and community."
About Owensboro Health
Owensboro Health is a nonprofit health system with a mission to heal the sick and to improve the health of the communities it serves in Kentucky and Indiana. The system includes Owensboro Health Regional Hospital, nationally recognized for design, architecture and engineering; Owensboro Health Muhlenberg Community Hospital; Owensboro Health Twin Lakes Medical Center; the Owensboro Health Medical Group comprised of over 200 providers at more than 20 locations; three outpatient Healthplex facilities, a certified medical fitness facility, the Healthpark; a surgical weight loss center and program, and the Mitchell Memorial Cancer Center.
On average each year, we have 16,000 inpatient admissions, deliver 2,000 babies and provide the region's only Level III NICU. Owensboro Health physicians perform nearly 24,000 surgical procedures, including nearly 200 open-heart surgeries. Our physicians and staff have 70,000 Emergency Department visits, more than a million outpatient visits annually. Visit our home page for more information.