Published on April 03, 2020
Council on Aging hears presentation about fall prevention
By Renee Beasley Jones, Messenger-Inquirer
Falls can kill
Among elderly residents, falls are the nation's leading cause of fatal injuries, according to the National Council for Aging Care.
Every 19 minutes an older adult dies as the result of falling, the council reports.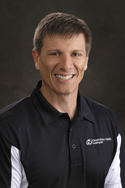 Jason Anderson, manager of health and fitness at Owensboro Health's Healthpark, gave a presentation Tuesday morning to the Green River Area Council on Aging. Anderson talked about the benefits of the Healthpark's fall prevention program, which started as a pilot project in 2016.
Consider fall prevention classes
The Healthpark also provides tai chi classes and other programs to keep seniors active and working on their balance.
Falling is a personal topic for Anderson. His mom shattered her femur in a fall during the spring of 2017.
"Within two months, we lost my dad," Anderson told the crowd.
His father didn't function well at home alone while Anderson's mom spent months in rehabilitation. Falls affect everyone in the family, Anderson said. Even when victims recover, they often suffer from a diminished quality of life.
"I understood more about the severity of a fall after this," he said.
A physical therapist and fitness instructor guide the Healthpark program, which is designed for seniors who suffer from loss of balance, mobility, agility and lower body strength.
People who need mobility devices all the time are not candidates for the 12-week course. Participants must be able to walk without relying heavily on walkers and other devices.
The program is supervised and research-based
Class size is limited to 12 participants.
The Healthpark is finishing its 15th class now. The next one begins Jan. 7.
Sessions last one hour and take place twice a week. It costs $60 to enter the program.
Healthpark staff assess participants' balance and agility at the beginning and end of each 12-week course. Anderson said participants often see substantial changes in their Berg Balance Assessment scores, which test a person's balance and fall risk.
Also, 66% of participants who said they were "very concerned about falling" when they started the course changed that statement by the end of the program, Anderson said. Afterwards, they reported being only "a little concerned."
For information or to enroll in the Healthpark's next fall prevention course, call Anderson at 270-688-4785.
Renee Beasley Jones, 270-228-2835, rbeasleyjones@messenger-inquirer.com.
About Owensboro Health
Owensboro Health is a nonprofit health system with a mission to heal the sick and to improve the health of the communities it serves in Kentucky and Indiana. The system includes Owensboro Health Regional Hospital, nationally recognized for design, architecture and engineering; Owensboro Health Muhlenberg Community Hospital; Owensboro Health Twin Lakes Medical Center; the Owensboro Health Medical Group comprised of over 200 providers at more than 20 locations; three outpatient Healthplex facilities, a certified medical fitness facility, the Healthpark; a surgical weight loss center and program, and the Mitchell Memorial Cancer Center.
On average each year, we have 16,000 inpatient admissions, deliver 2,000 babies and provide the region's only Level III NICU. Owensboro Health physicians perform nearly 24,000 surgical procedures, including nearly 200 open-heart surgeries. Our physicians and staff have 70,000 Emergency Department visits, more than a million outpatient visits annually. Visit our home page for more information.