Published on September 20, 2019
Ghost Out 2019: Owensboro Health takes part in event to deter impaired, distracted driving
For the trauma services team at Owensboro Health, any effort that saves lives is worth it, especially when tragedies can be prevented altogether.
"I do this to try to help save lives," said Dr. Tony Decker, a general surgeon and the trauma services medical director at Owensboro Health Regional Hospital. "I'd love to work myself out of a job."
Owensboro Health hosted the 2019 Ghost Out for Daviess County on Thursday, April 24, an event that simulates the consequences of a car crash that involved impaired or distracted driving. The event happens annually and brings in students from a local high school right before Prom, with the goal of deterring students from unsafe driving behaviors. This year's Ghost Out involved responders from the Owensboro Police Department, Daviess County Sheriff's Department, Daviess
A major focus of the event this year is deterring distracted driving, which the National Highway Traffic Safety Administration defines as "anything that takes your attention away from the task of safe driving." This includes talking or texting on a phone, eating or drinking, talking to people in the vehicle, or adjusting the stereo, entertainment or navigation system, just to name
a few.
By the numbers, close to home
Sgt. Adam Johnston, a patrol and accident reconstruction officer at the Owensboro Police Department, said distracted driving is an under-recognized problem. In Daviess County, distracted driving collisions involving use of a cell phone statistics are as follows:
2018: 27 collisions, seven with injuries
2017: 17 collisions, two with injuries
2016: Six collisions, one with injuries
Young drivers are also at risk, said Kay Ewing, a patient educator in the Trauma Services department. In Kentucky, the following statistics
are available:
In 2018, there were 725 motor vehicle crash-related deaths, 41 of which involved high school-age students
So far in 2019, there have been 188 motor vehicle crash-related deaths, seven of which involved high-school age students
Ewing said Ghost Out aims to prevent these kinds of events from ever happening by showing students some of the consequences of bad decisions like impaired or distracted driving.
"It shows the seriousness and what can happen in an accident," Ewing said.
What happens at Ghost Out
During the Ghost Out event each year, the simulation begins at a local high school. A handful of students are selected and pulled out of class, with a rose being left behind at their desk. The students are then assigned roles, including the driver responsible for the crash, those injured in the crash and those who will not survive their injuries.
A crash scene reenactment happens at the school where first responders act out rescue operations, including extracting the student actors from vehicles. The students who are injured in the crash are then taken by ambulance or medical helicopter to Owensboro Health Regional Hospital, while others are taken by bus to the hospital.
In the Emergency Department at OHRH, a trauma scene will be acted out in one of the trauma bays as the observing students look on. Ultimately, one of the students injured in the crash will "die" and hospital staff while act out various roles, including those of the victims' parents.
Why Ghost Out matters
Dr. Decker said it is common for students to be uncomfortable while watching the simulation, and that's the point.
"Watching a teenager die in front of their parents and their friends is one of the most horrific experiences that there can be," Dr. Decker said. "Anything we can do to prevent that, it's worth it."
For the students who played the victims in the crash, the experience gave them a new perspective. Apollo High School Senior Lexi Shadowen played the role of a passenger injured in the crash.
"Seeing it in person is different than seeing it on the news," Shadowen said. "Being a part of it here in the hospital will change people's minds."
Kyler Rutter, an Apollo freshman, played the role of the student who dies in surgery because of the severity of his injuries.
"I knew it would be dramatic but just not like that," Rutter said. "It's scary and sad knowing something like that could happen that quick, and how it would affect other people in my life."
Photos from the event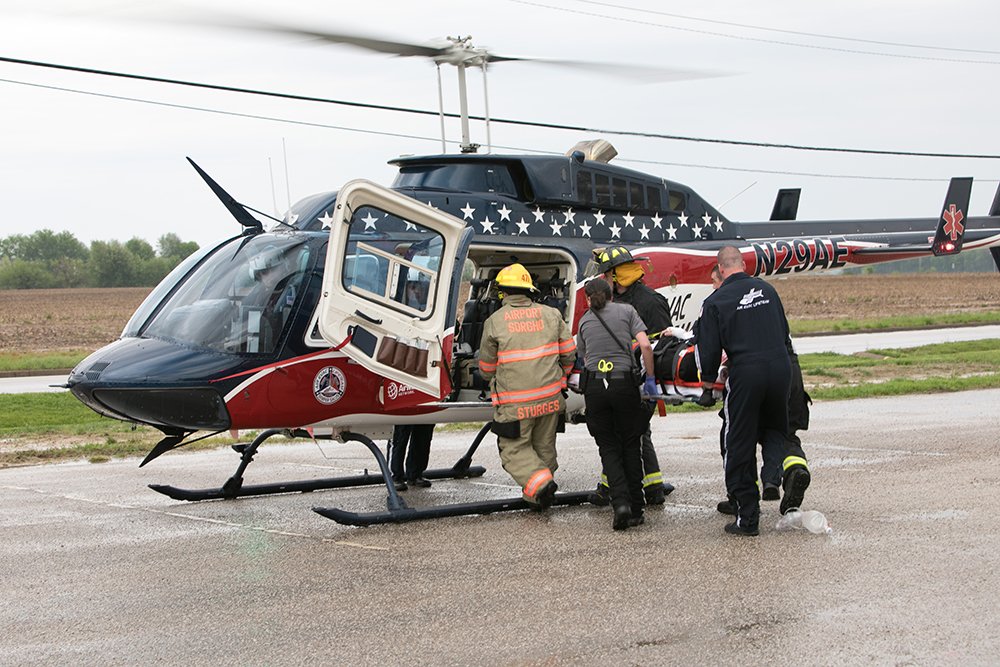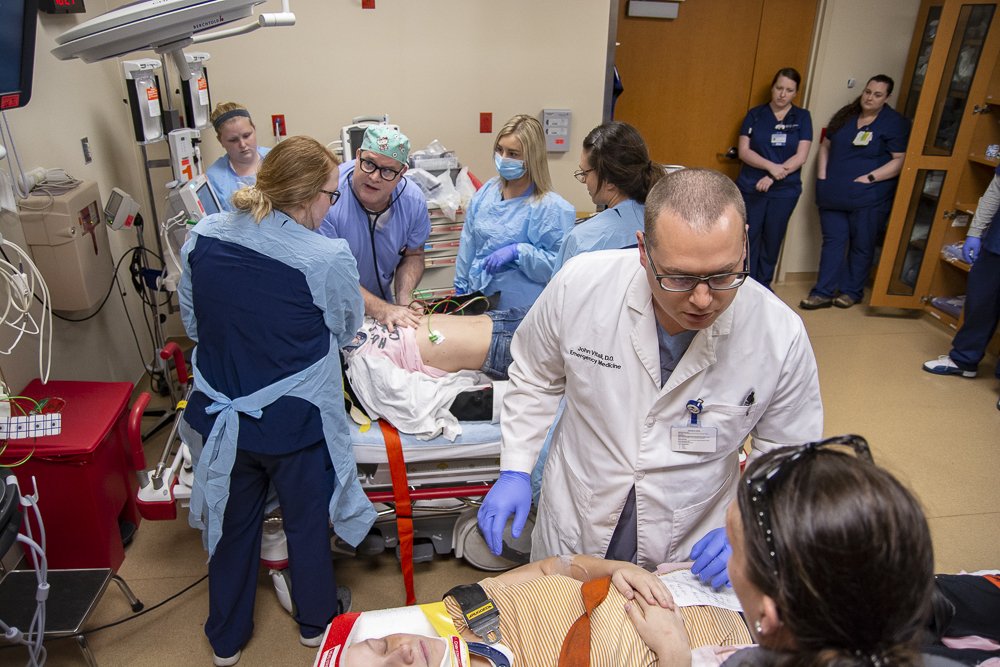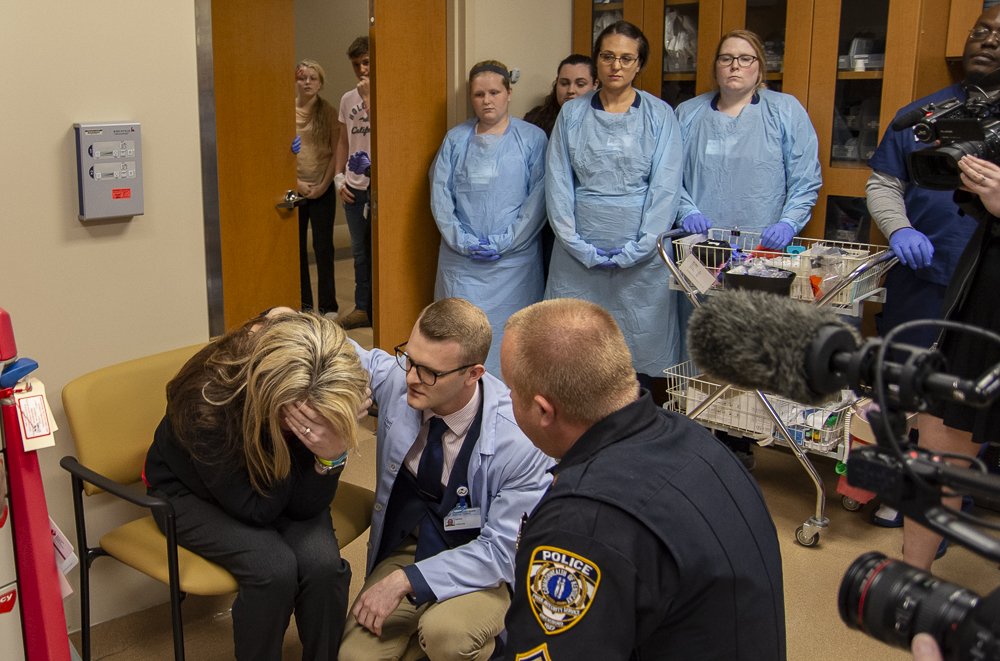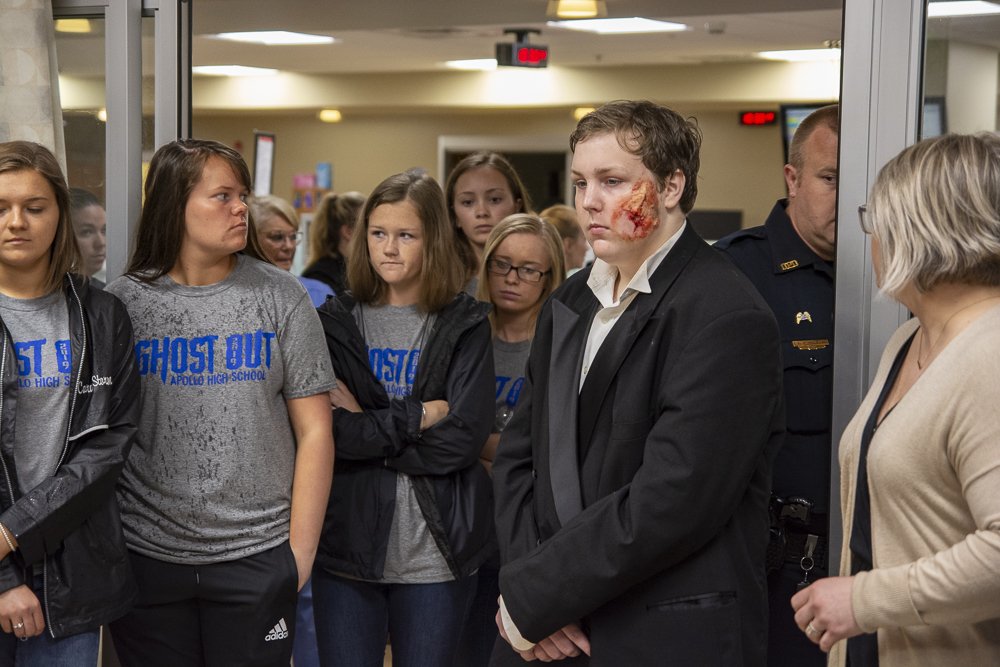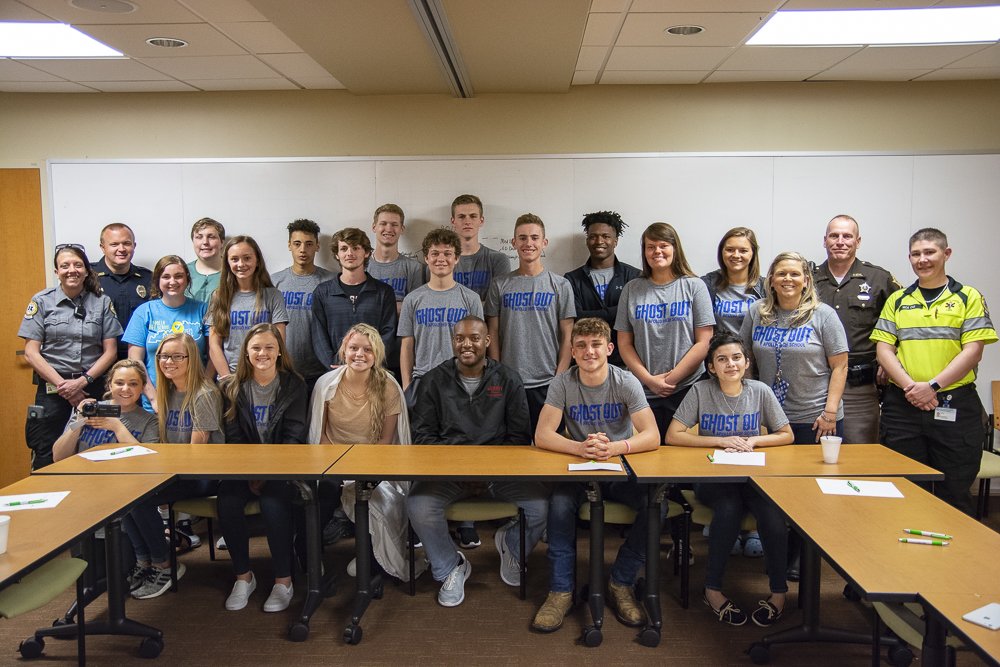 About Owensboro Health
Owensboro Health is a nonprofit health system with a mission to heal the sick and to improve the health of the communities it serves in Kentucky and Indiana. The system includes Owensboro Health Regional Hospital, nationally recognized for design, architecture and engineering; Owensboro Health Muhlenberg Community Hospital; Owensboro Health Twin Lakes Medical Center; the Owensboro Health Medical Group comprised of over 200 providers at more than 20 locations; three outpatient Healthplex facilities, a certified medical fitness facility, the Healthpark; a surgical weight loss center and program, and the Mitchell Memorial Cancer Center.
On average each year, we have 16,000 inpatient admissions, deliver 2,000 babies and provide the region's only Level III NICU. Owensboro Health physicians perform nearly 24,000 surgical procedures, including nearly 200 open-heart surgeries. Our physicians and staff have 70,000 Emergency Department visits, more than a million outpatient visits annually. Visit our home page for more information.