Published on March 04, 2020
Healing through the art of music: Music On Call brings comfort and hope to those who need it
By Bobbie Hayse, Messenger-Inquirer
Diane Earle considers her piano performances at the Owensboro Health Regional Hospital as part of the Owensboro Symphony Orchestra's Music On Call program that takes place throughout the month of December to be somewhat of a ministry.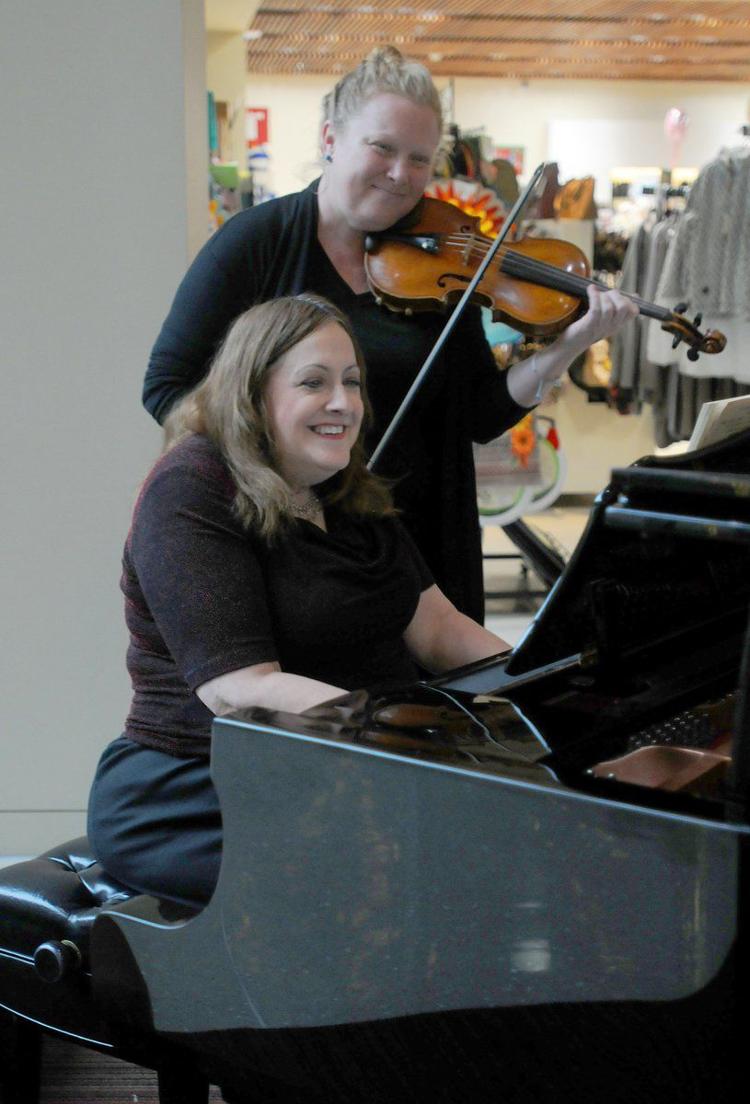 Owensboro Symphony Orchestra musicians Diane Earle, seated, and Lacy Jean perform Sunday as part of the Symphony's Music On Call program at the Owensboro Health Regional Hospital.
Christmas can amplify certain things, she said.
"So if someone is feeling sad, it can make them really sad. If they are feeling happy, it can make them really happy," she said. "Music just takes whatever you're feeling and amplifies it. The music really ministers to people who walk through here. I think that's the beauty of it."
Earle has been performing with the Music On Call community engagement program for many years. This year she will perform at least 90 hours, she said.
Joining her on Sunday was fellow OSO member, violinist Lacy Jean, who also has performed during the program before.
Jean said Music On Call is a great program because the central location of the musicians performing caters to those who are coming and going throughout the hospital, or in waiting rooms nearby.
"You have people taking their lunches here," she said, gesturing to the couches and chairs nearby. "It's the perfect spot. It's big enough, and it looks nice."
This is the fifth year of the program, according to Symphony deputy CEO Gwyn Payne, who also said that the OSO is "excited about this collaboration," and that it "continues to grow."
The program is designed to "enhance and transform lives and bring hope and comfort to people who are experiencing challenging circumstances," a press release from the Symphony said.
The engagement program is provided through a grant from OHRH, said Jeremy Stephens, Symphony director of operations. Stephens even has memories of Earle performing in the hospital lobby from when his baby was born.
"I think what's cool about this is there are lots of parents who have memories like that," Stephens said. "December baby parents remember the Christmas music being played in the hospital lobby."
Earle attests to this, saying that music just "makes you feel good."
"It's not just playing Christmas music," she said. "I can tell it really moves a lot of people. It might heal them when they are hurting."
Bobbie Hayse, bhayse@messenger-inquirer.com, 270-691-7315.
About Owensboro Health
Owensboro Health is a nonprofit health system with a mission to heal the sick and to improve the health of the communities it serves in Kentucky and Indiana. The system includes Owensboro Health Regional Hospital, nationally recognized for design, architecture and engineering; Owensboro Health Muhlenberg Community Hospital; Owensboro Health Twin Lakes Medical Center; the Owensboro Health Medical Group comprised of over 200 providers at more than 20 locations; three outpatient Healthplex facilities, a certified medical fitness facility, the Healthpark; a surgical weight loss center and program, and the Mitchell Memorial Cancer Center.
On average each year, we have 16,000 inpatient admissions, deliver 2,000 babies and provide the region's only Level III NICU. Owensboro Health physicians perform nearly 24,000 surgical procedures, including nearly 200 open-heart surgeries. Our physicians and staff have 70,000 Emergency Department visits, more than a million outpatient visits annually. Visit our home page for more information.