Published on April 03, 2020
Local NICU preps for 10th anniversary
By Renee Beasley Jones, Messenger-Inquirer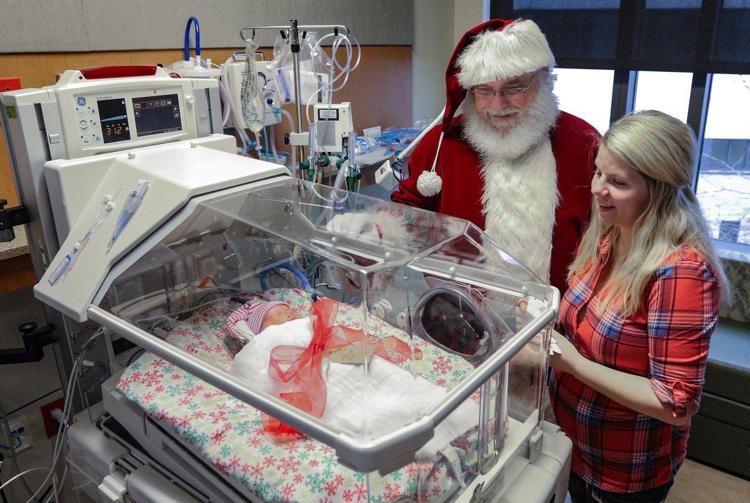 Brandi Blair, right, looks on at her baby, Lincoln, during a visit from Santa on Tuesday in the Neonatal Intensive Care Unit at Owensboro Health Regional Hospital. Photo by Greg Eans, Messenger-Inquirer.com | geans@messenger-inquirer.com
---
Santa visited newborn Lincoln Blair for the first time Tuesday morning.
Lincoln was born prematurely Friday at Owensboro Health Regional Hospital. He's doing well but remains a patient in the neonatal intensive care unit while his lungs develop more strength.
His mom, Brandi Blair, popped into the hospital for her son's first visit with the jolly ol' elf.
Before the local NICU opened, Lincoln likely would have been transferred to an Evansville hospital, which would have meant an hour-long drive one way for his mom to experience special moments like this. Or she might have stayed overnight in Evansville for the duration of Lincoln's hospital stay while her husband, Gage Blair, and the couple's other four children stayed home.
"It's such a blessing," Brandi Blair said of the hospital's NICU. "I love that I can come 10 minutes up the road."
In early January, the hospital's NICU will celebrate its 10th year of operation.
OH records don't show patient counts for the unit's first two years — 2010 and 2011. However, records beginning on Feb. 22, 2012, when the health system started using an electronic record-keeping system, show the NICU has since cared for nearly 3,000 babies.
This year has seen the unit's highest patient population to date. Hospital staff members have cared for 470 babies in the NICU — and there are still two weeks left in the year. The next highest patient count was 399 babies in 2014.
There have been times when 19 of the unit's 20 bays were full, but the average number of babies rests at about 10, said Ashley Denton, OHRH manager of nursery and NICU.
Most of the unit's patients come from Daviess County and the surrounding area.
The unit has cared for babies who were born weighing less than 2 pounds.
As a Level III unit, it can care for babies born at 27 weeks. Forty weeks is a normal birth.
The average NICU stay is about two weeks, OHRH officials said. However, one baby stayed up to 100 days.
Baptist Health Paducah and OHRH operate the only Level III NICUs in western Kentucky. University of Kentucky HealthCare and Norton Children's Hospital have the only Level IV NICUs in the state.
Babies born at OHRH who need specialty pediatric services are transferred to UK or Norton.
Women from a 14-county region come to OHRH to give birth, Denton said.
"NICU is a bonus," she said. "It's not part of anybody's plan to go to the NICU, but if anything happens, we are here."
Denton's mom, Linda Lynch, worked in OHRH's marketing department.
"I grew up in the halls of the hospital," Denton said.
Almost every year at Halloween, Denton dressed as a nurse. It was a career she dreamed of from childhood.
She attended the nursing program at Kentucky Wesleyan College. That's when she first realized very ill newborns couldn't stay at the Owensboro hospital. At KWC, she decided to gain experience as a NICU nurse in another city and come back to Owensboro to open one.
"I feel like God put that desire in my heart," Denton said.
Her first job was in the NICU at Kosair Children's Hospital, now Norton, in Louisville. Denton stayed there until 2002, when she took a job in labor and delivery at OHRH.
At age 27, she became the hospital's nursery manager. Work connections she made in Louisville proved pivotal in starting the hospital's NICU.
A Louisville-based doctor came to teach an inservice at OHRH. She asked Denton if she ever considered opening a NICU in Owensboro.
"Every day," Denton replied.
Dr. Dan Stewart, a U of L Physicians neonatologist, led the charge, she said.
In the early days, a group of pediatric specialists traveled from U of L Physicians to OHRH, rotating shifts to meet needs here. Today, Drs. Bridget Burshears and Heather Brown — who have ties to U of L Physicians - Neonatology — are full-time OHRH providers who live in Owensboro.
For years, the NICU has hosted an annual reunion for its babies. In September, about 1,000 people came. On Jan. 8, hospital officials will unveil a collage the unit's graduates painted at this year's reunion.
In the future, little Lincoln Blair will be invited to attend the annual celebration.
His parents are thankful their hometown hospital is able to meet his medical needs. Having Lincoln in Owensboro has saved them the expense of travel and overnight stays, and it has spared their family the pain of separation.
"I live maybe 10 minutes away," Brandi Blair said. "It's very nice."
Renee Beasley Jones, 270-228-2835, rbeasleyjones@messenger-inquirer.com
About Owensboro Health
Owensboro Health is a nonprofit health system with a mission to heal the sick and to improve the health of the communities it serves in Kentucky and Indiana. The system includes Owensboro Health Regional Hospital, nationally recognized for design, architecture and engineering; Owensboro Health Muhlenberg Community Hospital; Owensboro Health Twin Lakes Medical Center; the Owensboro Health Medical Group comprised of over 200 providers at more than 20 locations; three outpatient Healthplex facilities, a certified medical fitness facility, the Healthpark; a surgical weight loss center and program, and the Mitchell Memorial Cancer Center.
On average each year, we have 16,000 inpatient admissions, deliver 2,000 babies and provide the region's only Level III NICU. Owensboro Health physicians perform nearly 24,000 surgical procedures, including nearly 200 open-heart surgeries. Our physicians and staff have 70,000 Emergency Department visits, more than a million outpatient visits annually. Visit our home page for more information.