Published on April 03, 2020
OH cancer center renovation includes $1.3M backup generator
By Renee Beasley Jones, Messenger-Inquirer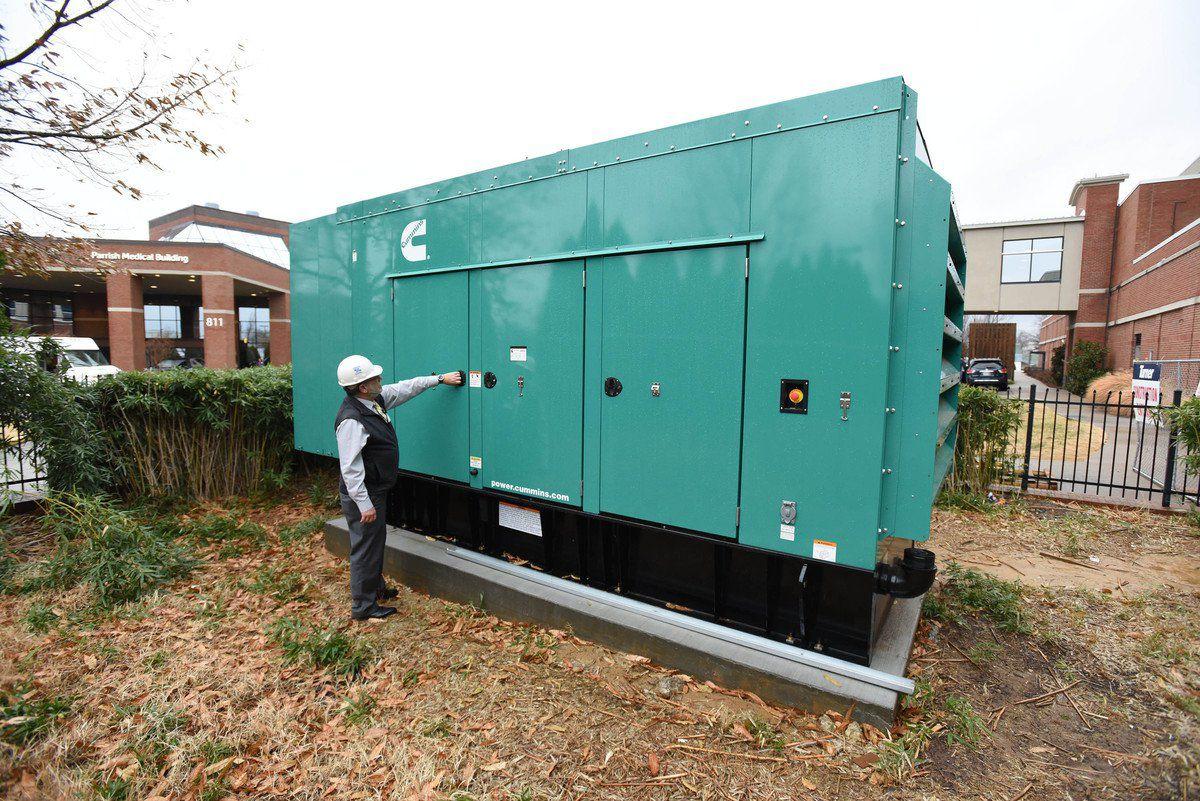 Joe Taylor, executive director of facilities, checks on the six-megawatt generator on Monday that was installed outside the Owensboro Health Mitchell Memorial Cancer Center.
---
One of only a few cancer centers nationwide with full emergency power
The $12.4 million renovation of the Owensboro Health Mitchell Memorial Cancer Center includes a backup generator for the entire facility, making it one of only a few cancer centers nationwide with full emergency power.
OH Regional Hospital has a six-megawatt generator capable of running the facility if a disaster wipes out electricity. However, in the past, the Parrish Avenue campus, where the cancer center is located, had only a small generator that provided emergency power to a surgical unit and OH's data center.
The cancer center's new generator cost $1.3 million and was included in renovation costs, said Joe Taylor, OH executive director of facilities.
The new generator features an automatic transfer switch that senses a loss of power. Within five seconds after the lights go off, the generator automatically restores electricity.
Losing power is an issue at MMCC because it has the potential to interrupt patients' life-saving treatments. For example, during the 2009 ice storm, the center lost power for a day and had to reschedule appointments. And another time, an accident in the area shut down electricity, which caused problems for treatments.
Installation of an emergency power generator at the cancer center is not a requirement.
"It was a patient-care decision," Taylor said.
On a daily basis, staff members at MMCC talk to patients about the importance of not missing treatments, said Bonnie Roberts, center director.
"If you have cancer, you want to get your treatments done as quickly as possible," Roberts said. " ... (The generator) will make a difference for our patients."
In early March, OH announced the renovation of MMCC. The 14-month project is on budget and on time, officials said. They expect to host an open house in late April or early May.
Patient care and services have continued throughout the process.
The cancer center opened on July 18, 2005, and had never been renovated. The center provides the health system's cancer treatment services under one roof. In the past, patients had to travel to several locations for care.
The renovation project will provide even more convenience by moving the OH Oncology & Hematology practice into the cancer center. Also, the project will increase the number of private treatment spaces, which is something patients requested.
On Oct. 16, MMCC's pharmacy moved into its new, larger space with state-of-the-art equipment.
Planning for the renovation took two years. The project has been conducted in phases to minimize the impact on patient care.
Because cancer patients are vulnerable to infections, OH infection prevention specialists have inspected the facility throughout the process to minimize health risks. Construction crews received special health care construction training.
MMCC arranged for valet parking and personal guides to walk patients through the facility while it was under construction.
"Our No. 1 concern is the patient," Roberts said.
Renee Beasley Jones, 270-228-2835, rbeasleyjones@messenger-inquirer.com
About Owensboro Health
Owensboro Health is a nonprofit health system with a mission to heal the sick and to improve the health of the communities it serves in Kentucky and Indiana. The system includes Owensboro Health Regional Hospital, nationally recognized for design, architecture and engineering; Owensboro Health Muhlenberg Community Hospital; Owensboro Health Twin Lakes Medical Center; the Owensboro Health Medical Group comprised of over 200 providers at more than 20 locations; three outpatient Healthplex facilities, a certified medical fitness facility, the Healthpark; a surgical weight loss center and program, and the Mitchell Memorial Cancer Center.
On average each year, we have 16,000 inpatient admissions, deliver 2,000 babies and provide the region's only Level III NICU. Owensboro Health physicians perform nearly 24,000 surgical procedures, including nearly 200 open-heart surgeries. Our physicians and staff have 70,000 Emergency Department visits, more than a million outpatient visits annually. Visit our home page for more information.