Published on September 20, 2019
Owensboro Health Regional Hospital Pulmonary Medical Unit earns food service courtesy award for June 2019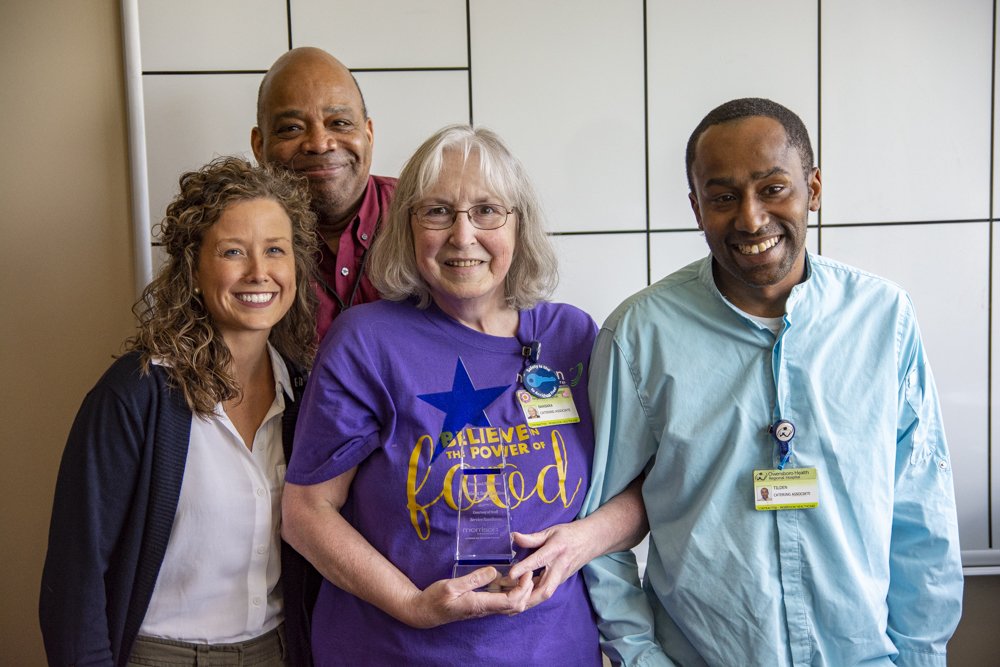 On Thursday June 13, Morrison Healthcare held their second monthly food service courtesy celebration with the Pulmonary Medical Unit at OHRH.
This celebration was held with Pulmonary Medical Unit staff because their unit had the highest exceeded food service courtesy score for the month of April 2019. The scores are tracked by third-party agency PRC, which tracks patient satisfaction scores at healthcare agencies around the country.
An overall excellent rating of 82%
"We are excited to share that thanks to the diligent work of our catering associate staff with nursing support, Pulmonary Medical exceeded their food service courtesy and helpfulness of staff goal by two patients for April, with an overall excellent rating of 82%," said Stephanie Whelan, associate director of Food and Nutrition Services. "In fact, the prior month, we had six total surveys pertaining to this question and 100% of the surveys came back with an excellent rating."
Whelan said the achievement was special because this unit typically has a high census and a wide variety of patients with special dietary needs.
We take pride in serving excellent food
"Our morning Catering Associate Barbara Frields and afternoon Catering Associate Tilden Owsley (seen in the picture above, with Frields at center front and Owsley at right) take pride in serving the patients excellent food," Whelan said. "They enjoy the challenge that this unit brings and were thrilled to hear about winning the contest this month."
Larry Little, executive director of Food and Nutrition Services, oversees the Pulmonary Medical Unit's food services because it is one of Morrison's high-priority units and Little said he enjoys the challenge. Little works closely with the unit's manager, Trisha Smith (also pictured above), so Morrison can react to patient feedback in real time. 
"Our team enjoys celebrating this achievement with nursing because it is their assistance and support involving nutritional needs for the patients that makes the difference," Little said. "We are so proud of the relationship between our department and nursing and the direct impact it has on the patients overall experience. We know our teams work hard to make that difference and anything we can do to show appreciation is what this contest is all about."
About Owensboro Health
Owensboro Health is a nonprofit health system with a mission to heal the sick and to improve the health of the communities it serves in Kentucky and Indiana. The system includes Owensboro Health Regional Hospital, nationally recognized for design, architecture and engineering; Owensboro Health Muhlenberg Community Hospital; Owensboro Health Twin Lakes Medical Center; the Owensboro Health Medical Group comprised of over 200 providers at more than 20 locations; three outpatient Healthplex facilities, a certified medical fitness facility, the Healthpark; a surgical weight loss center and program, and the Mitchell Memorial Cancer Center.
On average each year, we have 16,000 inpatient admissions, deliver 2,000 babies and provide the region's only Level III NICU. Owensboro Health physicians perform nearly 24,000 surgical procedures, including nearly 200 open-heart surgeries. Our physicians and staff have 70,000 Emergency Department visits, more than a million outpatient visits annually. Visit our home page for more information.