Published on June 07, 2021
Student health: It's a group project
Muhlenberg County School Board Superintendent Robby Davis looks a little like Rocky Balboa and can certainly be tough when he needs to be but — mostly — he's a big softie. He's got a heart for the kids of Muhlenberg County and has spent his whole life working to make sure every kid in the county gets a good education, regardless of what life is like at home. Now, that same mindset is bringing healthcare to all of the children in Mr. Davis' care. He and Owensboro Health Muhlenberg Community Hospital (OHMCH) Chief Operating Officer Ed Heath are working together to make health a priority in Muhlenberg County schools.
"We have a really great working relationship," said Davis of Heath. "We want the same thing, and that's what's best for our kids."
Heath agreed, noting that, "The most important thing is that we support our community, and our students make up a fifth of the entire county's population. We can really make a big impact just by serving that group."
"The most important thing is that we support our community, and our students make up a fifth of the entire county's population. We can really make a big impact just by serving that group." — Ed Heath, Owensboro Health Muhlenberg Community Hospital Chief Operating Officer
Health professionals on-site
One way that OHMCH serves is by sponsoring the salary of the nurse or medical technician on-site at each school. These medical professionals are able to distribute medication as needed, but they also take care of medical concerns ranging from scraped knees to the flu. When county teachers have a concern about a student, they can always ask the nurse for a consult to see if the problem is easily solved or requires a call home and a visit to a local doctor. Having a medical professional to make this call saves classroom time and prevents the spread of communicable diseases.
Keeping kids healthy
OHMCH team members also provide yearly school health assessments for every child, grades kindergarten through eight, free of charge. The assessments measure general fitness and track kids with chronic illness or disabilities, measuring their progress from year to year. OHMCH staff travels to each school, providing access to the assessment without requiring any special effort on the behalf of parents. There is a permission form that needs to be returned, but the rate of return is almost 100%.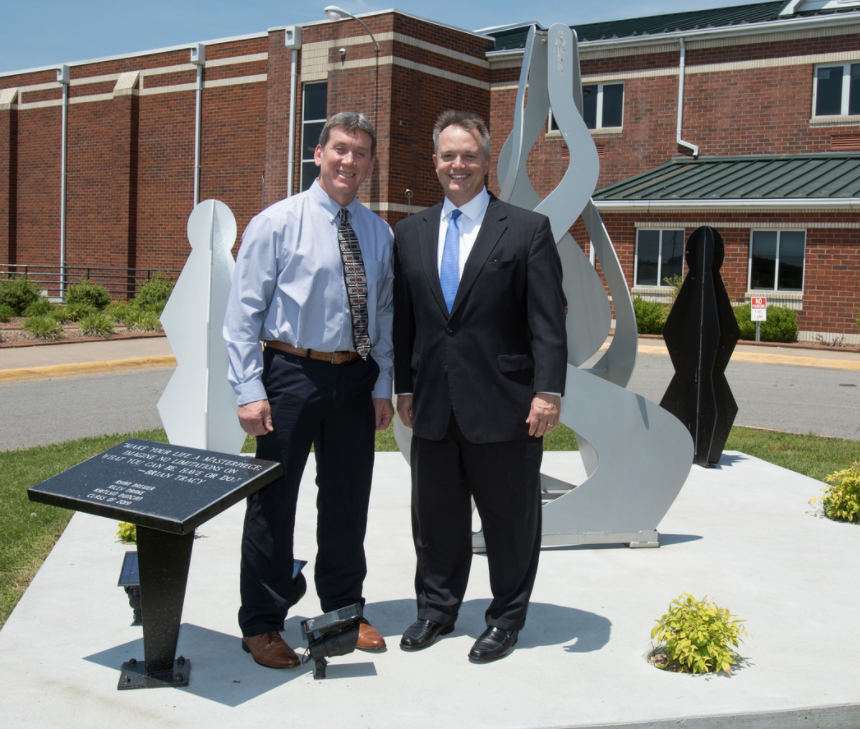 Superintendent Robby Davis is pictured with COO of OHMCH Ed Heath outside Muhlenberg County High School.
Extra credit
Beyond the actual "boots on the ground" efforts, OHMCH supports the schools through grants and sponsorships. Some of the recent projects that have been funded include:
Muhlenberg County High School (MCHS) Band Boosters
MCHS Athletics Level of Support 1
MCHS Softball backstop padding
Felix E. Martin Jr. Hall Producer-Level sponsorship
MCHS FFA National Competition sponsorship
Bremen Family Resource Center — Family Fun Night
Muhlenberg South Middle School — Family Fair Night
Longest Elementary School — wheelchair
MCHS — Project Prom
Beyond the classroom
OHMCH provides an athletic trainer for the school sports teams. Ray Carroll, MA, ATC, attends each sporting event to treat injuries as they arise. In the case of severe injuries, OHMCH emergency medical services (EMS) provides an ambulance at each KHSAA event.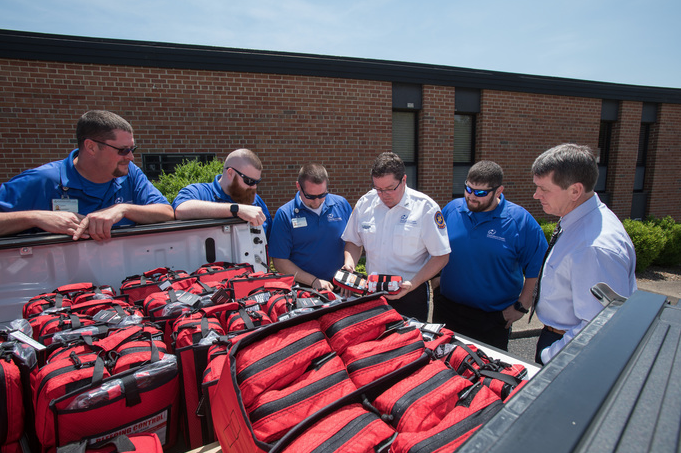 OHMCH EMS delivered Stop the Bleed kits to all Muhlenberg County schools — but not before stopping by the board office to give Mr. Davis a quick tutorial.
Recently, OHMCH EMS provided Stop the Bleed training to local schools and put first aid kits designed to stop bleeding in each facility. It is the hope of all involved that this training and these kits will never need to be utilized. However, Mr. Davis does not take the responsibility of student safety lightly. He continues to build a relationship with local law enforcement, as well as EMS, to be prepared for any situation that could arise.
Superintendent Davis is appreciative of the programs that OHMCH brings to the students because, without that support, it might not be possible to give the students all of the advantages they currently have.
This article originally appeared in the September 2019 edition of Lift magazine, check out our latest publication.
About Owensboro Health
Owensboro Health is a nonprofit health system with a mission to heal the sick and to improve the health of the communities it serves in Kentucky and Indiana. The system includes Owensboro Health Regional Hospital, nationally recognized for design, architecture and engineering; Owensboro Health Muhlenberg Community Hospital; Owensboro Health Twin Lakes Medical Center; the Owensboro Health Medical Group comprised of over 200 providers at more than 20 locations; three outpatient Healthplex facilities, a certified medical fitness facility, the Healthpark; a surgical weight loss center and program, and the Mitchell Memorial Cancer Center.
On average each year, we have 16,000 inpatient admissions, deliver 2,000 babies and provide the region's only Level III NICU. Owensboro Health physicians perform nearly 24,000 surgical procedures, including nearly 200 open-heart surgeries. Our physicians and staff have 70,000 Emergency Department visits, more than a million outpatient visits annually. Visit our home page for more information.