Published on April 06, 2019
Transitional Care Center at OHRH earns five-star rating from federal Nursing Home Compare website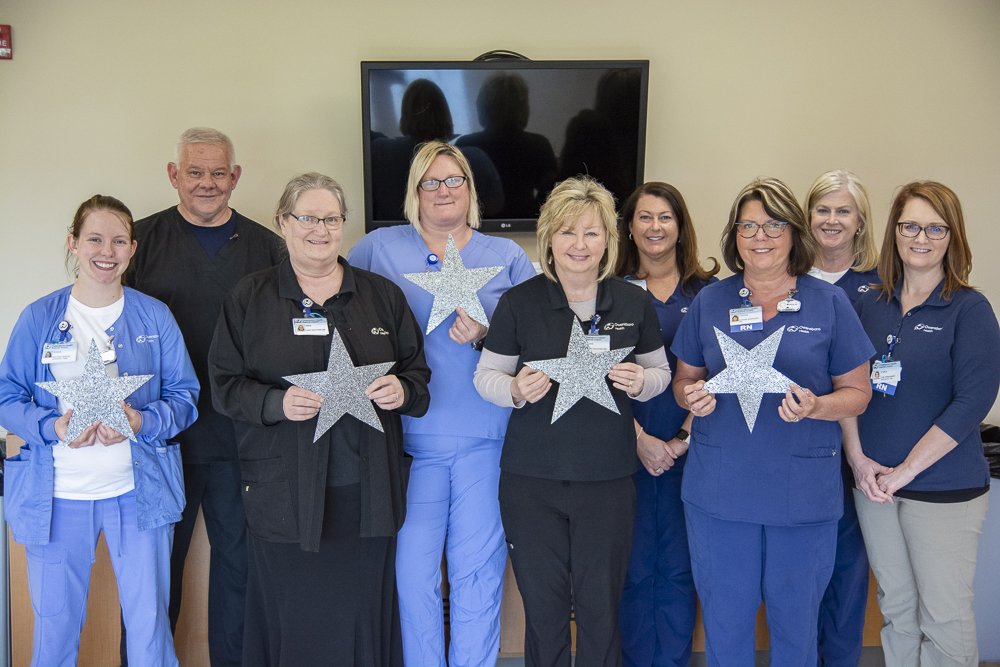 OWENSBORO, Ky. (April 24, 2019)– The Transitional Care Center at Owensboro Health Regional Hospital has earned the highest possible rating on the federal Nursing Home Compare website.
The Transitional Care Center, located on the ninth floor of OHRH, is a 30-bed unit that is licensed as a long-term care facility. The TCC staff care for patients needing additional physical therapy or nursing care before being transferred to another facility for additional care or discharged to go home. According to the Nursing Home Compare page on Medicare.gov, the star ratings are based on health inspections, staffing and quality of care measures. 
Historically, the TCC has performed highly on required state and federal surveys. The center was last surveyed in February 2019 by a team from the Kentucky Office of the Inspector General. This survey was not announced beforehand, meaning staff did not have advance notice that surveyors were coming. Though the survey was unexpected, no deficiencies were found, making it the fourth visit out of the last five where inspectors found no issues.
Salanda Bowman, RN, manager of the TCC, said her team is dedicated and diligent when it comes to giving their patients excellent care. 
"This is so exciting because what it tells us is that this unit is focused on what is important to the patients we serve," Bowman said. "The staff work hard every day at bedside to make sure our patients have everything they need, and it's exciting to know those efforts are reflected in the five-star rating." 
Joy Burden, RN, director of extended care services at OHRH, had high praise for the TCC team. 
"I'm very proud of the team on the unit. This five-star rating speaks to the high level of care that the TCC provides every day, not just when surveyors are in the building," Burden said. "Long-term care surveys are some of the most intense surveys that you might encounter in healthcare. There are so many regulations related to long-term care, and there should be, because our patients can be very vulnerable for a variety of reasons." 
Joni Sims, chief nursing officer for OHRH, said she is also pleased with the TCC's achievement.
"Achieving a five-star rating is only possible with a team effort, and I am proud to say that our team has stepped up to accomplish this," Sims said. "Everyone, from the housekeeping and maintenance staff to the nurses and physicians, has helped us achieve this. I have no doubt they will continue to distinguish themselves and deliver the best care possible to the patients we serve."
Contact: Dariush Shafa, Marketing Specialist, Owensboro Health Marketing & Public Relations,
(O) 270-685-7738, (C) 270-925-0227, Dariush.Shafa@OwensboroHealth.org. 
About Owensboro Health
Owensboro Health is a nonprofit health system with a mission to heal the sick and to improve the health of the communities it serves in Kentucky and Indiana. The system includes Owensboro Health Regional Hospital, nationally recognized for design, architecture and engineering; Owensboro Health Muhlenberg Community Hospital; Owensboro Health Twin Lakes Medical Center; the Owensboro Health Medical Group comprised of over 200 providers at more than 20 locations; three outpatient Healthplex facilities, a certified medical fitness facility, the Healthpark; a surgical weight loss center and program, and the Mitchell Memorial Cancer Center.
On average each year, we have 16,000 inpatient admissions, deliver 2,000 babies and provide the region's only Level III NICU. Owensboro Health physicians perform nearly 24,000 surgical procedures, including nearly 200 open-heart surgeries. Our physicians and staff have 70,000 Emergency Department visits, more than a million outpatient visits annually. Visit our home page for more information.