Published on December 09, 2020
Blessing of the Hands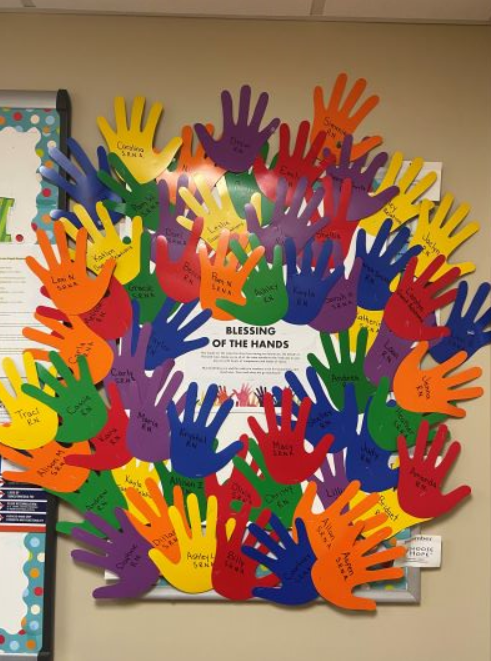 Each holiday season, Owensboro Health Pastoral Care offers a blessing of the hands for our team members. They visit each floor, anointing hands with oil to honor the work their hands do to make the community better.
This year, like with most things, the blessing had to adapt for COVID-19.
Instead of anointing hands directly, Pastoral Care asked team members to write the names of the healthcare workers on each floor on a hand-shaped cutout. Chaplains attached the hands to poster boards and anointed them.
Our team members are a special part of the community, not just at the holidays but year-round. Pastoral Care is here for you 24 hours a day when you need encouragement, hope or just someone to listen. Email pastoralcare@owensborohealth.org or call 270-417-2100.
About Owensboro Health
Owensboro Health is a nonprofit health system with a mission to heal the sick and to improve the health of the communities it serves in Kentucky and Indiana. The system includes Owensboro Health Regional Hospital, nationally recognized for design, architecture and engineering; Owensboro Health Muhlenberg Community Hospital; Owensboro Health Twin Lakes Medical Center; the Owensboro Health Medical Group comprised of over 200 providers at more than 20 locations; three outpatient Healthplex facilities, a certified medical fitness facility, the Healthpark; a surgical weight loss center and program, and the Mitchell Memorial Cancer Center.
On average each year, we have 16,000 inpatient admissions, deliver 2,000 babies and provide the region's only Level III NICU. Owensboro Health physicians perform nearly 24,000 surgical procedures, including nearly 200 open-heart surgeries. Our physicians and staff have 70,000 Emergency Department visits, more than a million outpatient visits annually. Visit our home page for more information.