Published on January 06, 2020
Fall Semester Vicki M. Stogsdill Nursing Award Recipient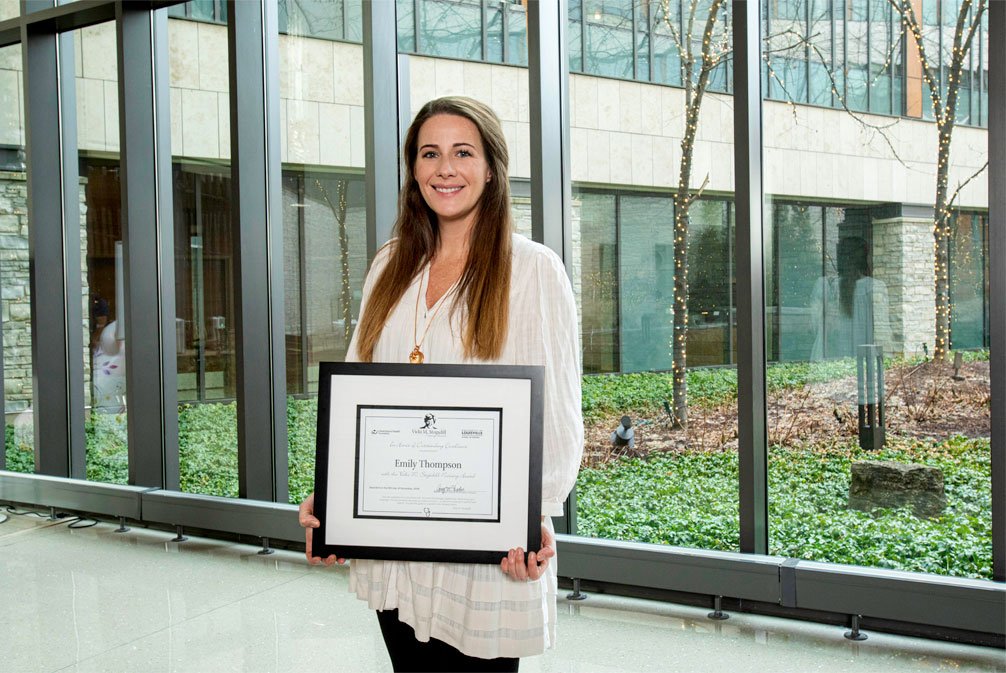 Many professionals search for their calling. For Emily Thompson, a calling found her.
Emily graduated from Western Kentucky University with a bachelor's degree in exercise science and a master's degree in public health. She worked in various worksite wellness and health promotion jobs before joining Owensboro Health as a cycling instructor at the Health Park. But she felt like something was missing.
"It was the clinical aspect I was wanting," she said. "All the nurses would tell me that I should be working with patients, and I started to think about that more and more."
She considered going back to school for years, only to have work and scheduling conflicts keep the process from falling into place.
But Emily wasn't ready to give up on it yet. Ultimately, she completed her prerequisites and prepared to enter UofL's nursing program. Then she gave birth to her son, leading her to realize exactly where she was being called.
"Right after I had applied and was accepted into UofL's program I had my son, prematurely at 32 weeks," Emily said. "I had him here at Owensboro Health Regional Hospital, and we were in the NICU for seven weeks. That was like divine intervention and I knew this was what I needed to do. From that point on I wanted to be a NICU nurse – that was my goal."
Emily went on to excel as a nursing student, being recognized as the Fall 2019 Vicki M. Stogsdill Nursing Award recipient, an honor presented to those dedicated to learning, excellence in practice and having the courage to be a servant leader.
"Winning this award was so overwhelming," Emily said. "It's such an honor to even be considered for it among all the hardworking students that were in my class. This is extremely humbling."
Emily began her career as a NICU registered nurse applicant at OHRH in January. She said this honor would not have been possible without the love, encouragement and support of her husband Luke and her family, including her two children Veda, 5, and William, 3.
About Owensboro Health
Owensboro Health is a nonprofit health system with a mission to heal the sick and to improve the health of the communities it serves in Kentucky and Indiana. The system includes Owensboro Health Regional Hospital, nationally recognized for design, architecture and engineering; Owensboro Health Muhlenberg Community Hospital; Owensboro Health Twin Lakes Medical Center; the Owensboro Health Medical Group comprised of over 200 providers at more than 20 locations; three outpatient Healthplex facilities, a certified medical fitness facility, the Healthpark; a surgical weight loss center and program, and the Mitchell Memorial Cancer Center.
On average each year, we have 16,000 inpatient admissions, deliver 2,000 babies and provide the region's only Level III NICU. Owensboro Health physicians perform nearly 24,000 surgical procedures, including nearly 200 open-heart surgeries. Our physicians and staff have 70,000 Emergency Department visits, more than a million outpatient visits annually. Visit our home page for more information.