Published on July 01, 2020
Family Medicine Residents Start Today at Owensboro Health
The first seven participants in the Owensboro Health family medicine residency officially start their training today. The program is a result of long-term efforts between Owensboro Health and the University of Louisville medical school.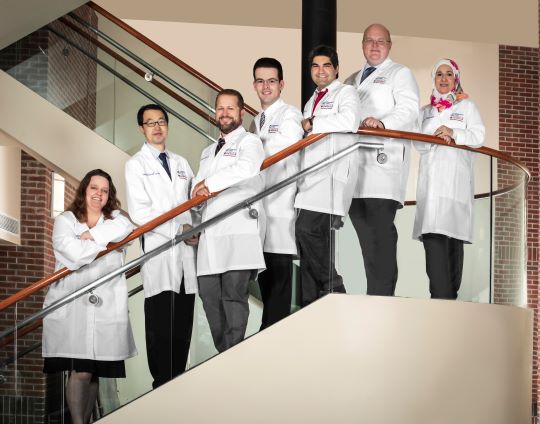 For the next three years, they will train with a group of specialists at the Parrish Campus and at Owensboro Health Regional Hospital. Residents will see patients who are admitted to the family medicine teaching hospital ward service as well as the outpatient clinic on Parrish Avenue.
The official start to a new crop of Family Medicine physicians is a day of immense pride not only for the residents but the members of Owensboro Health who will teach them.
Vice President of Medical Affairs Dr. Michael Kelley said the program is a new starting point. "While the institution has always been focused on providing excellent quality and service to our community, we are now becoming an institution that will also serve a teaching mission for a next generation of physicians and the positive impacts are many."
When they complete the program, they will be family physicians who can take care of patients in all points of life - a huge asset to our region.
"The seven new physicians who are joining us are now part of our community, not only as learners, but as our neighbors on their path to becoming healers and healthcare leaders. Some of these physicians will stay beyond their three years of training and practice locally - only increasing our desire to invest our time and energy and train them well," Kelley said.
"The process of teaching a physician in training occurs not only by the attending physician, but through all of our healthcare team members across the spectrum of care that is required for every patient," Kelley continued. "It requires and insists that we practice evidence-based and patient-centric care and that we remember what it was like to just be starting out. It gives us all a chance to remember the why behind choosing our profession and the sacrifices required to get there."
About Owensboro Health
Owensboro Health is a nonprofit health system with a mission to heal the sick and to improve the health of the communities it serves in Kentucky and Indiana. The system includes Owensboro Health Regional Hospital, nationally recognized for design, architecture and engineering; Owensboro Health Muhlenberg Community Hospital; Owensboro Health Twin Lakes Medical Center; the Owensboro Health Medical Group comprised of over 200 providers at more than 20 locations; three outpatient Healthplex facilities, a certified medical fitness facility, the Healthpark; a surgical weight loss center and program, and the Mitchell Memorial Cancer Center.
On average each year, we have 16,000 inpatient admissions, deliver 2,000 babies and provide the region's only Level III NICU. Owensboro Health physicians perform nearly 24,000 surgical procedures, including nearly 200 open-heart surgeries. Our physicians and staff have 70,000 Emergency Department visits, more than a million outpatient visits annually. Visit our home page for more information.