Published on November 05, 2020
Get to know the 2020 President's Award recipients!
Every year the health system recognizes individuals who embody our core commitments: Integrity, Teamwork, Excellence, Service, Respect, and Innovation.... in extraordinary ways. These exemplary individuals are presented with the President's Award, the system's highest honor.
Individuals are nominated for the award by their peers, giving team members the chance to recognize those they see going above and beyond. The nomination is then reviewed by a committee made up of former award winners. Nominees' names are kept secret, so they are selected solely for what they do, not who they are.
These are the 2020 President's Award recipients. They cultivate their own unique strengths and put them to work every day, in every relationship. They change the lives of others in positive ways and strive to reach the highest potential when caring for patients, families and colleagues. They serve with distinction. We thank each of you for your devoted service to Owensboro Health. We are grateful for each of you and thankful you are a part of our Owensboro Health family!
Recipients received their awards during small, informal gatherings or via video. Team Members were given a monetary prize. Physician winners select a charity for contributions to be made in their names.
---
Megan Beeler
OHRH Observation Unit Nursing Supervisor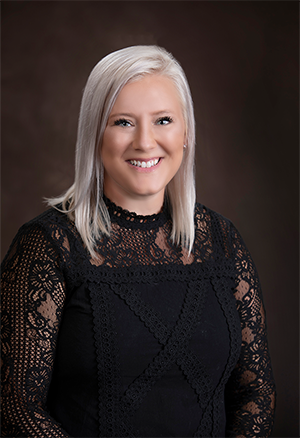 About the recipient
Megan is passionate about her family. She and her husband Richard have two daughters, who are their "sunshine on a cloudy day." Together, they spend time playing games or snuggling up on the couch with a good movie. She loves to travel and says the beach is her happy place. Megan also enjoys getting together with friends for dinner and drinks at Lure.
At work, she's passionate about being a nurse and her work family on the Observation Unit. She can't imagine doing anything else with her life. She's also proud to work on the COVID floor with the "most amazing group of co-workers." She's also extremely proud to have been awarded the President's Award
When asked which Core Commitment is most important to her, she said," Teamwork - Everyone on our unit plays a crucial role in providing excellent care to our patients every day. I could not ask for a better team of coworkers. I would not be where I am today without the support of my coworkers challenging me and inspiring me to grow as a leader. Teamwork honestly does make the dream work."
What her team members say
Megan exemplifies each and every one of our core commitments every day. She is the rock upon which our department has been built and excels by maintaining a caring, compassionate and extremely positive attitude. Megan is dedicated to the patients and families, spending time to get to know them and their needs. There are many deserving team members who work hard every day, but this team member is the very best! She has been the beacon of consistency for our department and is the truest sense of what makes the Owensboro Health team feel like family.
---
Lauren Calhoun
Hospital Billing Business Office Supervisor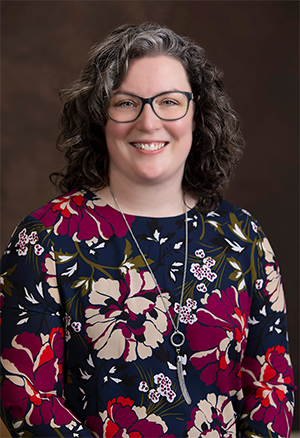 About the recipient
Lauren Calhoun has a passion for learning. She's been in school since she was 5. Starting with Owensboro Catholic, on through OCTC and Murray State, where she graduated with a BA in French and vocal performance. Since then, she's studied for a CNA and coding certification. Next year, on her birthday, she will graduate from Northcentral University with a Master's in Business Administration. After that, she'll probably find a new program to start because it keeps her curious.
With a heart for the arts, she enjoys showing people ways to use the arts to complement and improve the way we work in other disciplines. "I believe that the arts help us see things differently, process information more efficiently, keep us emotionally resilient and so, so much more, and I love telling people about it," she said.
Outside of work, she and her husband John (who she says tells better dad jokes than anyone), have three little ones - Jack, Michael and Katie. "They really are such fun, independent little humans, and I'm amazed every day that I had a hand in getting them to where they are today, she said." She loves making music, playing games and hiking, and she volunteers with Theatre Workshop of Owensboro, St. Stephen Cathedral and KY Foundation for Women. Five years ago she, along with Todd Reynolds, founded the Cabaret Nights program at Theatre Workshop of Owensboro, which is still going strong. Along her coworkers, she's been working to apply community building practices like collaborative artmaking, improv techniques and story circles to our department to develop stronger connections and a shared sense of purpose among team members.
When asked which core commitment is most important to her, she said, "This is really hard, they're so interdependent! But I think excellence is most important to me. Striving for excellence means that you're always open to finding ways to improve. To be your best self, your best teammate, the best organization. Excellence is not something you ever master. Like music or art it's a practice that's informed by who you are in a given moment, what you hope to become, and the steps you're taking to get there."
What her team members say
Lauren embodies the best of Owensboro Health. She has created an environment where team members can share ideas for improvement and uses music to motivate and inspire us each and every day. Lauren brings peace and happiness to our team and constantly points out the positives creating an excellent work environment. She believes in the team and provides team building activities that helps us grow and learn. Lauren has touched my heart with her kindness and pushes me to work harder, be better and want more. This exemplary team member truly cares about our team and Owensboro Health. Lauren is so deserving of the President's Award!
---
Jason Collins
OHRH Inpatient Pharmacy Director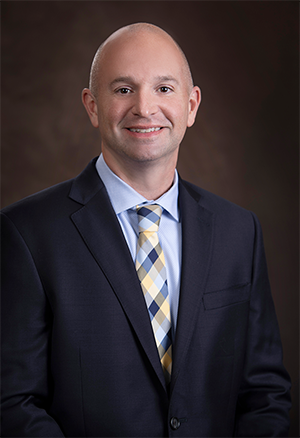 About the recipient
Jason Collins and his wife, Ashley (a Spanish teacher at Daviess County Middle School), were high school sweethearts who went their separate ways the summer before college. When he returned home to Owensboro for an interview at Owensboro Health, they ran into each other crossing the street - and they've been together ever since.
Growing up in Owensboro, he played football and baseball at Daviess County High School and worked summers and weekends for a construction company. He even worked on the construction of the parking garage at the old hospital campus. These days, he can be found doing yard work around the house, watching college football (ROLL TIDE!), spending time with family or going to the drive-in.
When asked which core commitment is most important to him, he said, "I believe Teamwork is the most important core commitment to me. Everyone believes teamwork is about working together, which it is. However, it is about more than just working together. It is also about putting the needs of your team members or the organization ahead of your own. A true team member does what is best for the team as a whole, organization or patient."
What his team members say
Jason goes above and beyond more than any team member I know and has a positive attitude in all situations. Service is at the top of his daily to-do list. Jason collaborates with other departments to improve work flows and ensure positive relationships throughout the health system. He demonstrates a high level of integrity and inspires our team to be better. This team member strives to boost team morale and goes above and beyond to create a positive work environment, making sure his team is the best it can be. Jason is always thanking team members for the work they do and improves processes to make things easier for the Pharmacy and the Owensboro Health System. He makes my day better and makes our team better. Jason is a true servant!
---
Brenda Fowler
Multicare Administrative Assistant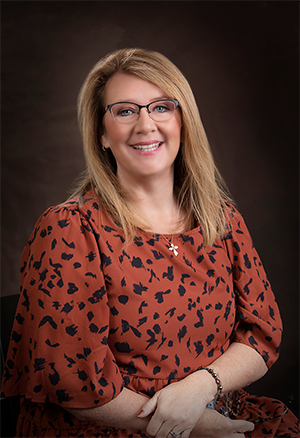 About the recipient
Brenda Fowler wants to make sure Owensboro Health is better because she's on the team. She once owned her own business, which gave her some insight into what makes a good employee, so she strives to be just that.
Brenda says her love for Christ comes before all. She asks for God's guidance throughout the day so she can be available to the needs around her. She also works with an exceptional team, and she gets a great deal of pride knowing the work they do every day is a benefit to our community. It's very important to her that patients feel comfortable coming to get the care they need.
Outside of work, Brenda and her husband Harold (married 18 years), enjoy spending time with their family. They have two daughters and one grandson, as well as two nieces and a nephew that light up their lives. The couple owns a place at Kentucky Lake and enjoys time sitting around the bonfire or on the boat with friends and family.
When asked which core commitment is most important to her, she said, "Teamwork! It has been my experience that when a team comes together for one common goal, the door to a valuable and rewarding experience opens for everyone involved. I have seen this demonstrated over and over in the five years I have been with Owensboro Health and it makes me excited about the future!"
What her team members say
Brenda loves her job and is willing to learn any position and can do all jobs in this clinic. She is committed to Owensboro Health and the patients we serve. Everything she touches will be done right and is always better than expected. Brenda volunteers to work all clinic activities and is the first to make sure it is a success. She helps with patient feedback and I have witnessed how Brenda handles patients and family members and it is truly a testament of her love for others and Owensboro Health. Brenda is truly amazing!
---
Don Jarboe
OHRH Maintenance Shop Technician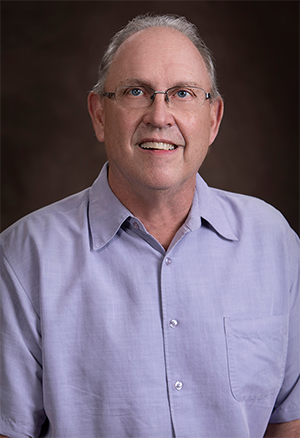 About the recipient
Don met his wife Cerise while working at the Parrish Campus, and he considers being married to her one of his greatest accomplishments. They reside with their dog, Teddy, in Owensboro, where Don grew up and attended Owensboro High School.
He is proud of winning the President's Award and also of all the friendships he's made through the years at Owensboro Health Regional Hospital.
When he isn't working Don enjoys hunting, playing golf, camping, spending time with family and walking Teddy.
When asked which core commitment is most important to him, he said, "Respect. Treating co-workers, patients and guests with kindness and courtesy makes for a great day and makes everyone feel good."
What his team members say
Don is a one of a kind team member who does his work with a helpful attitude and a kind spirit. He anticipates the needs of others and is always available to help where needed. I have witnessed Don assisting visitors with wayfinding. When working with others on projects, he is creative and resourceful. Don is honorable and trustworthy and has a strong moral compass, doing the right things for the right reasons. I have witnessed Don going above and beyond expectations assisting other team members. He lives our core commitments every day and you can see the love and pride he takes in his work. Don always puts others before self and to work with him is a true joy. He is very deserving of the President's Award!
---
Donna L. Jones
OHRH Guest Services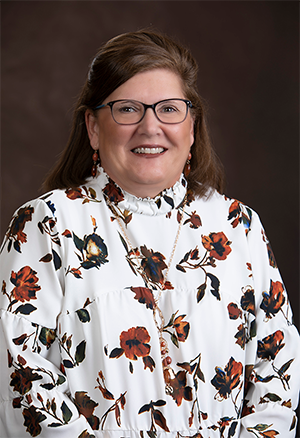 About the recipient
Donna has been a dedicated Owensboro Health team member for nearly 13 years. She loves her job and says she works with an "awesome group of people." She's a perfect fit for guest services, because her passion is helping people. "I always try my best to be kind and respectful to everyone I encounter," she said. "I think it is very important to greet everyone with compassion and respect."
Her love for others is especially apparent in her family life. She's been married to her husband, Brent, for 42 years. Together they have two children and five grandkids, which mean everything to them. When she's not working, you can find her spending time with them, playing ball or riding on the side-by-sides or four-wheeler at the farm. She also enjoys working in her flower beds.
She's most proud of having God in her life, her family and her hospital family. She's also proud of earning the President's Award, which came as a surprise and means a lot to her.
When asked which core commitment is most important to her, she said, "All of the core commitments are important to me! Each core commitment is equally important to me because they are building blocks to an excellent patient or visitor experience."
What her team members say
Donna is a major team player. She notices when other team members need back up and always steps in to assist. Donna is full of integrity. She quickly owns up to mistakes, and will use that time as a learning experience. When Donna has free time, she frequently will do inventory for her supervisor and bakes cookies and muffins for guests in the C. Waitman Taylor Hospitality Suites. One example of Donna displaying service can be seen when families with a NICU baby leave after days and months. She will call the patient by name and be genuinely excited that they finally get to go home. Many times, team members give Donna kudos and will praise her for recognizing a visitor or patient having difficulty and quickly intervening by assisting them with the door or to get a wheelchair. Donna is the epitome of all the Owensboro Health Core Commitments.
---
Julie Lanham
OHRH Labor and Delivery Nurse
About the recipient
Mom of two, Julie Lanham is especially proud of her children. Her daughter, Ashley, is a pharmacist and son, Max, is a project manager. "My children are amazing," she said. They've always been supportive of her work, even as she was working and raising them. She's also proud of the achievements in her career, including earning her BSN and OB certifications.
A Whitesville native, she attended Whitesville Trinity High School before getting her Associates of Nursing at Kentucky Wesleyan College and her Bachelors of Nursing at the University of Louisville. Her education has been put to good use. She gets out of bed each day to assist expectant mothers with the monumental, life-changing experience that is the birth of a child. She's dedicated 27 years to Owensboro Health and being a strong patient advocate is most important to her.
When she isn't bringing new life into the world, Julie enjoys spending time with her family and friends. She also enjoys traveling and experiencing new places - especially the beach.
When asked which core commitment is most important to her, she said, " I'm dedicated to all core commitments of this facility. Specifically, I feel most strongly about the commitments of excellence, respect, and service."
What her team members say
Julie is a kind, incredibly intelligent and dedicated team member. She is a role model for new team members and consistently gives 100% of her time to ensure that patients and families are well cared for. Julie is a mirror image of our core commitments and she is a huge asset to our unit and Owensboro Health. It is overwhelmingly humbling to watch and work side by side with someone who has so much passion for our patients and places the needs of others above self. Julie is a true patient advocate, providing quality and safe care. To say she is deserving of the President's Award is an understatement. I have been a team member here for many years and cannot think of anyone more deserving than Julie!
---
Courtney Phelps
Muhlenberg Healthplex Family Medicine LPN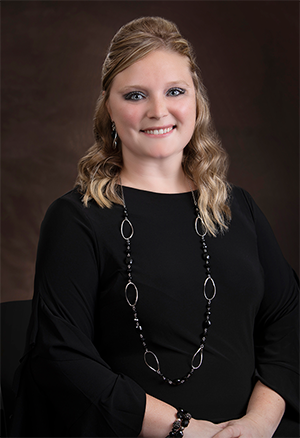 About the recipient
Courtney Phelps and her husband of 8 years, Josh, have two children, Kennedy (7) and Ruger (4) to keep them busy. She spends her weekends with her family, watching her husband race and attending church.
She was born and raised in Muhlenberg County, where she now works. "God has blessed me beyond measure. I enjoy being a nurse and caring for patients in our small town," she said. Courtney says the President's Award has been a wonderful achievement in her nursing career.
When asked which core commitment is most important to her, she said, "Teamwork is a very important core commitment to me. I believe if we respect each other and work together as a team the care we provide will be excellent."
She also quoted Helen Keller: "Alone we can do so little, together we can do so much."
What her team members say
Courtney puts excellent patient care at the center of all she does. She creates a fun work environment where team members can develop lasting relationships. Courtney is a natural leader and pushes me to be a better team member every day. She puts the patients first and takes time and care to make sure their individual needs are met. As a patient in her care, she provides excellent and quality care above and beyond anything I know. Courtney performs her work with a high level of quality and treats each person with the utmost respect. Owensboro Health is held to a higher standard because of Courtney. She is highly deserving of the President's Award!
---
Marshall Eddie Prunty, MD
OHMCH Hospitalist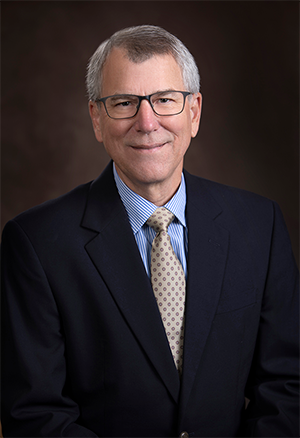 About the recipient
For Dr. Marshall Prunty, his family is his biggest blessing. He has been married to his wife Melinda Gibbons Prunty for nearly 42 years and together they have three daughters (Kaci, Lindsay and Hillary) and nine grandchildren.
While he's built a life in Muhlenberg County, it's been quite the journey. After being adopted at 6 weeks old in Heidelberg, Germany, he spent his childhood in Pound, Virginia - a small town, tucked in the Appalachian Mountains. He attended the University of Kentucky for undergrad and medical school, and then completed his Family Medicine Residency at The Medical Center in Columbus, Georgia. Soon after, he moved to Muhlenberg County and began his Family Medicine Practice in Greenville.
Since then, he's spent 30 years caring for the needs of the community - first as Family Practice of Greenville, then as Multicare Greenville and finally at the Muhlenberg County Healthplex. He's proud of his involvement in the success and growth of Muhlenberg Community Hospital/OHMCH, and its recent recognition as a 5-star hospital. In recent years, he laid the groundwork to start a Family Medicine Residency in Owensboro and saw it come to fruition in July. Through this program he'll be able to teach resident physicians and share the importance of forming relationships with your patients.
Outside of work, he enjoys golf, reading (especially WW2 history) and writing poetry and short perspectives. You can also find him working around the house, and even doing some backpacking.
When asked which core commitment is most important to him, he said, "Without integrity, all of the other core commitments crumble. To me, integrity embodies the whole of the other five commitments. In my professional career, and in my relationships with family, friends, patients and co-workers, I have worked hard to present myself with integrity in everything I do."
What his team members say
Dr. Prunty is an extraordinarily humble person that can always be counted on to provide sage advice, professional medical care and the utmost compassion. He advocates for equipment, services and training and is the first to provide the service and get the training. Dr. Prunty is quick with a kind word, collaborative in planning patient care, very competent and always a leader. For him, service means honoring God and caring for friends and neighbors. Respect means communicating kindly and clearly. Integrity means showing up and working effortlessly. Excellence means setting the example every day. Teamwork means rolling up his sleeves alongside team members. Dr. Prunty is an exemplary team member and so deserving of the President's Award!
---
Thomas Troutman
Healthpark Fitness Sales Representative
About the recipient
Thomas Troutman is Owensboro through and through. A graduate of Apollo High School and Owensboro Community and Technical College, he's now pursuing a Bachelor of Science in Strategic Marketing. Growing up in Owensboro, he's "happy to see how far our little town has come."
He credits his family, parents Bradley and Janie, and siblings Dusti, Jon and Daniel, with helping him grow into the person he is. They've been a source of support and encouragement, and he loves spending time with them, as well as his friends. Cookouts, game nights and movie nights all top his list for quality time. When he's not working, he enjoys golf, playing basketball, disc golf and other outdoor activities. He's also a self-proclaimed people person, who never meets a stranger. Spending time with others and talking to them about their day is what gets him out of bed.
When asked which core commitment is most important to him, he said, "I believe that teamwork is what makes everything work out in the end. At the Healthpark, there are many decisions that need to be made daily as a team. We have such an amazing group of people here that make things run as well as they have, especially in these last few months. I am very grateful for our Healthpark team!"
What his team members say
When I think of someone who deserves this recognition, I think of Thomas who goes above and beyond in every aspect of his work. Thomas is a fabulous team member and a huge asset to the Healthpark and Owensboro Health. His customer service skills are exemplary and he is a true team player. Thomas is always willing to help others and his commitment to the organization is unequaled. With a smile on his face he kindly assists members and answers any questions they may have. He is always willing to help. Thomas is what the President's Award is all about, recognizing team members that go above and beyond just because they want to see others succeed! Thomas is dedicated to his team and Owensboro Health.
---
Sherry Turner
OHRH Case Management Administrative Assistant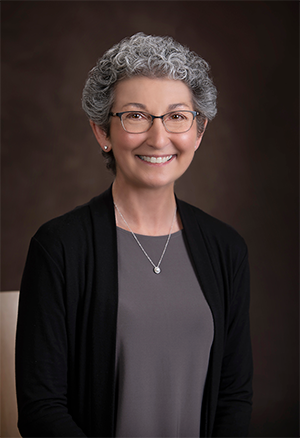 About the recipient
Sherry Turner and her husband, Ron, have been married for 23 years and together they have two sons and six grandchildren. Many of her family members reside here in Daviess County, where she grew up on a farm raising cattle and showing them with her brothers in the 4-H show.
When she isn't working, Sherry enjoys reading mystery fiction (and trying to solve the mystery before the end of the book), crafts, traveling and family gatherings. She also likes watching her niece run cross country and her brother competing in triathlons and marathons.
She's especially proud of receiving the President's Award, as well as completing the Dale Carnegie Public Speaking course and graduating from college.
When asked which core commitment is most important to her, she said, "Integrity - It's important to me to do the right thing in all circumstances, even if no one is watching me."
What her team members say
Sherry is loved, respected and relied on by our entire department. She strives to do the right thing for the good of Owensboro Health at all times. Sherry has priceless knowledge of where we were 40 years ago and our journey to where Owensboro Health is today. She encourages our team to participate in organizational events and activities, creating a special team bond. Sherry is willing to stop on a dime to assist others even when her workload is heavy. She has a can do attitude in her daily work. Sherry is the face of all that this recognition represents and is very deserving of this recognition!
---
Jared Williams
OHRH Critical Care Nurse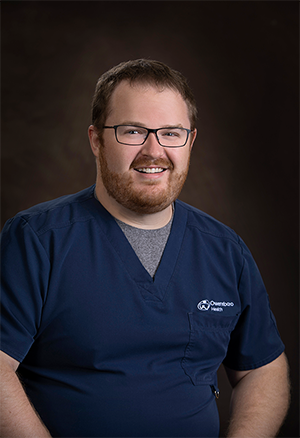 About the recipient
New dad Jared Williams and his wife Chelsea (who works in radiology at OHRH) welcomed their first child, Aubrey, in May. Family is something he's always been passionate about, saying he has two reasons to get up in the morning, and they both live in the same house as him. His goal is to set a good example that his daughter can look up to.
Jared grew up in Livia, surrounded by farms, where your neighbors are like family. "Living in the country is like a little slice of heaven," he said. He graduated high school from McLean County High School and received his ADN from Owensboro Community and Technical College. He's especially proud of earning his BSN from Indiana Wesleyan University because he did so while working full time, planning a wedding and having a daughter.
When asked which core commitment is most important to him, he said, "Service stands out to me when compared to the other core commitments. It encompasses a little more than just focusing on a patient's needs. It entails doing it with respect and integrity. As a nurse I am in a field to care for others. I chose this field because of the impact that care can make on an individual. You can make a person's mood change with your actions and demeanor."
What his team members say
Jared has great compassion for people and an outstanding personality. I admire his willingness and desire to teach patients regarding their illness or procedure so they have a better understanding of the care they will receive. Going above and beyond is an understatement of what he did for me and my family. My Dad was a patient and went into cardiac arrest and Jared's actions stood out the most. He never left the bedside and made us feel comfortable and talked to us as if we were family. I will never forget what Jared did that day and will forever be grateful for him. Jared is truly an outstanding team member!
About Owensboro Health
Owensboro Health is a nonprofit health system with a mission to heal the sick and to improve the health of the communities it serves in Kentucky and Indiana. The system includes Owensboro Health Regional Hospital, nationally recognized for design, architecture and engineering; Owensboro Health Muhlenberg Community Hospital; Owensboro Health Twin Lakes Medical Center; the Owensboro Health Medical Group comprised of over 200 providers at more than 20 locations; three outpatient Healthplex facilities, a certified medical fitness facility, the Healthpark; a surgical weight loss center and program, and the Mitchell Memorial Cancer Center.
On average each year, we have 16,000 inpatient admissions, deliver 2,000 babies and provide the region's only Level III NICU. Owensboro Health physicians perform nearly 24,000 surgical procedures, including nearly 200 open-heart surgeries. Our physicians and staff have 70,000 Emergency Department visits, more than a million outpatient visits annually. Visit our home page for more information.