Published on March 05, 2020
Harmonicas for Health: Participants seek better breathing
By Renee Beasley Jones, Messenger-Inquirer
With his hands cupping a harmonica and microphone, John Austin played "Jingle Bells" Wednesday for nearly 35 participants of Owensboro Health's Better Breather's Club.
Austin, an amateur musician who sometimes jams at the Bluegrass Music Hall of Fame and Museum, volunteered to help launch the club's new program — Harmonicas for Health.
"I play (the harmonica) because it's fun and good for you," Austin told the crowd. "We're here so you can figure out a way to practice breathing."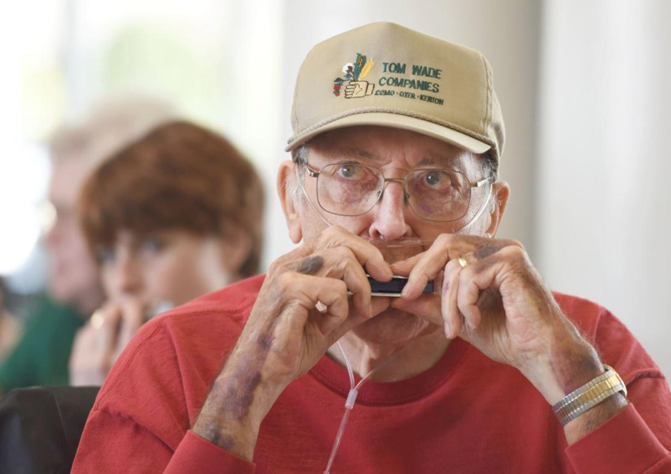 In May 2019, OH started the Better Breather's Club, a support group for people who suffer from chronic lung diseases. With an average of about 40 participants each month, the local group is the largest in Kentucky, said Sara Abell, manager of OH Regional Hospital's Heart and Lung Rehabilitation.
Kentucky ranks second nationwide for COPD
The state ranks second nationwide for chronic obstructive pulmonary disease, or COPD. More than 11% of Kentucky adults share that diagnosis, according to OH officials.
Eight counties in OH's service area have the state's highest rates.
Late last year, the health system's Better Breather's Club received a gift of 40 harmonicas. Abell watched a YouTube video and taught herself to play "Jingle Bells." Then, she taught the club's participants.
"As soon as you get the harmonicas out, they are like little kids," she said.
400 Harmonicas for Better Breather's Club participants and pulmonary patients
Thanks to a grant from OH Foundation, the Better Breather's Club has purchased 400 Jambone harmonicas for club participants and pulmonary patients who are treated at Heart and Lung Rehabilitation. Each person who participates in Harmonicas for Health receives an instrument free — as long as supplies last.
"We wanted to foster a fun way to encourage deep breathing and increase their lung capacity," Abell said.
About Owensboro Health
Owensboro Health is a nonprofit health system with a mission to heal the sick and to improve the health of the communities it serves in Kentucky and Indiana. The system includes Owensboro Health Regional Hospital, nationally recognized for design, architecture and engineering; Owensboro Health Muhlenberg Community Hospital; Owensboro Health Twin Lakes Medical Center; the Owensboro Health Medical Group comprised of over 200 providers at more than 20 locations; three outpatient Healthplex facilities, a certified medical fitness facility, the Healthpark; a surgical weight loss center and program, and the Mitchell Memorial Cancer Center.
On average each year, we have 16,000 inpatient admissions, deliver 2,000 babies and provide the region's only Level III NICU. Owensboro Health physicians perform nearly 24,000 surgical procedures, including nearly 200 open-heart surgeries. Our physicians and staff have 70,000 Emergency Department visits, more than a million outpatient visits annually. Visit our home page for more information.