Published on October 12, 2020
Long road of recovery: Owensboro man continues to improve after having a stroke
By Renee Beasley Jones, Messenger-Inquirer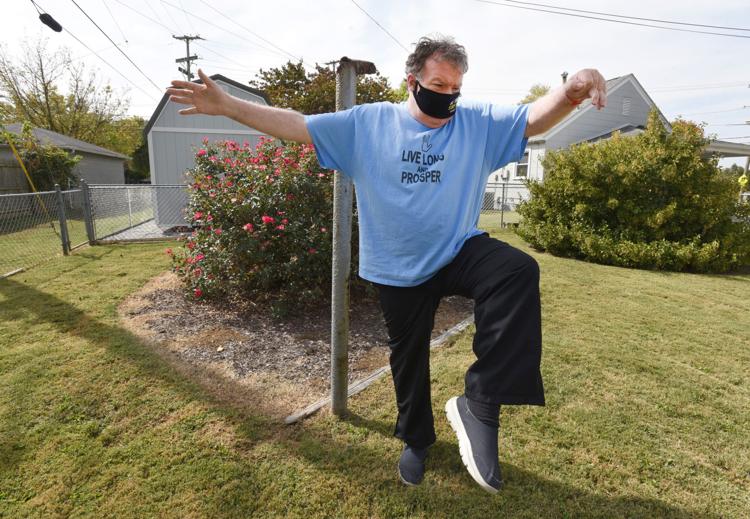 With ease, William Fogle raised his left leg and teetered on his right foot. Suddenly, he kicked his left foot into the air. He did it a couple more times for effect. "I'm slowly starting to get my front snap kick back on my left leg," Fogle said of a martial arts move. That maneuver is a monumental task for someone who suffered a severe stroke in January 2018.
Since then, Fogle transitioned from a wheelchair to a walker to a cane to walking without any assistive device more than seven weeks ago. In part, Fogle credits a streak of stubbornness for his amazing recovery. Early on in his treatment, an Evansville neurologist told him the best expectation would be walking with a cane for the rest of his life. The doctor added: Recovery usually doesn't progress beyond the first year.
"I've known lots of people who have made tremendous gains after the one-year mark," he said of his continuing research.
After the first year, Fogle no longer needed a wheelchair, but he had a hard time controlling the left side of his body. Also, he had no movement in his left arm. He wasn't content.
Besides prescribed physical and occupational therapy at the Owensboro Health Healthpark, Fogle created a tailor-made exercise program for himself. Recovery became his full-time job, in a manner of speaking. His routine includes tai chi on Tuesdays and aqua therapy on Thursdays. Fogle goes to the Healthpark's fitness center three times a week to work out on the elliptical machine and with weights. And Fogle walks. As part of his regimen, he practices mindfulness meditation daily. Also, Fogle uses an electric stimulator on his left hand and shoulder every night. His hand used to be claw-like. Now, he can spread his fingers.
And he tamed his sweet tooth. He eats a more healthful diet these days. "My doctor thinks I'm in better condition now than before the stroke," Fogle said.
His wife of 20 years, Dolores Smith, remembers the morning of Jan. 12, 2018 well. It brought the first snowfall of the new year. Fogle had contracted the flu, which morphed into a bad case of bronchitis. He went outside to clear snow from his vehicle's windshield so he could go pick up a refill on cough syrup. When he came inside, he mentioned his left leg felt a little numb. Less than five minutes later, Smith came in the living room to find her husband on the floor. He couldn't get up.
"I asked him to smile for me," she said. "He could not. The left side (of his mouth) wouldn't go up." Also, his speech was slurred. Smith called 911. As it turned out, Fogle's violent bronchitis coughing spells dislodged some plaque that went to his brain, causing his stroke. Fogle hopes his story helps others who are dealing with strokes — or will deal with them in the future. In the beginning of his recovery, he had doubts.
"You never know what the end will be," Fogle said. "You leave the hospital with a cloud over your head. You think you could die any day."
His message of hope: Keep striving to improve even after achieving what seemed impossible at one time.
According to the Centers for Disease Control and Prevention, the chances of recovery increase if a diagnosis is made within three hours after the first symptoms of stroke.
Here's how to act FAST.
Face — Ask the person to smile. Does one side of his face droop?
Arms — Ask the person to raise both arms. Does one drift downward?
Speech — Ask the person to repeat a simple phrase. Is the speech slurred or strange?
Time — If any of these symptoms exist, call 911 immediately.
For more information on strokes, go to cdc.gov.
Renee Beasley Jones, 270-228-2835, rbeasleyjones@messenger-inquirer.com
About Owensboro Health
Owensboro Health is a nonprofit health system with a mission to heal the sick and to improve the health of the communities it serves in Kentucky and Indiana. The system includes Owensboro Health Regional Hospital, nationally recognized for design, architecture and engineering; Owensboro Health Muhlenberg Community Hospital; Owensboro Health Twin Lakes Medical Center; the Owensboro Health Medical Group comprised of over 200 providers at more than 20 locations; three outpatient Healthplex facilities, a certified medical fitness facility, the Healthpark; a surgical weight loss center and program, and the Mitchell Memorial Cancer Center.
On average each year, we have 16,000 inpatient admissions, deliver 2,000 babies and provide the region's only Level III NICU. Owensboro Health physicians perform nearly 24,000 surgical procedures, including nearly 200 open-heart surgeries. Our physicians and staff have 70,000 Emergency Department visits, more than a million outpatient visits annually. Visit our home page for more information.