Published on April 21, 2020
Looking back: OHRH's design, size provide advantages during pandemic
By Renee Beasley Jones, Messenger-Inquirer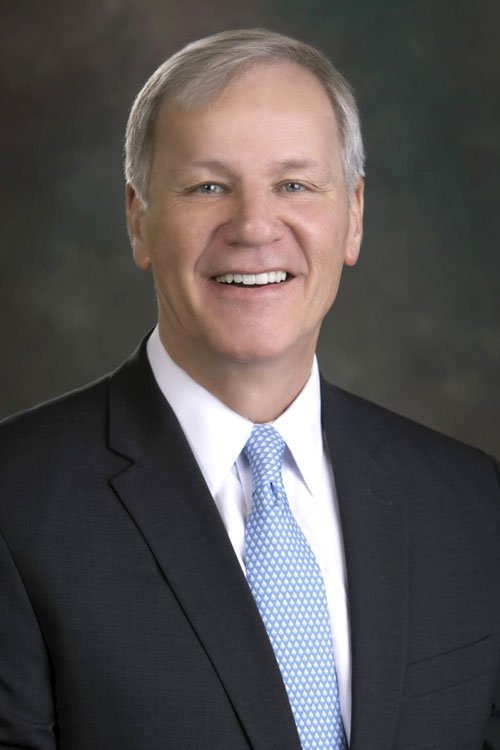 Greg Strahan
President and CEO
When Owensboro Health officials announced in 2006 they planned to build OH Regional Hospital, the $500 million project had its fair share of critics.
Many locals fumed about the hospital being oversized and too expensive.
Some labeled the new hospital's fleet of single-occupancy rooms too extravagant.
Several people speculated health-care demand was waning. They feared the new facility couldn't fill enough beds to justify the expense or debt load.
Every decision — down to the Pleasant Valley Road location — came under fire.
Fast forward to COVID-19
In the face of a worldwide health crisis, the hospital's size has been called into question again. But this time the question has become: Is it big enough?
About a week ago, a Washington Post story highlighted OHRH and called into question whether it and other rural hospitals had the doctors, equipment and space to handle a COVID-19 surge.
Since the pandemic hit hotspots like California and New York, some area residents have asked if OHRH has the resources needed.
"Through the coronavirus outbreak, I think many people are discovering the capabilities that Owensboro Health Regional Hospital really has," said Greg Strahan, OH president and CEO. "Many people might not have been aware of the technology, the expertise and the services that are available here.
"So, at first, we heard some concerns about our ability to handle a surge and to treat COVID-19 on a large scale, but throughout the entire pandemic situation, we have been determined to be transparent, to be open with the community and to help people understand our plans and what we are capable of doing here."
Strahan talked about challenges the former Parrish Avenue hospital would have faced during a pandemic.
Parts of that facility dated back to 1938. It had seen at least a dozen additions and renovations, which created a mishmash of hallways and departments with little to no consistency. By comparison, OHRH nurses can transfer from one floor to another and know exactly how each is set up because floors are designed alike.
"That makes it much easier to prepare for a pandemic scenario where additional floors — if not the whole hospital — could be needed in the event of a major influx," Strahan said.
Like OHRH, the former hospital was licensed for 477 beds. At the new facility, however, all rooms are single occupancy, which can prove advantageous when fighting a highly contagious illness. Also, during a crisis, OHRH rooms — 75 square feet larger than the former hospital's rooms — can be converted to semiprivate, increasing OHRH's bed count to 711.
More negative pressure rooms
The former hospital on Parrish Avenue had only two permanent negative-pressure rooms in the ICU. Negative-pressure rooms are needed to treat COVID-19 patients because those rooms keep infectious airborne particles inside patients' rooms when doors open.
Other rooms at the old facility could have been converted to negative pressure with the installation of air handlers, but the rooms lacked other items necessary to use them for critical care, which are needed for severe COVID-19 cases. Each floor at OHRH is equipped with two air handlers that can make entire floors negative pressure when needed, and each room has everything required to be converted into a critical care space.
The former hospital's emergency department, surgical floor and critical care units were not in close proximity. At the new hospital, they are located to operate cohesively, which adds up to more efficient patient processes.
In addition, the new hospital was built from the ground up with state-of-the-art technology, wiring and operating systems.
Another advantage of the new facility: It is a proven asset when recruiting new physicians, Strahan said. OHRH has allowed the health system to attract physicians from across the nation and to build entire specialties OH might not have had before.
"Owensboro Health has a can-do attitude about everything we do," Strahan said. "We have always overcome any challenge that we have faced, so I have no doubt we would have stood strong (at the Parrish Avenue facility), just like we are here. But the new hospital certainly gives us many more tools, processes and capabilities than before."
Building the right size of hospital — one that accommodates everyday needs but provides adequate infrastructure for catastrophic events — requires officials to be part fortune-teller and part economist.
"Starting with a brand-new hospital, and building from the ground up, certainly allowed us to think through all of the possibilities that might arise," Strahan said. "We based the size and space specifications on then-current and projected health-care trends.
"We knew that our population was aging and services would be in large demand over the next few decades. We knew Owensboro Health was serving more people from across the region, and they are expecting more specialty services and technological capabilities.
"We wanted to give our region the best hospital we could build while maintaining financial strength, which is also very important at a time like this.
"While we could not predict a major pandemic, we did make every effort to make sure the hospital was as prepared as possible for the unexpected."
Renee Beasley Jones, 270-228-2835, rbeasleyjones@messenger-inquirer.com
About Owensboro Health
Owensboro Health is a nonprofit health system with a mission to heal the sick and to improve the health of the communities it serves in Kentucky and Indiana. The system includes Owensboro Health Regional Hospital, nationally recognized for design, architecture and engineering; Owensboro Health Muhlenberg Community Hospital; Owensboro Health Twin Lakes Medical Center; the Owensboro Health Medical Group comprised of over 200 providers at more than 20 locations; three outpatient Healthplex facilities, a certified medical fitness facility, the Healthpark; a surgical weight loss center and program, and the Mitchell Memorial Cancer Center.
On average each year, we have 16,000 inpatient admissions, deliver 2,000 babies and provide the region's only Level III NICU. Owensboro Health physicians perform nearly 24,000 surgical procedures, including nearly 200 open-heart surgeries. Our physicians and staff have 70,000 Emergency Department visits, more than a million outpatient visits annually. Visit our home page for more information.