Published on October 30, 2020
Officials advocate ongoing virus, flu precautions
Mask usage, shots are highly recommended
By Don Wilkins, Messenger-Inquirer
COVID-19 and the current flu season were the topics Thursday during a 47-minute virtual conversation between Judge-Executive Al Mattingly and Owensboro Health Chief Medical Officer Dr. Francis DuFrayne.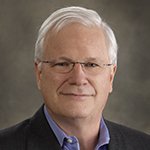 Dr. Francis DuFrayne
The discussion was part of Mattingly's daily COVID- 19 updat , with DuFrayne flanking him — at least six feet away — inside the Daviess Fiscal Court meeting room at the Daviess County Courthouse. With flu season underway, DuFrayne said the symptoms of the flu and COVID-19 are virtually the same, making it difficult to distinguish without testing.
"Two symptoms that are unique to COVID are loss of smell and loss of taste," DuFrayne said. "You can have both of those together or you can have them separately. Those account for about 10% of the initial symptoms. And if you have an acute loss of taste or smell, that's really, as far as we know, COVID specific."
As far as COVID-19 testing is concerned, DuFrayne said the standard procedure is still for people to wait until symptoms appear before seeking a test.
"Unfortunately, that's still the state of affairs in most places because of the testing shortage," DuFrayne said. "Ideally, we'd have enough tests to test the population; that's how we're really going to know how many people had this."
According to DuFrayne, there are three primary tests for COVID-19. The standard is a polymerase chain reaction (PCR) test, which places a swab to the back of the nose for five seconds.
The second is called an antigen test, a procedure that detects the presence of a specific antigen to confirm a viral infection. Defray said the antigen test is not recommended because of low accuracy, especially during the early stages of the virus. And the third is an antibody test that usually takes up to two weeks.
"… By two weeks, you're already over whatever it is you had," DuFrayne said. "So you either have the antibody or you don't. It can tell me you had the infection but you could never use it for an active infection."
Rapid COVID tests, which employ the PCR method, have become available. They can return a result the same day for acute cases.
Mattingly said he had read that the rapid tests had about a 15% failure rate. However, DuFrayne said those rates have improved because of the FDA's vetting process and companies making testing advancements as well.
"That was true early on but they're actually getting better," DuFrayne said. "We still use the rapid tests a fair amount. So if you come in through the emergency room, and we know we have to take you to the operating room, you get a rapid test." DuFrayne added it's not uncommon for the hospital to use upwards of 70 rapid tests per day.
"That's because we need to know now," he said.
Both Mattingly and DuFrayne advocated wearing masks as an extra line of defense against both COVID-19 and the flu.
Along with wearing masks, DuFrayne encouraged the public to get a flu shot. "If I can make any one point right now, that is you cannot get the flu from the flu shot," DuFrayne said.
DuFrayne also indicated that COVID-19 vaccine could be on the horizon early in 2021 based upon learning about Moderna, an American biotechnology company based in Cambridge, Massachusetts, that's starting to line up supply chains and agreements with the United States and European countries.
"Every time you go before the FDA, there is a committee that has to review your data," DuFrayne said. "And they think they'll have enough data for that committee to start looking at their vaccine by mid-November."
If that data is approved in November, DuFrayne estimates 90 days from there "if everything goes well" for a COVID-19 vaccine to be released.
"So maybe by February or March, we may be seeing it," DuFrayne said.
Don Wilkins, dwilkins@messenger-inquirer. com, 270-691-7299
About Owensboro Health
Owensboro Health is a nonprofit health system with a mission to heal the sick and to improve the health of the communities it serves in Kentucky and Indiana. The system includes Owensboro Health Regional Hospital, nationally recognized for design, architecture and engineering; Owensboro Health Muhlenberg Community Hospital; Owensboro Health Twin Lakes Medical Center; the Owensboro Health Medical Group comprised of over 200 providers at more than 20 locations; three outpatient Healthplex facilities, a certified medical fitness facility, the Healthpark; a surgical weight loss center and program, and the Mitchell Memorial Cancer Center.
On average each year, we have 16,000 inpatient admissions, deliver 2,000 babies and provide the region's only Level III NICU. Owensboro Health physicians perform nearly 24,000 surgical procedures, including nearly 200 open-heart surgeries. Our physicians and staff have 70,000 Emergency Department visits, more than a million outpatient visits annually. Visit our home page for more information.