Published on January 06, 2021
OH begins administering COVID-19 vaccines
By Ryan Richardson - Owensboro Times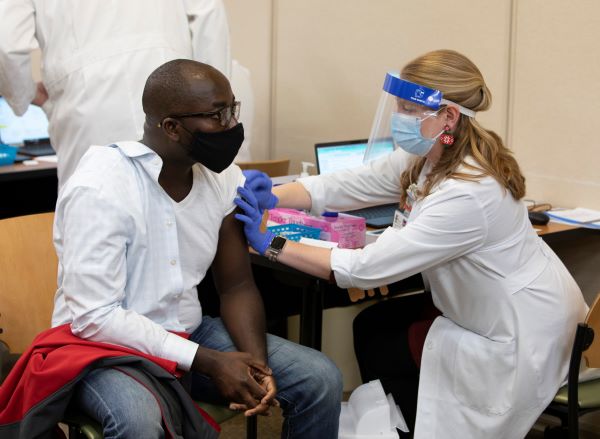 Dr. Cletus Oppong, a 38-year-old physician, was excited Thursday morning after receiving the first dose of Moderna's COVID-19 vaccine given in Daviess County. Owensboro Health Clinical Pharmacist Erin Conkright administered the vaccine at 7:25 a.m.
"I'm excited," Oppong said. "I've been waiting. This is revolutionary."
Oppong joined the OH team Aug. 1 after relocating from J.W. Ruby Memorial Hospital in Morgantown, W.V.
Because he also works in urgent care, Oppong was eager to get a vaccine.
"I come into direct contact with patients who might be possibly positive or exposed," he said. "The safety of them and me and my family is very important. That's why I wanted to make sure I get it."
Conkright has been with OH for almost 13 years and has been a pharmacist there for eight years.
"I'm very excited for Owensboro that we finally have the vaccine and that we're going to hopefully be making a turn for the better by giving it to our employees," she said. "I hope the community will take the time to get the vaccine when it is offered to them. … This is what I've been training for. I learned how to give flu shots when I was in pharmacy school, and to now be at the forefront of this historic event is just amazing."
A total of 200 doses were expected to be administered Thursday. Currently, only frontline healthcare workers who opted to receive the vaccine are able to receive it.
Owensboro Health Director of Marketing Brian Hamby said the hospital was dubbing the event "Hope Starts Today."
"It is a day of hope," he said. "It is a day of inspiration. It is a day where we can hopefully begin to change the course of this pandemic in western Kentucky and southern Indiana."
Greg Strahan, OH President and CEO, echoed Hamby, saying it's been a long journey but they are happy to be on the path to a brighter future.
"It's hope," Strahan said. "Unfortunately we've had so many people that have gotten sick and many that have died around the country. It's sad in a way that we're here getting something they couldn't get. I'm happy for our frontline staff that are able to get it because they put themselves at risk."
Because of that risk, Mayor Tom Watson issued a proclamation declaring Dec. 24 as "Healthcare Professionals and First Responders Day" in Owensboro.
In part, the proclamation notes that "healthcare professionals and first responders put their lives on the line every day, to provide support and lifesaving care to those in need."
Strahan said the hospital is supposed to get more doses of the vaccine each week in varying amounts from the different companies producing them. He expects more than 2,000 doses of the vaccine to arrive next week, although there were delays with shipment that arrived Wednesday night.
The hospital received 4,000 doses of the Moderna vaccine Wednesday, though OHRH officials had hoped to receive their shipment by Monday. Hamby said shipping issues in the supply chain caused a two-day delay. 
Hamby said Wednesday that Owensboro Health's goal is to administer doses to all those who opted to receive a vaccine within two weeks. 
With 4,300 employees working for Owensboro Health and the vaccine being optional, Hamby said there should be enough left to distribute to a number of independent healthcare providers across the area as well. 
"Our plan has been in place for weeks now, and we can't wait to take steps to see this pandemic end," Hamby said. "There is hope and light at the end of the tunnel. If everyone continues to wash their hands, wear their mask, keep their distance and avoid large gatherings, we can expect to have a much better year in 2021."
About Owensboro Health
Owensboro Health is a nonprofit health system with a mission to heal the sick and to improve the health of the communities it serves in Kentucky and Indiana. The system includes Owensboro Health Regional Hospital, nationally recognized for design, architecture and engineering; Owensboro Health Muhlenberg Community Hospital; Owensboro Health Twin Lakes Medical Center; the Owensboro Health Medical Group comprised of over 200 providers at more than 20 locations; three outpatient Healthplex facilities, a certified medical fitness facility, the Healthpark; a surgical weight loss center and program, and the Mitchell Memorial Cancer Center.
On average each year, we have 16,000 inpatient admissions, deliver 2,000 babies and provide the region's only Level III NICU. Owensboro Health physicians perform nearly 24,000 surgical procedures, including nearly 200 open-heart surgeries. Our physicians and staff have 70,000 Emergency Department visits, more than a million outpatient visits annually. Visit our home page for more information.