Published on October 26, 2020
OH officials discuss some of community's common COVID-19 questions
By Ryan Richardson, Owensboro Times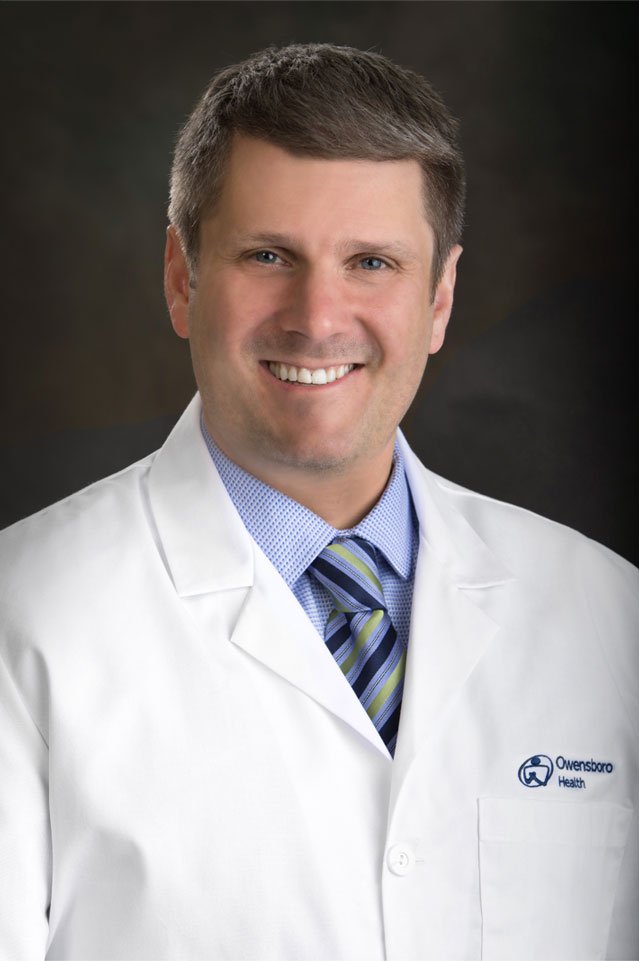 With a recent uptick in COVID-19 cases across the region that has led to more hospitalizations and deaths over the last month, Owensboro Times reached out to Owensboro Health for the latest updates regarding questions around testing availability, turnaround times for results, counting the positives and the number of ICU beds/ventilators in use.
Dr. Michael Kelley, Owensboro Health Regional Hospital Vice President Medical Affairs, answered a handful of questions via email. Those responses, in part, can be found below.
According to Kelly, OH began testing for COVID-19 back in mid-March with one of the state's first drive-thru testing centers — in collaboration with Solaris in Nicholasville — for high-level PCR testing. Through a combination of the drive-thru testing site, the emergency room, and within the walls of the Owensboro and Muhlenberg facilities, OH has performed over 30,000 swabs and tests — almost 20,000 of those were done through the drive-thru screening site in Owensboro.
How many of each sort of test (rapid tests on site, ones that must be sent off) are available through Owensboro Health?
The majority of pre-procedure testing is done through send-offs to Solaris, and turnaround times from the time the test is performed to resulted is less than 48 hours (average 0.9 days) more than 98% of the time, with some of the variation due to weekends and holidays.
In the circumstances where the test is invalid or not resulted we will occasionally use some of our stock of rapid tests to have the procedure completed. Rapid tests are a limited resource in a health system of our size and sometimes we will reschedule the procedure until the send-out test is resulted or if it needs to be repeated.
For symptomatic individuals, the vast majority of testing is done through send-out (i.e. Solaris), and critical healthcare staffing is the exception where rapid testing may be indicated.
Our rapid-testing capabilities started with three platforms: Biofire, Cepheid and Abbott. The first platform no longer manufactures a single COVID-19 test but provides a panel with many viruses on it including Flu A, Flu B, RSV and COVID-19.
We have had to be good stewards of rapid testing but have never run into an urgent/emergent situation where we did not have a rapid-style test available (15-minute or 45-minute), for one of our patient's needs. This has come from a lot of hard work from many individuals across the organization.
We do not accept antigen testing or antibody testing at this time for our pre-procedure testing. The percentage of false negatives in asymptomatic and pre-symptomatic or early illness is felt to be higher in antigen testing, and antibody testing often leads to a need to repeat testing with a PCR test because of the lower current community prevalence of COVID-19 disease.
We receive a state allotment of rapid Abbott's typically on Tuesday of each week that consists of roughly 120-144 rapid tests, and our current allotment from rapid 45-minute Cepheid is 40 per week but that supply chain is unpredictable.
Cepheid will also be doing something similar to Biofire and going to a panel of tests rather than a stand-alone single COVID-19 test as of Nov. 1. We will need to adapt to this change to meet our demands with a shift in supply.
We are actively pursuing more commercially available Abbott rapid tests (separate from state allotment) and all in house non-rapid testing to shorten turnaround time even more, free up some additional resources and limit time needed from test to procedure that people are asked and expected to quarantine.
At OH we may use 40-50 rapid tests per day during the week and about 20 per day on the weekends.
What is the turnaround time for the various tests?
It is an average of 0.9 days currently for all tests and 1.2 days specifically for Solaris send-outs.
Who can be tested, and where?
Currently testing is available at our drive-thru testing site and the Muhlenberg testing site by calling and being scheduled through our COVID hotline, or through the Emergency Departments by appointment process with drive-thru workflow if the other sites are full or not open. If you are presenting to the ED because of an illness that could be consistent with COVID-19 you will be tested.
A respiratory tent is available for triage of patients with concerning COVID-19 symptoms. This environment is temperature-controlled and negative pressure for optimal comfort and protection.
Your personal care physician can also order the test to be done through our available sites and it will be scheduled at the site that is available and best for your needs.
We are opening some capabilities to test through our Henderson and Madisonville Healthplexes and Owensboro urgent cares. Most of this testing will be for symptomatic or truly exposed individuals.
Who is counted in the positive tests?
A positive test in most circumstances is a positive test. They are not double-counted if multiple tests have been performed.
Are antibody tests factored in?
(After consulting with Green River District Health Director Clay Horton) We are not and they are not counting IgG Antibody positive in their total case counts. The Health Department actually puts them in a suspected COVID-19 bucket but doesn't trace or follow up on those cases given that the trail is often cold.
About Owensboro Health
Owensboro Health is a nonprofit health system with a mission to heal the sick and to improve the health of the communities it serves in Kentucky and Indiana. The system includes Owensboro Health Regional Hospital, nationally recognized for design, architecture and engineering; Owensboro Health Muhlenberg Community Hospital; Owensboro Health Twin Lakes Medical Center; the Owensboro Health Medical Group comprised of over 200 providers at more than 20 locations; three outpatient Healthplex facilities, a certified medical fitness facility, the Healthpark; a surgical weight loss center and program, and the Mitchell Memorial Cancer Center.
On average each year, we have 16,000 inpatient admissions, deliver 2,000 babies and provide the region's only Level III NICU. Owensboro Health physicians perform nearly 24,000 surgical procedures, including nearly 200 open-heart surgeries. Our physicians and staff have 70,000 Emergency Department visits, more than a million outpatient visits annually. Visit our home page for more information.