Published on April 15, 2020
OH outlines multilayer COVID-19 surge plan
By Don Wilkins, Messenger-Inquirer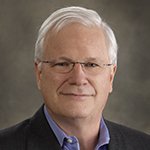 Dr. Francis DuFrayne
State and federal models are predicting a surge of COVID-19 patients at the end of April.
And in a recent Washington Post story, Owensboro Health Regional Hospital was highlighted among the national health systems that could be challenged by such a surge that could exceed the number of critical care beds and ventilators available.
Although the pandemic has tested OHRH, Dr. Francis DuFrayne, OH chief medical officer, said Tuesday that hospital officials have developed a multilayer surge plan that he feels confident about even if the models prove to be accurate.
Before outlining the surge plan, DuFrayne said that just having a newer, state-of-the-art hospital is an advantage during a pandemic crisis.
"This hospital is seven years old this coming June, which puts us in a very unique position because there aren't a lot of new hospitals in America," he said.
DuFrayne said the hospital, which contains 32 critical care units, wasn't designed around a pandemic but it was built to transform all of its patient rooms into intensive care units.
He added that OHRH is licensed for 477 beds but can increase that amount if necessary.
"…We have a surge plan so that every room in this hospital — minus some obvious rooms like rehab and the NICU and mother-baby — can be converted into intensive care rooms. …We are a single occupancy hospital so every patient gets their own room. But the rooms were designed to make them semiprivate. So in an actual, true pandemic, catastrophe, emergency, we can quickly expand to 700 intensive care beds."
As part of its initial surge plan, the hospital has 32 beds on its second floor for coronavirus patients who would require intensive care.
The entire fourth floor — 48 beds total — is now dedicated to treating coronavirus patients who are not critical, meaning they do not need intubation and a ventilator.
As of Tuesday morning, OHRH was treating 11 COVID-19 patients, with three in intensive care and eight on the fourth floor.
OHRH employs five critical care physicians and will have a sixth on board by summer, according to DuFrayne.
And with more than a month into the pandemic, DuFrayne said the hospital is taking an "all-hands-on-deck" approach to overcome the manpower demand.
Physicians, nurse practitioners and physicians' assistants from other clinics will be called to help with the surge if necessary.
And additional nurses are being trained for critical care for current and future situations.
"I also see that as a lasting benefit," DuFrayne said. "When it comes down to the nurses at the hospital, we're going to continue this type of training so that people are really comfortable in different environments."
The hospital also has a public online dashboard that tracks its ventilators and other personal protective equipment (PPE) supply.
According to the dashboard, Tuesday's numbers showed that OHRH had a total of 24 actual ventilators with 17 available and seven in use. However, it does have other equipment such as V60 bipaps and auto-titrating CPAPs that can be converted into ventilators.
But DuFrayne said the hospital is adding to its ventilator supply.
An order has been placed, he said, for 50 GO2VENTs that could be used during a coronavirus surge or in the future if unused.
"They are a much simpler version — that you could ventilate the patient; the ventilator is good, we're told, for 30 days," he said. "And if you don't use it, it has a shelf life of five years. Even if they come in after this pandemic, we will put those on the shelf in case this ever happens again."
The second layer of the surge plan is to involve at least six regional critical access hospitals that could possibly act as OHRH's overflow for both noncritical coronavirus and noncoronavirus patients.
Those would be hospitals in Ohio, Muhlenberg, Grayson, Breckinridge and Hopkins counties. And then one in Perry County, Indiana.
"… Our focus is how do we take care of the area? How do we take care of our patients?" DuFrayne said.
The third layer — or worst-case scenario — would be converting the Owensboro Convention Center to house an extreme overflow of patients.
Although DuFrayne said he doesn't believe the region will reach that worst-case point, he did express concern about the inmate populations that could inundate the health system if not kept in check.
The Green River Correctional Complex in Muhlenberg County houses nearly 1,000 inmates and the Daviess County Detention Center holds more than 600.
"There are some who already have COVID; we've already admitted a few inmates here," DuFrayne said. "If it stays the way it is, everyone will be fine. …But if you have a surge in any of the prisons in Kentucky, it's going to overwhelm any health system."
Despite the wild card the prison system presents, DuFrayne maintained an optimistic view about the weeks ahead.
"…With the steps that the state government took early, I think we are more than likely going to have a flattening of the curve," DuFrayne said. "… I don't think you're going to see 400 people in our hospital with COVID."
Don Wilkins, dwilkins@messenger-inquirer.com, 270-691-7299
About Owensboro Health
Owensboro Health is a nonprofit health system with a mission to heal the sick and to improve the health of the communities it serves in Kentucky and Indiana. The system includes Owensboro Health Regional Hospital, nationally recognized for design, architecture and engineering; Owensboro Health Muhlenberg Community Hospital; Owensboro Health Twin Lakes Medical Center; the Owensboro Health Medical Group comprised of over 200 providers at more than 20 locations; three outpatient Healthplex facilities, a certified medical fitness facility, the Healthpark; a surgical weight loss center and program, and the Mitchell Memorial Cancer Center.
On average each year, we have 16,000 inpatient admissions, deliver 2,000 babies and provide the region's only Level III NICU. Owensboro Health physicians perform nearly 24,000 surgical procedures, including nearly 200 open-heart surgeries. Our physicians and staff have 70,000 Emergency Department visits, more than a million outpatient visits annually. Visit our home page for more information.