Published on March 03, 2020
OH seeks to improve the region's 'social determinants of health'
By Renee Beasley Jones, Messenger-Inquirer
Dr. Jim Tidwell may have the most unusual medical practice in the region.
He spends all his time checking the pulse of one patient.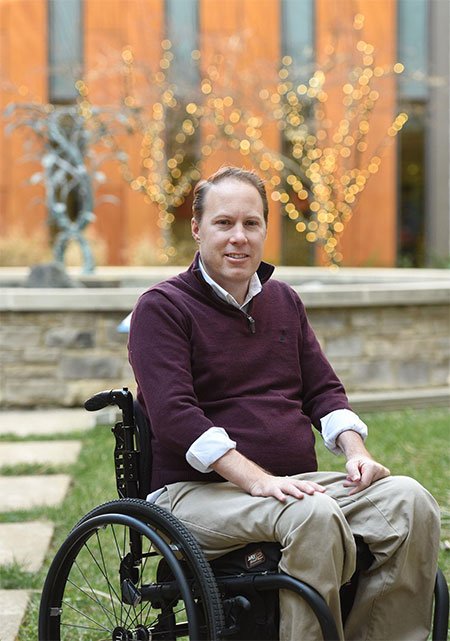 Dr. Jim Tidwell
For nearly a year now, Tidwell has served as Owensboro Health's vice president of population health. As such, his patient is OH's 15-county service area.
Vice president of population health is a new title at OH, and Tidwell is the first person to assume that role.
Population health is a modern movement that has gained disciples across the nation.
In this nontraditional health care model, health systems seek community partnerships — nonprofits, public health agencies, industry and local government — in an effort to improve local health outcomes because providers realize the practice of medicine alone can't create the positive impact desired.
Studies show that medical care received in clinics and hospitals accounts for only about 10% of a person's health. Other factors, chiefly environment and behaviors, account for the rest.
Anyone who spends much time around Tidwell these days will hear him talk about the importance of "social determinants of health." In recent years, medical systems across the nation have focused more attention on affordable housing, safe neighborhoods, quality schools and good-paying jobs.
The current enthusiasm for population health came, in part, from Medicaid and Medicare's push for value versus volume in health care. The Affordable Care Act ushered in a system built to reward positive health outcomes as opposed to reimbursements for services rendered, regardless of outcomes. That volume-to-value shift prompted medical providers to rethink former strategies and concentrate more efforts on live, work and play environments.
"If we are responsible for their health, we should be influencing their behaviors and environments," Tidwell said of regional residents.
Key partners
Before becoming vice president of population health, Tidwell was a plastic surgeon for OH. He lived in something of a professional bubble. He knew little about the health system's strategies and outreach efforts.
Since assuming this new role, however, he learned that OH has increased its emphasis on community partnerships that can improve health outcomes.
For example, the health system has doled out Community Health Investment Grants — totaling more than $644,000 last year alone — that provide food, clothing, smoking cessation products and psychotherapy, to name a few services.
In 2017, OH Regional Hospital partnered with the Senior Community Center of Owensboro-Daviess County to provide extra meals to Daviess County's elderly population. The program, which has received accolades from state officials, reduces the hospital's food waste and helps feed low-income senior citizens.
Last year, the health system partnered with the University of Kentucky College of Nursing and UK Healthcare Markey Cancer Center to spread the word about the importance of lung cancer screenings and tobacco cessation.
OH had been building its population health strategy for several years and had made good progress, said Greg Strahan, OH president and CEO.
"But it was clear to me that the program needed a vice president, and it would need to be someone with a servant's heart," Strahan said. "Dr. Tidwell was the perfect choice because of his character, his heart and his experience."
'Heart for service'
Looking back on his first year as vice president of population health, Tidwell feels his days with Boy Scouts of America — Tidwell is an Eagle Scout — and his strong foundation in faith did as much to prepare him for his new role at OH as his medical training.
Tidwell grew up in Salt Lake City, Utah. At one point in his childhood, his dad's job took the family to Central America for four years.
When Tidwell was 19 years old, he traveled to Argentina, where he served two years as a missionary for The Church of Jesus Christ of Latter Day Saints. For the most part, he knocked on doors and talked to people about their faith; however, there were times when he and other missionaries in his group worked in public service roles.
Later, as a medical professional, Tidwell looked for ways to serve. He took time away from his practice annually for seven years to perform cleft-palate surgeries in Guatemala.
"We are blessed to have a person of his caliber — and with his heart for service — leading our population health program into the future," Strahan said.
Health and happiness
David Nash is the founding dean of the Jefferson College of Population Health and a national expert on the movement. During the past year, Jefferson College has served as Tidwell's best resource for population health information, and he pays close attention to Nash's opinions on the subject.
In early 2019, medcitynews.com published a Q&A with Nash.
When MedCity asked what health systems can do to improve the health of the communities they serve, Nash said: "We want hospitals to keep patients out. You know that blue hospital sign? Imagine one day when that sign means health and happiness. That's what our college is trying to do in a nutshell — change the very meaning of what that sign is about.
"Health has much more to do with reducing income disparity, maternity leave, housing, drug abuse counseling, mental health counseling — all the things that sound like social work but actually contribute more to health than any medical school could hope to accomplish."
What's ahead for population health
As the federal government shifts from a services-based model to one based on wellness and health management, Strahan said OH wants to use its resources to help regional residents live happier, healthier lives.
The health system will continue to focus on its priority areas — arts and healing, older adults and aging, tobacco and related diseases, and children and school health.
"You will also see an emphasis on partnerships with organizations who can help us address some of these vital issues," Strahan said.
For the past year, Tidwell has been spreading the message about population health and how it can impact outcomes. He has found many people — even inside the OH system — don't understand the movement or what it strives to achieve.
Building awareness is key to his ability to improve regional health outcomes, he said.
Also, Tidwell hopes to link OH's Community Health Investment Program even more with population health efforts and to support programs that are more proactive than reactive.
Another goal is to expand programs that OH provides in Owensboro, such as Freedom From Smoking, Exercise Is Medicine and Golden Partners, throughout the health system's service area.
"Distance is a barrier," Tidwell said. "That will mean taking some of these programs to different locations."
And, at some point, he hopes to train community health workers, who will help educate friends, family and neighbors about healthy choices and lifestyles.
OH's mission is to heal the sick and improve the health of the communities the health system serves, Strahan said.
" ... It's always been part of our DNA to help people enjoy health and quality of life," he said. "Quality health care inside our facilities is as important as ever, but we're just as excited about what happens in the community and the impact we can have on people. It's extremely gratifying to be part of building a healthier region for future generations."
Renee Beasley Jones, 270-228-2835, rbeasleyjones@messenger-inquirer.com
About Owensboro Health
Owensboro Health is a nonprofit health system with a mission to heal the sick and to improve the health of the communities it serves in Kentucky and Indiana. The system includes Owensboro Health Regional Hospital, nationally recognized for design, architecture and engineering; Owensboro Health Muhlenberg Community Hospital; Owensboro Health Twin Lakes Medical Center; the Owensboro Health Medical Group comprised of over 200 providers at more than 20 locations; three outpatient Healthplex facilities, a certified medical fitness facility, the Healthpark; a surgical weight loss center and program, and the Mitchell Memorial Cancer Center.
On average each year, we have 16,000 inpatient admissions, deliver 2,000 babies and provide the region's only Level III NICU. Owensboro Health physicians perform nearly 24,000 surgical procedures, including nearly 200 open-heart surgeries. Our physicians and staff have 70,000 Emergency Department visits, more than a million outpatient visits annually. Visit our home page for more information.