Published on January 17, 2020
OHRH receives prestigious energy efficiency award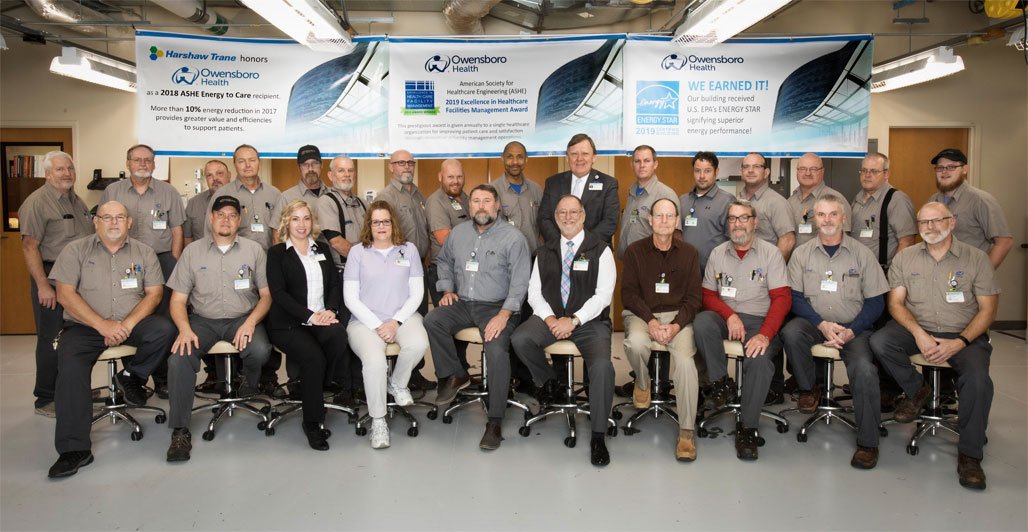 Owensboro Health Regional Hospital received the prestigious American Society for Health Care Engineering (ASHE) Excellence in Health Care Facility Management Award in November 2019 behind the tireless hard work of the entire facilities team.
After learning the new OHRH was less energy efficient than originally planned, Director of Facilities Joseph Taylor and Owensboro Health's engineers, plumbers and other facilities team members launched a coordinated, organization-wide effort to improve energy efficiency.
Savings of more than $2 million
Five years later, that initiative resulted in cost savings of more than $2 million and a 13,788 metric ton reduction in carbon dioxide emissions. Those results raised the organization's Energy Star score from a 23 to a 78 and earned an Energy Star facility designation.
Energy efficiency measures included installing greener air handling systems and using motion-detecting lights in stairwells. The team monitored all aspects of the organization's energy use, and even sought input from clinical team members and surgical providers.
"A lot of hospitals out there have zero money to invest in infrastructure," Taylor said. "But if you assemble a quality team and are committed to benchmarking yourself against the marketplace by using Energy Star Portfolio Manager and other metrics — which often require no cost and very little effort to get that data — you can begin to identify energy-saving opportunities."
Striving for innovation
Taylor said the organization isn't finished striving for innovation, and will continue seeking ways to improve its Energy Star score and return money to the hospital.
The award joins the list of accolades received by OHRH in the last two years, like its 2018 Energy to Care award, also from the American Society for Health Care Engineering.
"We couldn't have accomplished this without everyone's collective assistance," Taylor said.
Download the Health Facilities Management magazine to see the full publication.
About Owensboro Health
Owensboro Health is a nonprofit health system with a mission to heal the sick and to improve the health of the communities it serves in Kentucky and Indiana. The system includes Owensboro Health Regional Hospital, nationally recognized for design, architecture and engineering; Owensboro Health Muhlenberg Community Hospital; Owensboro Health Twin Lakes Medical Center; the Owensboro Health Medical Group comprised of over 200 providers at more than 20 locations; three outpatient Healthplex facilities, a certified medical fitness facility, the Healthpark; a surgical weight loss center and program, and the Mitchell Memorial Cancer Center.
On average each year, we have 16,000 inpatient admissions, deliver 2,000 babies and provide the region's only Level III NICU. Owensboro Health physicians perform nearly 24,000 surgical procedures, including nearly 200 open-heart surgeries. Our physicians and staff have 70,000 Emergency Department visits, more than a million outpatient visits annually. Visit our home page for more information.