Published on December 23, 2020
Owensboro Health Muhlenberg Community Hospital receives first doses of Moderna vaccines
Vaccinations of team members to begin immediately at OHMCH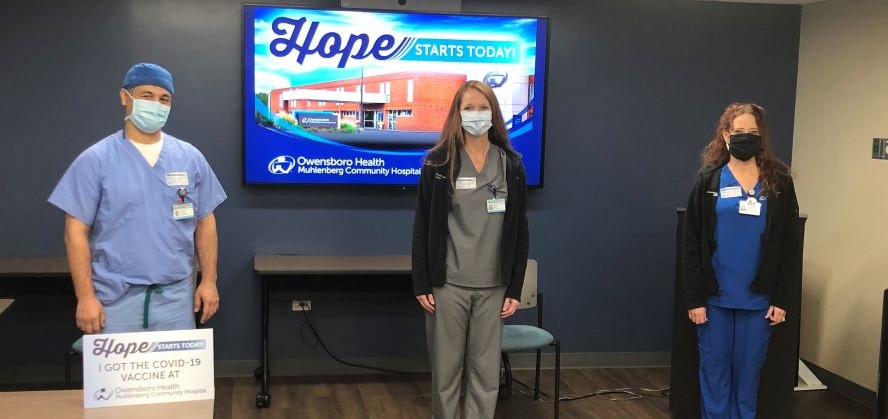 Surgeon Dr. Joe Muradov (left) and hospitalists Dr. Heather Garrett (middle) and Holly Groves (right) were the first to receive the highly-anticipated vaccine.
Greenville, KY – Owensboro Health Muhlenberg Community Hospital received their first doses of the Moderna vaccine today and have begun the process of vaccinating team members, providers and Long-Term Care residents who want to receive it. The arrival of the vaccines is a major milestone in the health system's efforts to help end the COVID-19 pandemic, officials say. 
"We have stood strong against COVID-19, fighting for our patients and team members every step of the way," said Greg Strahan, president and CEO of Owensboro Health. "Now, after nearly a year of experiencing the devastating effects of this disease firsthand, we have a new tool in our hands that offers hope for a brighter tomorrow. Hope starts here."
At Owensboro Health Muhlenberg Community Hospital, the first highly-anticipated vial of vaccine was immediately used to begin vaccinating frontline healthcare workers.
"We're proud to administer the vaccine to our team members, who have sacrificed and worked the front lines of this pandemic all year," said OHMCH Chief Operating Officer Ed Heath. "The arrival of the vaccine is a blessing and a chance to turn the tide on the pandemic."
Over the next few weeks, OHMCH will administer hundreds of life-changing vaccinations to team members as well as independent providers.
About Owensboro Health
Owensboro Health is a nonprofit health system with a mission to heal the sick and to improve the health of the communities it serves in Kentucky and Indiana. The system includes Owensboro Health Regional Hospital, nationally recognized for design, architecture and engineering; Owensboro Health Muhlenberg Community Hospital; Owensboro Health Twin Lakes Medical Center; the Owensboro Health Medical Group comprised of over 200 providers at more than 20 locations; three outpatient Healthplex facilities, a certified medical fitness facility, the Healthpark; a surgical weight loss center and program, and the Mitchell Memorial Cancer Center.
On average each year, we have 16,000 inpatient admissions, deliver 2,000 babies and provide the region's only Level III NICU. Owensboro Health physicians perform nearly 24,000 surgical procedures, including nearly 200 open-heart surgeries. Our physicians and staff have 70,000 Emergency Department visits, more than a million outpatient visits annually. Visit our home page for more information.