Published on July 07, 2020
Owensboro Health Regional Hospital earns second ENERGY STAR certification
Outperforms similar U.S. buildings on measure of energy efficiency
Owensboro Health Regional Hospital has earned the U.S. Environmental Protection Agency's (EPA) ENERGY STAR® certification for superior energy performance for a second year in a row.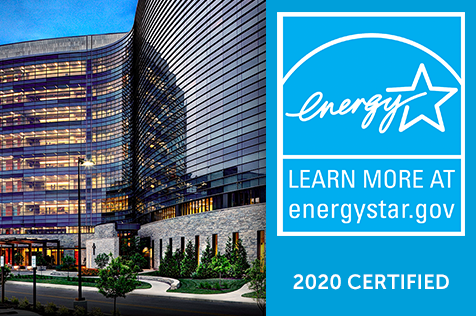 ENERGY STAR certified buildings and plants are verified to perform in the top 25 percent of buildings nationwide. Buildings are scored on a 1-100 scale that compares a building's energy efficiency and performance to industry standards. The Energy Star designation is good for one year only and facilities must reapply annually and demonstrate that they are continuing to meet the necessary criteria. This year, OHRH received a score of 77, up from an already impressive 75 in 2019.
"We're honored to earn the ENERGY STAR certification again at Owensboro Health and appreciate the efforts of our Facilities Team to keep us efficient," Owensboro Health President and CEO Greg Strahan said. "Saving energy is just one of the ways we show our community we care, and that we're committed to doing our part to protect the environment and public health, both today and for future generations."
Strahan credits this success to efforts started nearly six years ago.
Owensboro Health's energy efficiency efforts began in 2014 when the system partnered with Harshaw Trane, a Louisville-based energy engineering and consulting company. Harshaw Trane's analytics and monitoring tools helped Owensboro Health target areas where energy efficiency could be improved and the system began acting on what was learned. Some of the efforts that have resulted in big energy consumption reductions include:
Switching to light-emitting diode (LED) lights: LEDs can have double the lifespan of a fluorescent light and an annual operating cost that is one-third lower.
Motion sensors: Tying lights to motion sensors at OHRH reduces unnecessary usage when rooms are empty.
"Set-back" systems: These systems power down room lighting and HVAC during low-usage hours. The operating rooms (as well as other areas) at OHRH use set-back settings, but can return to normal operation within three minutes.
Real-time monitoring: If equipment malfunctions, Harshaw Trane can contact the Facilities department within minutes, helping speed up repairs.
Engagement of facilities staff and leadership played an integral role in maintaining ENERGY STAR certification. The continuous improvement mindset brought grassroot ideas and proactive measures to reduce energy consumption.
Using building data and analytics, the Hospital and Harshaw Trane were able to identify operational inefficiencies and develop engineered solutions to optimize systems.
With these steps, the hospital has saved $2,579,299 (weather normalized) since 2014.
OHRH is one of only two hospitals in Kentucky to earn the Energy Star designation for 2020, the other being Norton Audubon Hospital in Louisville. Just nine Kentucky hospitals have ever earned the designation, and OHRH remains the only one in Western Kentucky.
About Owensboro Health
Owensboro Health is a nonprofit health system with a mission to heal the sick and to improve the health of the communities it serves in Kentucky and Indiana. The system includes Owensboro Health Regional Hospital, nationally recognized for design, architecture and engineering; Owensboro Health Muhlenberg Community Hospital; Owensboro Health Twin Lakes Medical Center; the Owensboro Health Medical Group comprised of over 200 providers at more than 20 locations; three outpatient Healthplex facilities, a certified medical fitness facility, the Healthpark; a surgical weight loss center and program, and the Mitchell Memorial Cancer Center.
On average each year, we have 16,000 inpatient admissions, deliver 2,000 babies and provide the region's only Level III NICU. Owensboro Health physicians perform nearly 24,000 surgical procedures, including nearly 200 open-heart surgeries. Our physicians and staff have 70,000 Emergency Department visits, more than a million outpatient visits annually. Visit our home page for more information.