Published on August 03, 2020
Pandemic response shows power of community and collaboration
By Greg Strahan, In My View, Messenger Inquirer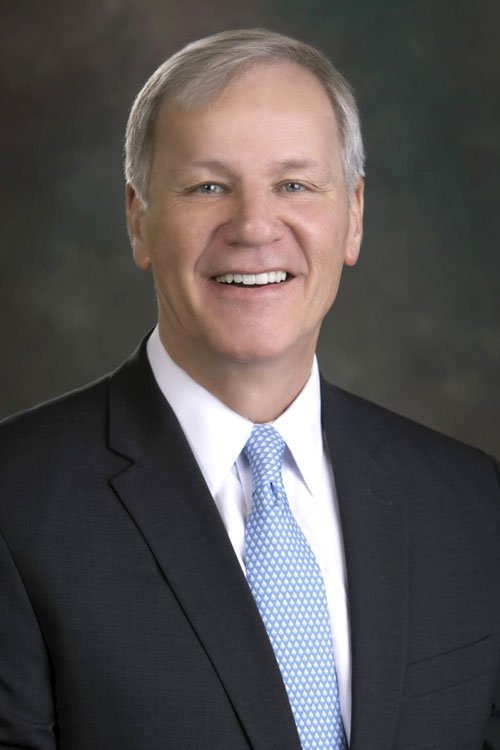 Greg Strahan
President and CEO
When we work together, there are no limits to what we can accomplish. I have witnessed firsthand the power of community and collaboration throughout the COVID-19 pandemic, and I am grateful for the outpouring of support that has been given to Owensboro Health — and the entire healthcare community —during this unprecedented time.
We have felt every prayer and good wish directed our way, through events like the drive-in prayer vigil a few months ago or the donations of PPE and hand-sewn masks from local businesses and volunteers. Throughout the pandemic, our team members have demonstrated courage, commitment and resilience beyond measure, and it is inspiring to know their hard work is seen and appreciated.
Your support is a major reason Owensboro Health has been able to uphold our mission to heal the sick and to improve the health of the communities we serve.
The region has pulled together in ways we could not have imagined during these challenging times, and the entire state has taken notice. Special thanks are owed to so many — our team members, physicians, patients, providers, first responders, partnering hospitals, business leaders, city and county government officials, public health agencies and others throughout the area.
Meeting the challenges brought on by this pandemic has required extensive planning and cooperation all across the region.
A comprehensive, multilayer surge plan was developed, which has become a model for other health systems to follow. We took action to prepare for an influx of COVID-19 patients and had the ability to modify almost all of our hospital rooms with negative-pressure air, which is needed for critical care patients. We also worked with other hospital leaders across our region to be a resource and to provide any support necessary to assist in the care for each COVID-19 patient in our service area.
Together with Daviess County Emergency Management Agency, we created an alternative care site plan using the Owensboro Convention Center, and it was a model of cooperation that earned praise from state officials. Thankfully, we have not had to activate this measure, but we remain fully prepared to do so should the need arise.
Keeping our community safe and healthy by providing convenient access to care will always be a top priority, so we are adapting to the pandemic through innovation. Owensboro Health quickly expanded its telemedicine capabilities and performed more than 40,000 virtual (telehealth) visits since mid-March. We implemented virtual tours of our Maternity Services unit, along with online classes and sessions with prenatal educators. Healthpark educators and fitness instructors provided classes on their Facebook page to keep the community active and engaged.
In the midst of the economic devastation being felt from the pandemic, I am grateful that Owensboro Health has been able to maintain full employment for our entire regional workforce. We even redeployed some team members to area businesses where they provided COVID-19 screening services — at no cost to the employer.
As a result, our team has continued to work safely, providing for their families and lessening the economic impact in Owensboro/Daviess County and across the region. This is attributable to a strong financial position, years of cost reduction and quick action in responding to Federal relief.
As we now resume our services thoughtfully and carefully, we are committed to providing a safe environment for our patients and visitors and being a trusted partner in care. Our aim is to continue educating the community on how to protect themselves against infection and guiding businesses as they screen employees and reopen their doors.
Our region is still healing and recovering from this crisis. There will be more challenges ahead as we treat COVID-19 patients for some time to come. You can do your part by wearing a mask, practicing physical distancing and washing your hands frequently.
In healthcare, hope and recovery are part of our calling. If we continue to work together and support one another, as we have throughout this crisis, there will be a brighter future for us all beyond COVID-19.
Thank you for standing strong with Owensboro Health. We will continue to stand strong for you.
Greg R. Strahan is the President and CEO of Owensboro Health.
About Owensboro Health
Owensboro Health is a nonprofit health system with a mission to heal the sick and to improve the health of the communities it serves in Kentucky and Indiana. The system includes Owensboro Health Regional Hospital, nationally recognized for design, architecture and engineering; Owensboro Health Muhlenberg Community Hospital; Owensboro Health Twin Lakes Medical Center; the Owensboro Health Medical Group comprised of over 200 providers at more than 20 locations; three outpatient Healthplex facilities, a certified medical fitness facility, the Healthpark; a surgical weight loss center and program, and the Mitchell Memorial Cancer Center.
On average each year, we have 16,000 inpatient admissions, deliver 2,000 babies and provide the region's only Level III NICU. Owensboro Health physicians perform nearly 24,000 surgical procedures, including nearly 200 open-heart surgeries. Our physicians and staff have 70,000 Emergency Department visits, more than a million outpatient visits annually. Visit our home page for more information.