Published on January 14, 2021
Recognizing Symptoms Is Key For Sepsis Survival
Sepsis is the body's overwhelming and life-threatening response to infection which can lead to tissue damage, organ failure and death.
This condition is the leading cause of death in hospitals, with 270,000 Americans dying from it yearly. Worldwide, that figure is 8 million. Most affected individuals have sepsis by the time they arrive at the hospital. In fact, 87% of sepsis begins in the community.
Although it's extremely common, there's no test for sepsis and many people don't know the symptoms.
Mental decline can be the easiest symptom to overlook. It's important to note the symptom if an individual becomes suddenly confused.
Early identification and treatment of sepsis significantly decreases the mortality rate, but prevention is key. Owensboro Health Regional Hospital and Owensboro Health Muhlenberg Community Hospital practice strict infection prevention steps to keep patients healthy. We are also committed to educating agencies like Emergency Medical Services and home health agencies, since they often see patients with sepsis before they arrive at a hospital. To help keep infections at bay, be sure to get vaccines like the flu shot and pneumonia vaccine.
For sepsis survivors, Post-Sepsis Syndrome can cause difficulties resuming normal activities. Nearly fifty percent of survivors, especially older patients, face decreased cognition, difficulty concentrating, fatigue and difficulty sleeping. This can last for months to even years.
It's important to remember that having an infection does not mean you have sepsis. Sepsis is your body's response to the infection.
Owensboro Health Regional Hospital is one of two hospitals in Kentucky certified in the treatment of sepsis.
Click here to view the video in Spanish.
Sepsis Infographic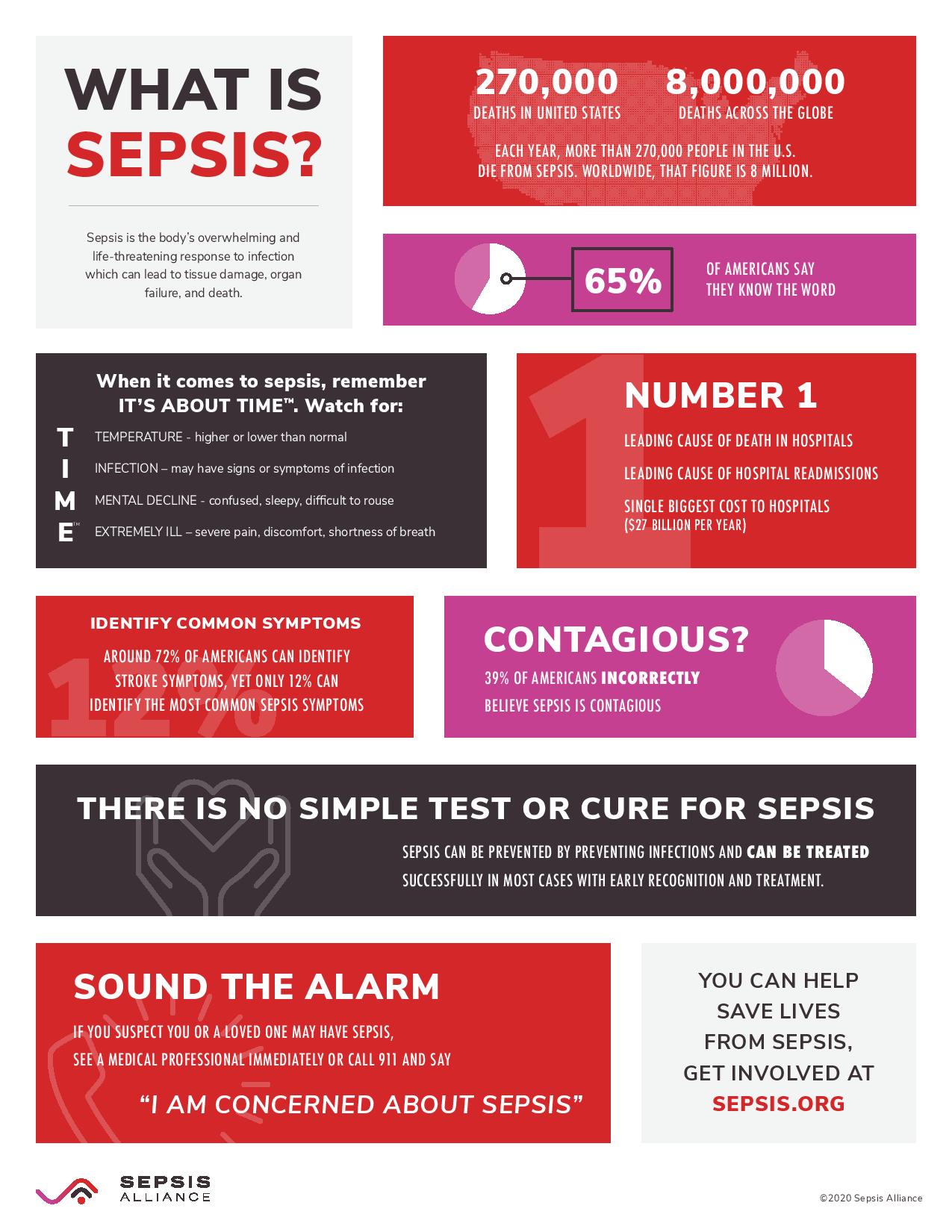 Scroll down for the text version of this image.
What is Sepsis?
Sepsis is the body's overwhelming and life-threatening response to infection which can lead to tissue damage, organ failure, and death.
270,000 Deaths in the U.S. 8,000,000 Deaths Across the Globe.
Each year, more than 270,000 people in the U.S. die from sepsis. Worldwide, that figure is 8 million.
65% of Americans say they know the word.
When it comes to sepsis, remember "it's about TIME." Watch for:
T: TEMPERATURE - higher or lower than normal
I: INFECTION – may have signs or symptoms of infection
M: MENTAL DECLINE - confused, sleepy, difficult to rouse
E: EXTREMELY ILL – severe pain, discomfort, shortness of breath
Number 1
Leading cause of death in hospitals
Leading cause of hospital re-admissions
Single biggest cost to hospitals
($27 billion per year)
Identify common symptoms
Around 72% of Americans can identify stroke symptoms, yet only 12% can identify the most common sepsis symptoms.
Contagious? 39% of Americans incorrectly believe sepsis is contagious.
There is no simple test or cure for sepsis.
Sepsis can be prevented by preventing infections and can be treated successfully in most cases with early recognition and treatment.
Sound the alarm
If you suspect you or a loved one may have sepsis, see a medical professional immediately or call 911 and say "I am concerned about sepsis."
You can help save lives from sepsis, get involved at Sepsis.org.
About Owensboro Health
Owensboro Health is a nonprofit health system with a mission to heal the sick and to improve the health of the communities it serves in Kentucky and Indiana. The system includes Owensboro Health Regional Hospital, nationally recognized for design, architecture and engineering; Owensboro Health Muhlenberg Community Hospital; Owensboro Health Twin Lakes Medical Center; the Owensboro Health Medical Group comprised of over 200 providers at more than 20 locations; three outpatient Healthplex facilities, a certified medical fitness facility, the Healthpark; a surgical weight loss center and program, and the Mitchell Memorial Cancer Center.
On average each year, we have 16,000 inpatient admissions, deliver 2,000 babies and provide the region's only Level III NICU. Owensboro Health physicians perform nearly 24,000 surgical procedures, including nearly 200 open-heart surgeries. Our physicians and staff have 70,000 Emergency Department visits, more than a million outpatient visits annually. Visit our home page for more information.