Published on September 14, 2020
September is Sepsis Awareness Month
By Renee Beasley Jones, Messenger-Inquirer
Earlier this summer, Peggy Blake felt ill after a cousin's funeral.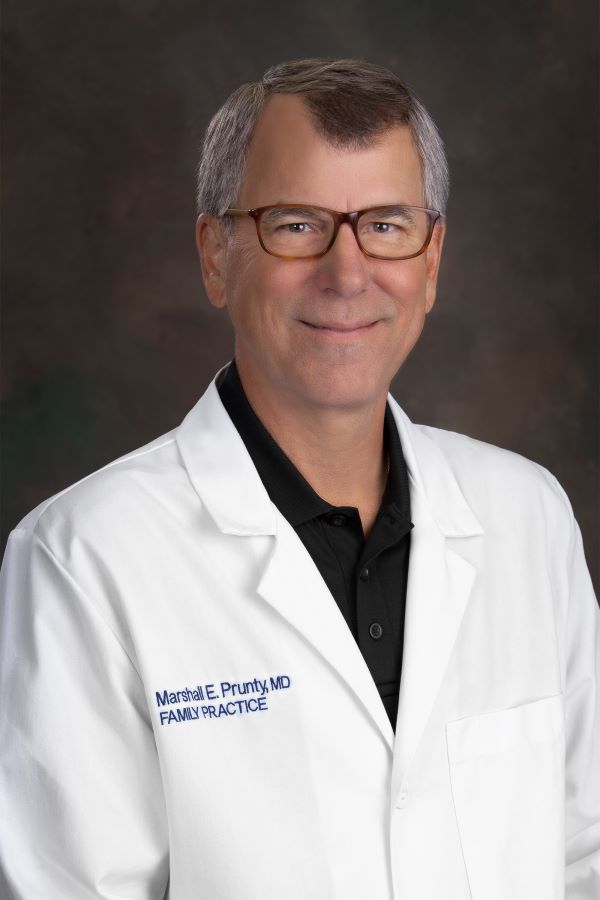 Dr. Marshall Eddie Prunty
Blake is thankful her daughter, Michelle O'Bannon, is a nurse at Owensboro Health Muhlenberg Community Hospital. O'Bannon took her mom's temperature, which was more than 102 degrees.
"She told me she was taking me to the hospital," Blake said.
Later, Blake was diagnosed with sepsis, a potentially deadly condition caused when the body's defense mechanism overreacts to an infection. Chemicals released to fight the infection can trigger inflammation throughout the body, sometimes leading to organ failure.
A urinary tract infection and pneumonia caused Blake's sepsis. Her hospital stay included three days in ICU.
At 72, Blake's age makes her more susceptible to sepsis. To make matters worse, survivors are more prone to fall prey again.
"I hope everybody takes it seriously," Blake said. "I had no idea about it until I had it myself. It's something that is very serious."
September is Sepsis Awareness Month.
According to the Centers for Disease Control and Prevention, more than 1.5 million people are diagnosed with the life-threatening condition in the U.S. each year, and at least 250,000 Americans die from it annually.
Almost any infection can cause sepsis; however, some groups of people are at greater risk. They are people 65 and older, people with chronic medical conditions, sepsis survivors, people with weak immune systems and children younger than 1.
Symptoms can include a high heart rate or low blood pressure; fever, shivering or feeling very cold; confusion; shortness of breath; extreme pain or discomfort; and clammy or wet skin.
Many of those symptoms are common with other illnesses, which can make sepsis hard to detect at first glance, said Dr. Marshall Prunty, a hospitalist at OHMCH.
Up to 15% of the hospital's admissions initially screen positive for sepsis, Prunty said. About 10% to 20% of those cases will end up with the condition as a final diagnosis.
"It can happen to someone who is young and healthy," he said. "It doesn't necessarily exclude anybody."
Younger victims often recover more quickly. In some cases, older patients may need a couple of months to return to normal.
Severe cases of sepsis may result in permanent damage.
Recovery depends on how bad the case was and how long patients have been sick with sepsis.
Preventing the condition is difficult. Recognizing it is more the issue, which makes public awareness important.
"Pay attention and don't ignore an illness that is getting profoundly worse," Prunty said.
For more information about sepsis, go to cdc.gov.
Renee Beasley Jones, 270-228-2835, rbeasleyjones@messenger-inquirer.com.
About Owensboro Health
Owensboro Health is a nonprofit health system with a mission to heal the sick and to improve the health of the communities it serves in Kentucky and Indiana. The system includes Owensboro Health Regional Hospital, nationally recognized for design, architecture and engineering; Owensboro Health Muhlenberg Community Hospital; Owensboro Health Twin Lakes Medical Center; the Owensboro Health Medical Group comprised of over 200 providers at more than 20 locations; three outpatient Healthplex facilities, a certified medical fitness facility, the Healthpark; a surgical weight loss center and program, and the Mitchell Memorial Cancer Center.
On average each year, we have 16,000 inpatient admissions, deliver 2,000 babies and provide the region's only Level III NICU. Owensboro Health physicians perform nearly 24,000 surgical procedures, including nearly 200 open-heart surgeries. Our physicians and staff have 70,000 Emergency Department visits, more than a million outpatient visits annually. Visit our home page for more information.